A tragic and difficult life turned Aretha Franklin into a demanding diva: She gave birth at only 12 years old, married a pimp, food and alcohol were her refuge
Aretha Franklin was one of the biggest stars in America, but also all over the world, but more than that, she was actually one of the biggest divas who refused to travel by plane and insisted that while filming in the studio, the heating intensifies, despite it bothering others. She was unique, and this is best seen in the latest film about her, simply called 'Respect', in which she was embodied by Jennifer Hudson.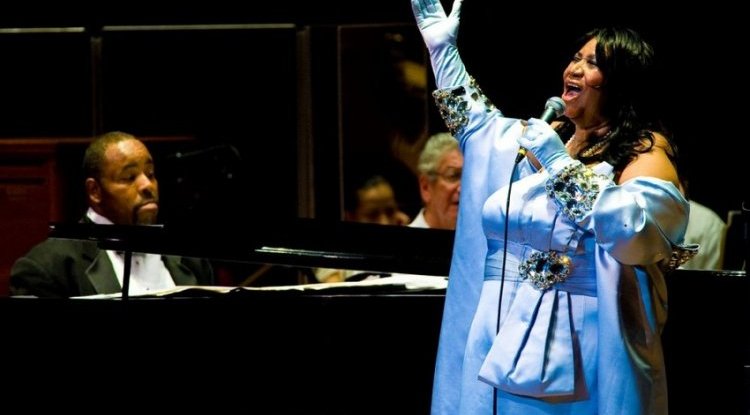 Photo Credits: Getty Images
Staying in music studios gave birth to desires for special dishes, which had to be fulfilled. On one occasion, as the drummer who played with her recalled, she asked for a roast chicken and a cheeseburger. 'She ate chicken, then a burger unbuttoned her pants and let out a voice.'
Food was her refuge, along with alcohol, cigarettes, but also sex, but what kind of life she lived and what tragedies she lived through, no one can blame her for.
'You can hear the pain in her voice. Aretha has directed everything that bothers her into her singing, 'said Harvey Mason Jr., producer of a new film about the music diva called' Respect ', in which Aretha Franklin was embodied by the only one who could do it vocally - Jennifer Hudson.
When she was just six, Aretha's family moved from Memphis to Detroit, because the father of the family, Pastor CL Franklin, impregnated a 12-year-old girl in his parish. This was also the reason why her mother left the family and moved away.
Aretha herself somehow succeded in managing school but also traveling around with her choir, which performed gospel, and which was led by her father, a priest. Known as the 'man with a million-dollar voice', CL Franklin's sermons were so interesting that Chess Records recorded them and sold them on vinyl.
Although he may have committed various nonsense in his life, he also had a relationship with a minor who gave birth to his child, when it came to Aretha, he was extremely caring. One evening, he broke into the hotel room of singer Sam Cooke after hearing that his 12-year-old daughter was locked inside with a 23-year-old soul star.
But unfortunately some things he could not prevent. Shortly after her 12th birthday, Aretha became pregnant with local boyfriend Donald Burke. Marriage was out of the question, and she named her son Clarence. Just before her 15th birthday, the singer gave birth to her second son, Eddie, named after his father Edward Jordan.
With her amazing voice but also alluring looks, Aretha Franklin was irresistible to men moving in gospel circles, and even the famous Etta James said of her: 'I wouldn't say she was sexually active but sexually overactive. It was given too often and too easily '.
Although the mother of two boys was too young, this did not stop her from continuing to realize her dreams of becoming a singer. While her grandmother cared for her sons, and in 1960, when she was 18, Aretha was discovered by producer John Hammond, who is also credited with Billie Holiday's career, and offered her a contract with Columbia Records.
Somehow at the time, she fell under the influence of Ted White, a man who was 'adorned' by the nickname 'fine pimp'.
'Anyone who didn't see in Ted White that he was a pimp must have been crazy, stupid or blind,' said producer Harvey Fuqua and only confirmed what was going on behind closed doors. Their relationship was unstable and violent, and Ted, who soon became her husband as well, beat her regularly. His punches were visible all over her body, as witnessed in her record label. What was worst was that he also became her manager, which is why her career rise stalled for a while, and she moved from Columbia Records to Atlantic.
During one recording, Ted got drunk and suddenly asked to fire the trumpeter because he was allegedly attacking his wife. Ultimately, all of this resulted in her recording the song 'I Never Loved a Man (The Way I Love You)' and becoming a star, all of which were once best described in words by a source close to her: 'Aretha had at least one nervous breakdown, she got drunk all the time and was married to a pimp. Her best and greatest songs were created in chaos. '
After that song, the hits just kept coming in the following months. 'Respect', 'You Make Me Feel Like) A Natural Woman' and then ' Chain of Fools' launched her literally among the stars, and during 1967 and 1968 Aretha became one of the biggest on the radio airwaves. She has released as many as four albums that made it to the Top 10 of the Billboard charts, she also won her first two Grammys, but also ended up on the cover of Time.
In parallel, her alcohol addiction grew stronger, and after giving birth to a son, Theodore, known to the public as Teddy Richards, she divorced Ted White in 1969.
But the drama in her life did not disappear there. Shortly after the divorce, Aretha became pregnant with a fourth son, Kecalf, whose father was her manager Ken Cunningham. At the time, she was dating Charles Cooke, the brother of singer Sam Cooke. According to Jet magazine in 1970, her ex-husband showed up at her door, wanting to talk to her in private. Charles refused to leave the room, and as the conflict escalated, White shot him and hit him in the groin. Cooke suffered a serious injury, and everything was under police investigation.
But another shooting, nine years later, broke her heart. In June 1979, she was told that her father CL had been shot with two bullets during a burglary. He was rushed to hospital, where he spent five years in a coma, before dying at age 69.
The moment this happened, Aretha left the Las Vegas concert and went urgently for Detroit, where her father was hospitalized, and never returned to her home in Los Angeles. 'This whole event changed her life. She went crazy and started battling depression, but she also knew how to come together to do what she knew best, and Detroit was her safe zone. '
She remarried actor Glynn Thurman in 1978, but according to ABC News, they were sentenced to life at two addresses - one in Detroit and one in Los Angeles, which is why they signed divorce papers in 1984.
And it was in Detroit that she turned into a demanding and spoiled diva with incredible demands. What it actually looked like was best described by a drummer who flew from the west coast to Detroit in 1984 to record her album 'Who's Zoomin' Who? ' . 'I waited four or five days in my hotel room. She told me, 'Look out the window, you know I don't drive in the snow.'
Still, she occasionally left Detroit, but those had to be really justifiable reasons, like making a movie. Working with her was also recalled by the film producer, who described what it looked like on set in Los Angeles:
'Aretha always wanted it to be very warm in the studio. The temperature had to be at least 32 Celsius, and since the movie studios in Los Angeles didn't have heating, we had to bring portable heaters and it was terribly hot. But it was Aretha, if she wanted to be hot, you had to do it. '
Interestingly, after one flight in the early '80s, which was quite turbulent, Aretha refused to ever fly a plane again, which made it a real challenge to get somewhere. She traveled all over the country by car or bus, always looking for a detour around the mountains that scared her. She also refused hotel rooms that were located above the fifth floor.
And the requirements on tours? Her demands were incredible here as well. For example, in the rooms where she passed or sang, the vents had to be closed, and backstage she waited for a silver tea set and canapés, and promoters had to pay her $ 25,000 on hand after each gig.
'After the performance, we had to go backstage where she paid us in cash and then she told us when we played well and when we made mistakes. She was always in a fur coat and holding Chanel's purse, which she never dropped from her hands, not even on stage, 'recalled Narada drummer Michael Walden, who played with her for a while.
She continued her performances in the 21st century, and also performed in 2009 at the inauguration of Barack Obama when her oversized bow attracted more attention than her vocal abilities. A year later, she underwent surgery for a tumor, but persistently denied allegations that she was suffering from pancreatic cancer.
However, the inscriptions were correct and on August 6, 2018, Aretha passed away from a long-term battle with a malignant tumor. But her departure did not pass without scandal. Namely, according to the first articles, Aretha Franklin did not leave any will, which is why the relentless fight for her inheritance began. But in the meantime, three handwritten documents allegedly appeared, one of which was found tucked under a pillow on the couch, in which she clearly indicated to whom she was leaving her fortune.
In March last year, a 22-page unsigned document was found, which was a correspondence between Aretha and a law firm, which states that most of her $ 6.7 million fortune is left to her four sons, while her niece and cousin receive all of her clothes.
By: Amber V. - Gossip Whispers