ADATA is preparing SSD for PCIe 5.0
ADATA will show at CES 2022 even faster models that use the PCI-Express 5.0 interface.  The manufacturer has already revealed the secret about them.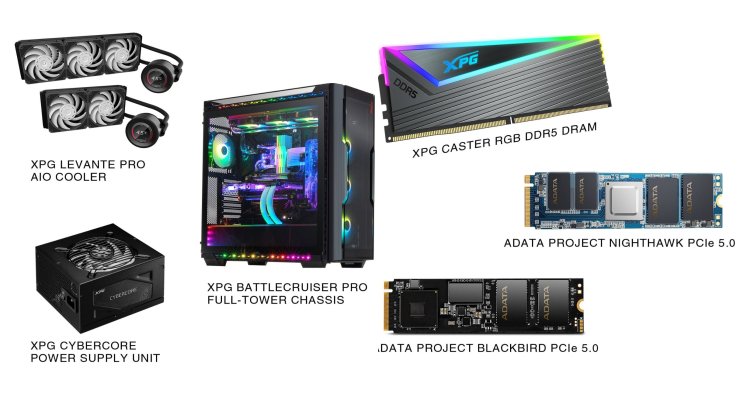 Photo Credits: ADATA/Promo
Did you think that SSDs under PCI-Express 4.0 offers great performance? Then look at this - ADATA will show at CES 2022 even faster models that use the PCI-Express 5.0 interface. The manufacturer has already revealed the secret about them.
Adata is often flexible with the platform
In general, Adata is very keen to experiment and is also flexible when it comes to new technology from a wide variety of manufacturers. In the last generation, Adata was also one of the first manufacturers to use a controller from the newcomer Innogrit. In recent years, Adata has mainly had models with SMI controllers in its portfolio, but occasionally also uses "exotics" from Realtek and Maxiotek.
New SSD platforms with PCIe 5.0
In the new generation with PCIe 5.0, the Phison E26 would be a possible new controller candidate. But the competitor Silicon Motion (SMI) is also planning its first PCIe Gen5 controllers for next year, although so far only the enterprise segment has been mentioned. For the latter segment, Marvell was the first manufacturer to introduce PCIe 5.0 SSD controllers.
ADATA announces SSD drives under PCI-Express 5.0
The manufacturer is preparing two prototype SSDs for PCI-Express 5.0 x4 - Project Nighthawk uses the Silicon Motion SM2508 controller and is to offer sequential read / write transfers at 14/12 GB / s, while Project Blackbird is equipped with an Innogrit IG5666 controller, ensuring performance read/write at the level of 14/10 GB / s. Both drives have a capacity of up to 8 TB.
The announced disks offer much better sequential parameters compared to models using the PCI-Express 4.0 interface (not to mention older designs for PCI-Express 3.0). It is worth noting, however, that to use their potential, you will need a suitable computer - currently, only the Intel platform with Alder Lake processors provides support for PCIe 5.0 (and the M.2 PCIe 5.0 socket is available only in a few, better motherboards).
What else will be on display at the manufacturer's stand?
Superfast SSD drives are not the only new products that can be seen at the manufacturer's stand during the fair.
The XPG Lancer RGB DDR5 and XPG Caster RGB DDR5 memories can be quite interesting - the modules will be available in configurations with clock speeds up to 6000 and 7000 MHz. Of course, there will also be RGB LED backlight.
Hardware fans can also be attracted by the new liquid cooling systems (AiO) - the XPG Levante Pro models are distinguished by a circular LCD display that can be customized using the XPG Prime software. The kits use the latest Asetek design and high-end XPG Vento Pro 120 fans (developed in collaboration with Nidec).
ADATA will also show the prototype of the XPG Battlecruiser Pro case. The structure belongs to the Full Tower models and is distinguished by a four-sided panel made of tempered glass and a special system for controlling the fans and backlight.
In addition, the manufacturer is preparing a new series of XPG Cybercore power supplies with a power of 1000 and 1300 W - the designs will allow for powering top gaming sets. The units are to be distinguished by very good quality of workmanship and high efficiency (confirmed by 80 PLUS Platinum and Cybernetics certificates).
Finally, it remains to be remembered that CES 2022 will take place from 5 to 8 January 2022