Amazfit GTR 3 Pro, GTR 3 and GTS 3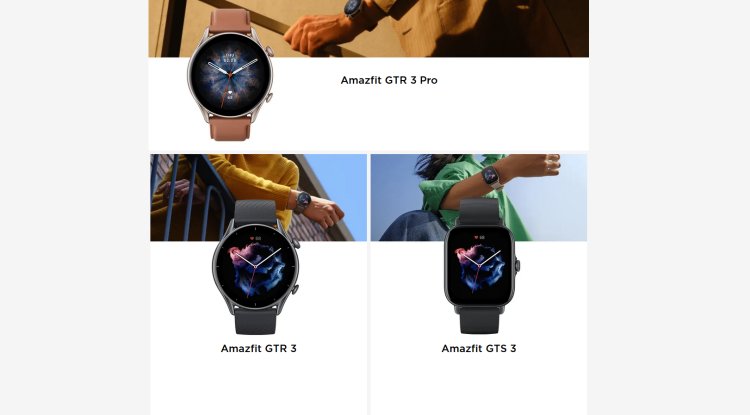 Photo Credits: Amazfit/Promo
Xiaomi's company Huami has introduced three new watches in its Amazfit watch line as a successor to the previous series, and otherwise the series is such that it offers a lot for a relatively low price.
Amazfit GTR 3 Pro
The GTR 3 Pro is a round smartwatch with a 1.45" AMOLED screen with a pixel density of 331 and a very impressive 1000 nits of maximum brightness. The frame is made of aluminum, and Amazfit claims that they raised the screen refresh rate by 67% for smoother operation. It normally comes in brown and black, and to the right of the screen are two physical buttons. GTR 3 Pro runs the new ZeppOS, which still does not offer the installation of additional applications, but therefore offers excellent battery life and a very solid set of options from the box.
The GTR 3 Pro has sensors to measure heart rate, blood oxygen saturation and a sleep monitor. It offers 150 different sports activities that it can follow and is waterproof to 5 atmospheres. There is also a built-in GPS and the Pro model offers the best GPS accuracy. As it connects via Bluetooth (no WiFi or 4G), it's nice to see that the GTR 3 Pro also offers 2.3 GB of internal memory for music or podcasts, so you can connect wireless headphones to it and go for a walk or run without a phone.
Amazfit claims that the GTR 3 Pro offers 12 days without a charger with mediocre use of all its features, and if you run with GPS every day and play sports, then the GTR 3 Pro reportedly offers 6 days of autonomy. Amazfit GTR 3 Pro is available in Europe where it costs 200 Euros, which considering the possibilities and solid hardware, is really not much.
Amazfit GTR 3
Amazfit GTR 3 offers the same design as the Pro model, but with a smaller 1.39" AMOLED screen that also offers 1000 nits of maximum brightness (but also lower pixel density - sharpness). However, in the regular model, the frames around the screen are thicker. Compared to the Pro model, the GTR 3 offers almost everything the same, except for a better battery resulting from the use of a smaller screen. Amazfit claims that GTR 3 can last up to 21 days of normal use and 10 days for more active users.
Unlike its more expensive brother, the GTR 3 does not have an internal music memory or a speaker microphone through which you can make calls, but still, like the Pro model.
Amazfit GTS 3
Unlike the previous two models, the Amazfit GTS 3 offers a square shape and a 1.75" screen with a density of 341 PPI. Like the rest of the new series, the GTS 3 also has an impressive screen brightness level of a maximum of 1000 nits. Just like the GTR 3, the Amazfit GTS 3 has no internal memory or microphone and speaker for calls, but because of the larger screen it does not offer such impressive battery life on paper, so Amazfit boasted 12 days of "normal" use and 6 days for more demanding users .