AMD Navi 31: Tape-out probably done
The tape-out of Navi 31 has probably taken place. The chip on the RDNA3 design is expected to be used in the Radeon RX 7900/7800 from the end of 2022 to the beginning of 2023. For the first time, AMD is working with a Multi-Chip Module (MCM).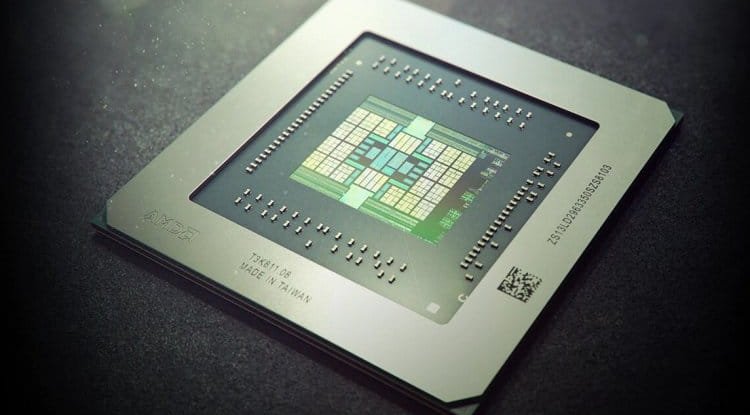 Photo Credits: AMD / promo
In September the rumor mill reported that Navi 31 should be taped out in October. Now it has just been done, as reported by Twitter user Greymon55. This completes the design for the upcoming flagship chip and you can prepare for production. This is done first of all with extensive tests of the design, which can change again in the course of this if errors are found or things do not work as planned. This is entirely possible because for AMD it is the first time that a graphics chip has been brought onto the market as a Multi-Chip Module (MCM).
Two graphic chipsets are said to have Navi 31, each with allegedly 3 shader engines and 120 compute units. In total, a maximum of 15,360 FP32 units would be possible. At least because of the yield, the fastest model will probably be a little below that. TSMC probably manufactures in Node 5 and Node 6; It is unclear whether both of them are really identical or whether they differ from one another. Officially, there is of course no information on this and the rumor mill remains vague on some details. At least one read that in addition to the two chipsets (Graphics Complex Die, GCD) two more chips are installed. They could, for example, combine hardware acceleration for media and provide cache (Memory Complex Die, MCD) so that they can be produced more cheaply.
Navi 31 will probably appear with RDNA3 technology as Radeon RX 7900/7800 and will replace the Radeon RX 6900/6800 models based on Navi 21 at the end of 2022; If everything is correct, the RX 7600 should have a Navi 32 with a maximum of 10,240 FP32 shaders. The long time between tape-out and series production was justified a long time ago with the fact that the GPU with the 5 nm production used and its multi-chip approach is more complex than conventional products. For this reason, Navi 31 is supposed to be announced only at CES 2023 and launched on the market even later. For the slower Navi 33 GPU (max. 5,120 FP32 shaders) in the 6 nm process, Greymon55 expects a release in October 2022, in contrast to the current generation, AMD would first bring a mid-range model onto the market.
By: Olivia J. - Zexron