Apple MacBook Pro 14 Review: Attractive and strong
As always, the MacBook Pro is one of the best in every market, every year. New version of the M1 Pro processor. MacBook Pro 14 is is an attractive option.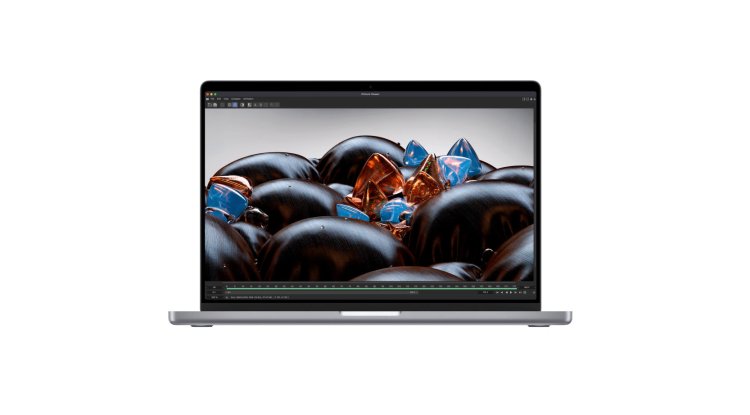 Photo Credits: Apple/Promo
Ever since its first release in 2006, the MacBook Pro has begun to attract attention, and with the appearance of the first "unibody" models in 2008, it became an absolute reference for the concept of a laptop, personal computer. Almost all the leading names in the field of portable PC solutions have been modeled on the MacBook Pro.
| | |
| --- | --- |
| Screen | 14.2-inch Liquid Retina XDR display (3024x1964 pixels, 254ppi) |
| Processor | M1 Pro (8-core CPU, 14-core GPU or 10-core CPU, 16-core GPU), with optional M1 Max with up to 10-core CPU and 32-core GPU |
| Battery size | 70Wh |
| Battery life (claimed) | Up to 11 hours of web surfing over Wi-Fi |
| Storage | 512GB to 8TB |
| Memory | 16GB to 64GB |
| Ports | Thunderbolt 4 (x3), HDMI, MagSafe 3, headphone jack, SD memory card slot |
| Webcam | 1080p FaceTime HD camera |
| Wi-Fi | 802.11ax Wi-Fi 6 |
| Bluetooth | Bluetooth 5.0 |
| Dimensions | 12.3 x 8.7 x 0.6 inches |
| Weight | 3.5 pounds |
Design and features
Unibody design. The MacBook Pro 14, like its predecessors, has a classic aluminum "unibody" - in a word, the perfect shape for a portable device that is hard to beat with a better and more heat-efficient solution. The fine smooth feeling of metal under the fingers continues with rounded overhangs at the edges. An inch up or down compared to previous generations, but the dimensions are practically very similar to the "thirteen" of the previous generation. To be precise - it is 31.3 cm wide, 22 centimeters deep, a centimeter thick and a half, and weighs 1.6 kg. You will clearly notice that the efficient desktop area of ​​the screen is larger compared to the aforementioned predecessor. This MacBook is actually exactly what you need, durable enough to easily withstand the daily wear and stress that such a way of use entails. You are constantly missing a little more screen, a little more battery, a safer feeling in your hand. The MacBook Pro 14 is exactly the right measure of the mobile PC you'll ever need.
Liquid Retina XDR screen
The screen is the best thing that has ever been seen on laptops. It is a 14.2" Liquid Retina XDR screen with very thin frames and maximum space utilization, with 254 pixels per inch and a display resolution of 3024x1926px which of course scales to a perfectly visible resolution in which you do not have to strain your eyes to recognize the icon or application name which you run. Brightness is declared at 1000 nits, while in the peaks it can reach a full 1600 nits while displaying HDR content. The screen has ProMotion technology, which hides the possibility of dynamically changing the screen refresh rate to 60 or 120Hz. It can recognize if you are playing a game or displaying content with more frames per second. The result of all this is such an excellent picture that we can't describe it to you in words - you have to see it and make sure.
Ah, that "notch"
And a novelty is the presence of a "notch" on a laptop with a 1080p FaceTime camera. When you reach it, the cursor temporarily disappears as if passing through a tunnel. Newer applications like Photoshop or Premier simply switch some options to the other side of the notch, and video content or games automatically adjust the resolution and image format to 16:10 - in a word, everything works perfectly with no interference.
Keyboard and sound
Apple Magic keyboard dominates with a software back-light intensity potentiometer. The "touch bar" part at the top has been removed, so that the function keys are full size, and in their extension in the far-right position there is a masked "Power" button with a fingerprint sensor. Problem is that we are used to pressing the "backspace" button in that position. The keyboard is shallow and it's definitely a compromise you have to get used to if you already want a slightly thinner computer - otherwise it's physically impossible. And next to the keyboard on the left and right side to the edge of the base dimensions, there are perforated zones from which the sound comes. He is very good and of good quality, enough to relax you perfectly. Another thing that is surprising about the sound is that the details that adorn the surrounding effects are so well highlighted that you look in disbelief at those small dotted slits and can't believe your ears that so many effects can be heard in movies, games or the music you listen to.
Beneath the keyboard, surrounded by comfortable palm rest areas, is a large "touch track pad" area, ideally positioned, perfectly sized and with a well-balanced click-across force across the entire surface.
Connections
On the left side of the MacBook Pro 14, the first thing we notice is the original Apple magnetic connector for charging with a rectifier, which is marked by the term "MagSafe 3" port. Unlike similar ones on classic laptop models, the magnetic "fuse" is so strong that you can't almost pull it out with a horizontal movement, but only with a vertical stroke when it leaves the position very easily and releases the charging cable device. In charge of fast charging and with the appropriate 67W USB-C adapter, it takes 20 minutes for a quarter of the capacity, charges half the battery in 40 minutes, and reaches 100% in about an hour and a half.
The following are two USB-C ports with support for Thunderbolt 4 that are at the same time compatible with the USB 4 standard, providing a data flow of 40 Gb / s. Both ports can charge the device and provide support for DisplayPort connection when working with monitors. There's also a classic 3.5mm headphone port and microphone. On the opposite side, we find one HDMI 2.0 (4K / 60Hz) in full size which is a bit of a surprise for this type of Apple device, so you can easily hook up an auxiliary monitor without any problems and everything works easily without error. There is another USB-C Thunderbolt 4 USB 4 port and an SDXC memory card reader with support for UHS-II models. So, an extremely good and useful choice of connectors with fast enough USB-C ports.
From both side edges closer to the base of the device, we notice two large longitudinal thin openings that serve for the entry of fresh air, while the exhaust ones are located back at the back of the base and are cleverly covered with black paint. Overall, cooling works well on this MacBook Pro.
Apple M1 Pro hardware
However, that right is yet to come and is at the heart of this computer. This is a new version of the M1 Pro processor. In the "fourteen" that were tested, there was a weaker example of an octa-core model with 6 fast and 2 energy-saving cores. The graphics part consists of the Apple G13 X with 14 cores, while the part with 16 so-called units is at your disposal. neural nuclei for the purpose of machine learning. There is also a stronger M1 Pro model with 10 processors and 16 graphics cores and an equally powerful 16-core neural module.
With the Apple M1 Pro processor, as with its predecessor, RAM is built into the same "interposer" with processor and graphics cores. It uses the LPDDR5 type of memory, which certainly favors the faster operation of the processor as well as the integrated graphics core, especially since the data transfer has increased almost 4x compared to the previous generation. If you want more RAM, you have to pay more, because it is complex SoC silicon, the 16 GB RAM version is being tested, but there is also 32 GB RAM.
The 512 GB NVMe x4 SSD is tested, but it can be expanded up to a maximum of 8 TB! Pay attention to this detail, so that you can carefully assess your future needs in terms of RAM and storage space before buying because both devices are soldered to the board, so subsequent expansion with standard SODIMM or M.2 modules is not possible as with PC notebook model.
The computer does not have a LAN, but it has the fastest WiFi 6 standard with a two-band network and support for the 802.11ax standard with which you can transfer about 100 MB / s of data wirelessly.
How long does the battery lasts
All this hardware is powered by a 70Wh battery that "keeps" the computer working with "cloud" services and moderately burdensome Photoshop work scenario with active WiFi network and 80% screen brightness, for 7 and a half hours. If you run less demanding actions such as playing YouTube content, your computer can easily achieve all-day autonomy. Extremely good result, thanks to the economical nature of the M1 Pro processor and operating system optimization.
macOS Monterey
This computer is powered by the latest version of the macOS Monterey operating system, which is even closer to the mobile version. We find a lot of similarities so that iPhone and iPad users will feel at home. There's a system console like the one that slides on mobile devices, with Focus and True Tone and other shortcut options, then there are quick notes when you drag the mouse from the bottom right corner. LounchPad with apps like the one on Apple mobile devices, so for a moment it will make you feel like you're holding an iPad Pro tablet. Let's not forget that there is additional optimization of work with M1 Pro architecture, but also support through Rosetta 2 compiler for older applications written for MacBook Pro models based on Intel x86 architecture.
Performance and impressions in work
You must wonder how this MacBook Pro works with the new M1 Pro processor. In a word, fantastic. The M1 Pro, its ARM 64-bit core and G13 X graphics are an actual surprise and refreshment in the mobile market.
Practically, the M1 Pro in this 8-core MacBook Pro is at the level of the strongest Intel Core i7 11800H models and Ryzen 7 Cezanne laptops. It is fascinating that Apple has already reached the performance of the competition in the second iteration of the original M1 design, so this is not a new architecture, but improved thanks to the benefits provided by the newer production process, which sells us decadent improvements year after year. With its integrated graphics core which, by the way, supports hardware decoding of H264, H265, ProRes and ProRes RAW formats, literally blows away the mobile AMD and Intel competition with GeForce graphics, and the comparison of AMD and Intel competition with integrated Iris XE and VEGA graphics core at least devastating and a little humiliating for these two companies. Apple simply dominates. And it should be noted that Adobe Premier in its new version is optimized for Apple processors based on ARM architecture. Slightly weaker Photoshop results are a consequence of using the version that had to be run with the Rosetta 2 compiler x86_64 bit instructions into those that can be executed by the M1 Pro processor, which certainly adds performance penalties. In these situations, it can be disturbed by a very long pause from the moment the application is clicked until the moment it opens and becomes operational.
And how fast and strong the new M1 Pro is is shown by rendering applications, first of all, Blender with a version optimized for Apple silicon and is again in the range of the strongest Ryzen 7 Cezanne and Core i7 Tiger Lake competition. The poorer result in Cinema 4D is because the Maxon application has support for M1 processors, but no optimization for the ARM architecture, so it restarts in Rosetta compatible mode.
Even in this transitional phase, the M1 Pro in a weaker version surprised the competition, based on real applications. It is similar in games where the Apple G13 X graphics core achieves between 75-115 frames in DOTA 2 game or 165 fps in Fortnite. It is in this weaker version in the range of Intel and AMD competition. This is not a gaming laptop, it is not bought for that reason, but if you already want to have fun, it will certainly not disappoint you, on the contrary, with its brilliant screen, it will look better than most PC gaming laptops models. You only have to keep in mind the limited number of games for the macOS platform, at least with the most current, but even there are solutions for this in the form of some gaming "cloud" services such as GeForce Now. It's not ideal, especially in Battle Royal titles, but it's important that there is an alternative. GeForce Now works seamlessly on the macOS platform.
The MacBook Pro 2021 is always silent and barely warm, far quieter and cooler than any competing PC Windows laptop model of similar performance. As always, the MacBook Pro is one of the best in every market, every year.