Asus ROG Maximus Z690 Formula review
Asus ROG motherboards with the name Formula are specific to the voltage unit cooler, which is prepared to connect to the water cooling system.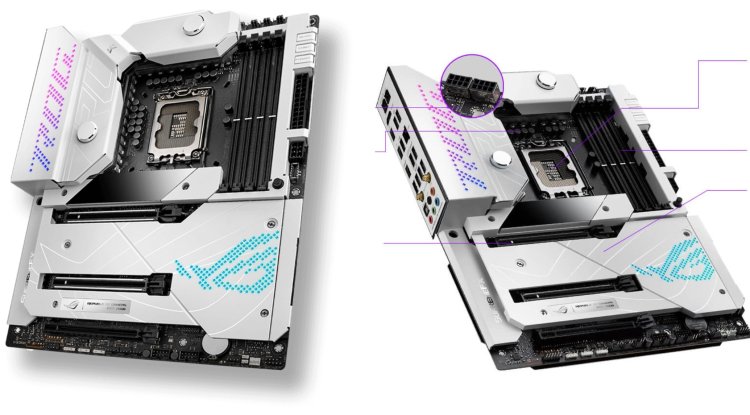 Photo Credits: Asus ROG/Promo
Asus ROG motherboards with the name Formula are specific to the voltage unit cooler, which is prepared to connect to the water cooling system. The formula based on the Z690 chipset will be of additional interest to users looking for a white alternative to the Extreme and Apex models.
Chipset
Intel Z690
Socket
LGA-1700
Memory
4 × DDR5, up to 128 GB
PCIe connectors
2 × PCIe 5.0 x16 (x16/x0 or x8/x8, CPU)

1 × PCIe 4.0 x16 (internal x8, chipset)
SATA / M.2 / U.2
8 × SATA, RAID 0, 1, 10

(chipset) 1 × M.2 NVMe PCIe 4.0 x4 (CPU)
2 × M.2 NVMe PCIe

4.0 x4 (chipset) 2 × ROG Hyper M2 pcie x8 card
Network
1 × 10 Gb/s Marvell

Intel Wi-Fi 6E
Audio
Realtek ALC4082
Rear connectors
BIOS FlashBack

button BIOS reset button

2 × Wi-Fi antennas



1 × LAN (RJ45) 1 × HDMI 2.1

3 × USB 2.0

6 × USB 3.2 Gen2

1 × USB-C

3.2 Gen2

2 x Thunderbolt 4 5 × audio connector

1 × S/PDIF
Credits: bug.hr
The Maximus Z690 Formula model is placed under the Maximus Extreme model in Asus' offer of Intel processors, and above the Maximus Apex. Although the Formula is also an extremely expensive record, it is noticeably cheaper than the Maximus Extreme model, and slightly more expensive than the Apex model. In terms of accessories, the Formula brings some unusual trifles. These are two fabric-braided SATA cables, a ROG Hyper M.2 card that allows you to install an additional two M.2 SSDs via PCIe slots, a ROG key-chain, and a ROG video cardholder. The latter accessory is placed under the back end of the video card to prevent it from bending.
Unlike the huge Maximus Extreme, which ideally looks for a case adapted for the installation of E-ATX panels, Formula is a panel of standard ATX dimensions and will fit in any better housing. A key aspect of visual design is the use of white paint to make coolers and decorative armor, which will appeal to users who prefer white components. Interestingly, all these accessories are made of aluminum, which is not the case with cheaper panels, where plastic is used for decorative elements.
The cooling of the motherboard is specific to the use of the CrossChill EK III VRM block, that is, a water block designed by EKWB, placed on top of the cpu voltage unit, and ready to connect to modular water cooling systems. The cooler also does the job very well without water and keeps the 20-phase voltage unit, made of 105-amp elements, at a maximum temperature of 64 °C, combined with the strongest Alder Lake processor (Core i9), which on this panel pulls as much as 287 W. The lower part of the motherboard is covered by a metal plate, which is actually a large cooler for M.2 SSDs. Under it is hidden a separate cooler of chipsets and two M.2 slots. The back of the motherboard is also reinforced with a metal panel, which is quite expected, given the amount of metal on the upper part of the motherboard.
The Formula is not as attractive in terms of lighting as Extreme, but it still looks very impressive. On the lower part of the board, we have a large logo ROG, made of dots, under which there is programmable RGB lighting. On the upper side, there is an element of equal style, and on top of the first PCIe slot, there is an M.2 SSD cooler with an OLED screen, as we have on Extreme. Without additional configuration, diagnostics are displayed on the OLED screen when booting the computer, and after loading the OS, temperature components are displayed.
Internal connectors
On the upper edge of the panel, there are two EPS connectors for an additional CPU power supply, four fan connectors, and a double-digit diagnostic screen with codes. At the lower edge of the panel are four more fan connectors, a connector for connecting flow sensors, two sensors for connecting temperature sensors for the inbound and outgoing water cooling lines, and two internal USB 2.0. At the right edge of the panel, Asus placed three keys for OC functions and computer inclusion, integrated into decorative armor, ATX connector, additional 6-pin connector to power PCIe controllers, 20-gigabit internal USB-C port, six curved SATA ports, and two rotated internal 5-gigabit USB 3.2. It is important to emphasize that the additional voltage PCIe connector must be connected if you want to take advantage of the 60-watt fast charging of the front USB-C port. Otherwise, charging with a power of 27 W is supported.

The offer of external connectors is plentiful, so there, in addition to the buttons for resetting BIOS settings and automatic bios upgrade via USB memory, we find – two antennas of integrated Wi-Fi 6E and Bluetooth 5.2 modules, RJ-45 connector Marvell 10-gigabit network controller, two Thunderbolts 4, HDMI 2.1 for graphics from processors, six 10 gigabit USB-A ports and one USB-C, three 2.0 USB and five analog and one integrated sound card digital connector. The sound is based on Realtek's currently most powerful codec ALC4082, which is combined with ESS DAC and an amplifier for connecting the headset to the front connectors on the case.
Maximus Z690 Formula is undoubtedly a great board, both in hardware and software terms, but nevertheless, it hardly justifies its very high price. Although it offers some handy accessories compared to similar competing motherboards (for example, the AORUS Z690 Master or MSI MEG Z690 ACE), it is about 50 percent more expensive than them at the same time. On the other hand, given the type of users it is targeting, this is probably not a particular problem.  The price is around $800.