Asus ROG Thor 1000 W Platinum II: New high-end power supply officially presented
The new ROG Thor 1000 W Platinum II from Asus is aimed primarily at enthusiasts, which is not only noticeable in terms of technology and design, but also in terms of price.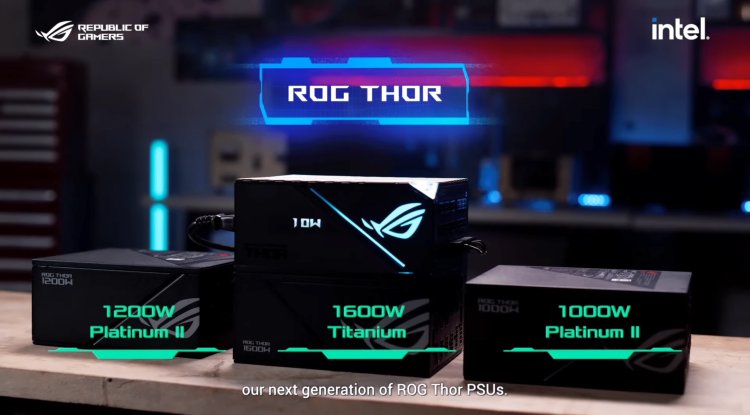 Photo Credits: asus / promo
After Asus ROG the Thor 1000 W Platinum II had been promised at end of October. It is officially listed on the website of the manufacturer now. According to the information, the main focus during the development of the new model was on particularly quiet operation and connections of the next generation - especially with regard to the new PCI-E 5.0 power connection.
In addition, Asus claims to have ensured low operating temperatures by means of more massive heat sinks with twice the volume compared to traditional designs, while a 135 mm fan directs the entire airflow axially. The power supply unit can be operated without a fan up to a load of 500 watts and up to a load of 700 watts with a fan speed of 12 to 15 percent, while the fan only starts to run above 700 watts.
High efficiency, many features
According to the manufacturer, this should make it the quietest power supply in its performance class, to which the high efficiency with 80-Plus-Platinum certification also contributes. Under the hood, the Asus ROG Thor 1000 W Platinum II has a single + 12V rail design with the most common electrical protection devices against over and under voltage, overload, overheating, and short circuits.
The fully modular power supply has a 24-pin ATX connector, two 4 + 4-pin EPS connectors, a 12-pin Molex microFit 3.0 connector with an output of up to 450 watts, six 6 + 2-pin PCIe Connections, twelve SATA connections, three Molex connections, and a mountain connector. There is also a monochrome OLED display, which is hidden in the lettering on the side and shows load, voltage, and heat development in real-time, while addressable RGB-LED lighting is also on board, which, via a standard 3-pin ARGB connection can be controlled.
Overview of key data
Asus grants a 10-year guarantee on its new upper-class power supply, while there is still no official information on price and availability. In a first test of the website eteknix.com, however, the price range of 300 US dollars is assumed.
| | |
| --- | --- |
| specification | ATX12V |
| Dimensions | 190 x 150 x 86 mm |
| Efficiency | 80Plus platinum |
| Protection features | OPP / OVP / UVP / SCP / OCP / OTP |
| AC input area | 100-240Vac |
| DC output voltage | + 3.3V + 5V + 12V -12V + 5Vsb |
| Maximum load | 25A 25A 83A 0.3A 3A |
| Combined load | 125 W 125 W 996 W 3.6 W 15 W. |
| Overall performance | 1,000 W |
| Connectors | MB 24/20 pin x 1 |
| | CPU 4 + 4-pin x 2 |
| | PCI-E 12-pin x 1 |
| | PCI-E 6 + 2-pin x 8 |
| | SATA x 12 |
| | PERIPHERAL x 6 |
| | package contents |
| | Power cord x 1 |
| | Motherboard power cable x 1 |
| | CPU cable (2 pieces) |
| | 12-pin PCI-E cable x 1 |
| | PCI-E cable 1 to 1 x 4 |
| | PCI-E cable 1 to 2 x 2 |
| | SATA cable 1 to 4 x 3 |
| | Peripherals 1: 3 x 2 |
| | Addressable RGB cable x1 |
| | ROG sticker x 1 |
| | ROG cable ties (6 pieces) |
| | Sleeve cable combs (6-pin) x 4 |
| | Sleeved cable comb (8-pin) x 10 |
| | Sheathed cable combs (24-pin) x 2 |
| | Package with case screws x 1 |
| | Cable tie x 12 |
| | User Guide x 1 |
| weight | 2.37 KG |