Bitcoin formed the "cross of death"!
The "cross of death" means a further drop in the value of bitcoin in US dollars - from the point of view of technical analysis.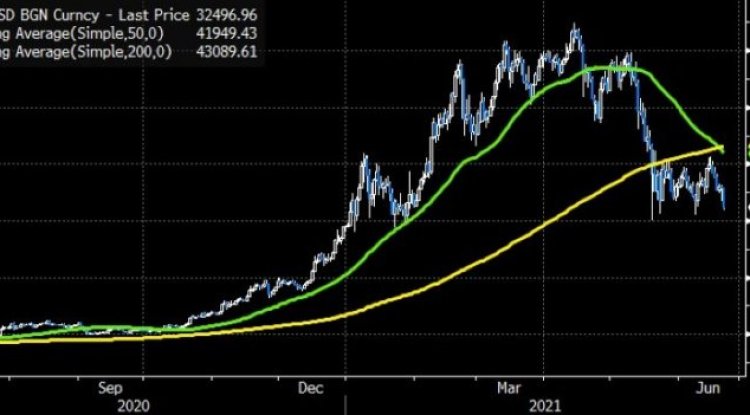 Photo Credits: Bitcoin chart in USD in 1-day intervals and simple moving averages for 200 (yellow line) and 50 days (light green line)
Bitcoin has had a tough weekend. Blame hash rates and death crosses. Since Friday, Bitcoin has dropped by about $ 3,000, or nearly 9%, to about $ 32,500. Bitcoin traded below that level on June 9, but has not closed below $ 33,000 since January.
China is the number one problem. The "hash rate", which is essentially the amount of processing power used to mine Bitcoins, is dropping as China takes harsh measures against miners. China needs electricity for other purposes. China accounts for most of the world's Bitcoin hashing. Less mining, of course, means fewer coins, and fewer coins can be a good thing for pricing in the long run. But for now, the threat of government intervention outweighs supply and demand considerations.
The fall in Bitcoin created on Saturday a trading pattern (the pattern on the chart - approx. ProFinance.ru), which market experts call the "cross of death". This means that the 50-day moving average of Bitcoin fell below the 200-day moving average (if you use simple moving averages, the cross is formed, if exponential ones are not yet there; simple MAs are plotted on the chart - approx. ProFinance.ru). The death cross can signal that the impulse to buy is fading, whether it concerns stocks, the currency market or cryptocurrency.
With Monday's plunge, Bitcoin is down roughly 50% from its 52-week April high of nearly $ 65,000. To be honest, nobody knows what will happen next. Bitcoin is unstable and due to the lack of fundamentals, it is difficult to predict what will happen next. We will not even try to guess, unless we urge you: buckle up.
Ethereum has also suffered a sharp decline in the last 24 hours. Namely, it is traded at a price of 2,017 dollars, which means that its value dropped by 8.36 percent. Ethereum's market capitalization is $ 235.98 billion.
The rest of the cryptocurrency market also recorded drastic losses, namely Ripple (7.7 percent), Cardano (6.21 percent), Dogecoin (10.12 percent), Stellar (6.2 percent), Polkadot (10.39 percent)...
By: Olivia J. - Gossip Whispers