'Black Widow' - a fast-paced film, entertaining and with complex female characters
Regardless of the fact that the main role went to Scarlett Johansson, the absolute star of the film is convincingly Florence Pugh, whose exceptional acting talent cannot be suppressed even by the Marvel franchise.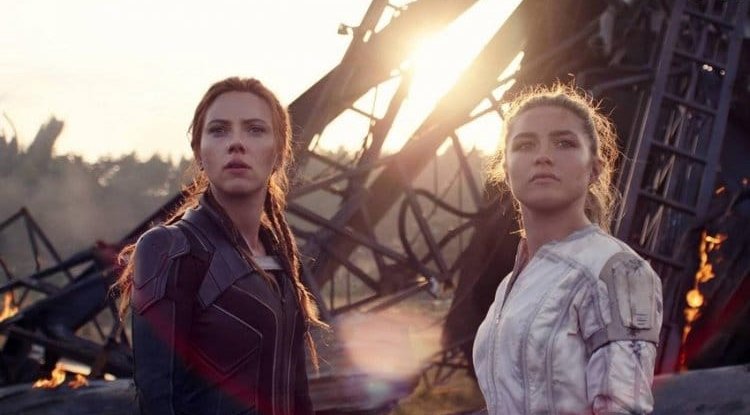 Photo Credits: Marvel studios' Black widow
The Black Widow or Natasha Romanoff played by Scarlett Johansson is a character we've known for a very long time, so it's pretty weird that she gets her separate film this late as she's one of the main Avengers on the team. Of course, that main word is not guided by logic and aesthetics, but by the pure economy of the power behind the big production companies who consider it a great risk to make a film about a superhero. But times are changing, so our main heroine got her solo film, albeit SPOILER ALERT after death.
It is not a big and new spoiler if you are familiar with the Marvel world, although on the other hand, if you are not familiar with it, then this film interests you as much as the water level in Belarus and you did not even click on this text. Miss Romanoff sacrificed herself in the movie Endgame, or the last part of Avengers, so this story takes us back a few years before the outcome of the fight with Thanos. In the period after Iron Man and Captain America argued and deleted each other's phone numbers, blocked each other on Twitter, or after the movie Civil War.
During that period, Natasha hid in Europe, where she found a message from her sister (Florence Pugh) to come to Budapest to expose the evil Russian oligarch who is involved in trafficking, and who makes kidnapped young girls super brainwashed soldiers. Surely you all once received such a message from your sister so you understand the situation. Of course, there is a poison that can save girls, and the two of them know about it because they used to be in that hell a long time ago, and they got away with the poison. They call Dad (David Harbor) and Mom (Rachel Weisz) for help. Admittedly, a fake dad and mom, but the only parents they know about because they all used to work together as a family of spies for the Russian cause. Until the Russian thing became a thing against all reason and humanity. And yes, it helps that mom is a super scientist and dad is a super soldier, made as the Captain America antipode during the Cold War.
When the action, the bunch of effects, and the combat choreography are removed, we get a comic drama about a dysfunctional family with sincere warmth that you may not have expected when you went to watch a movie about trained super-spy killers. But you will definitely be glad because, because of things like this, the film is remembered.
However, we come to the strangest thing, and that is that Scarlett Johansson is the weakest part of this story and her character is the least interesting, which is bizarre because this was literally supposed to be her film. In Avengers, she was always in the background, without any special powers, more as a friend or a potential love interest for the Hulk, and here she was simply pushed aside by her family. David Harbor brought out the comedic part of the film, Rachel Weisz captivated every scene she appeared with as a mastermind of all the action, while the real star of the film, and the titular Black Widow is Florence Pugh. Given that we know that in the future Scarlett has nothing more to do in the Marvel universe, it wouldn't surprise me that Florence will be the one to whom some new Avengers team will turn to if they need a fucking spy. So Scarlett Johansson is just for the name and as bait on the poster. It's not a bad thing for the film itself, but it's bad for her because she deserved more with her work and roles so far.
By: Olivia J. - Gossip Whispers