Core i9-12900K vs Ryzen 9 5950X: Intel's own benchmarks raise questions
In the benchmarks published by Intel, the Core i9-12900K is usually ahead of the Ryzen 9 5950X. The test system is probably also responsible for this because Intel used an outdated Windows version and also allowed the Core i9-12900K to consume significantly more than the Ryzen model.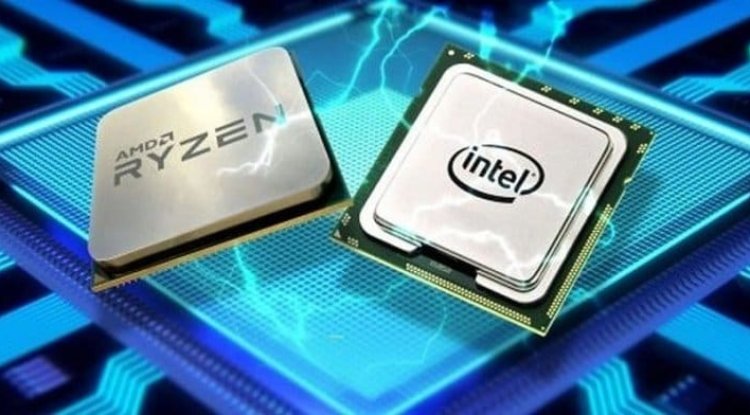 Photo Credits: intel/amd / promo
On Wednesday, Intel finally officially announced the first processors from the new Alder Lake family. In addition to the presentation of the first six models, there were also the first benchmarks. These compared Intel's Core i9-12900K with the predecessor Core i9-11900K and AMD's desktop flagship, the Ryzen 9 5950X. As expected, the Core i9-12900K was almost always ahead. The test conditions chosen by Intel should also be responsible for this.
Ryzen without L3 patch
How Intel tests can be seen from the appendix to the Alder Lake presentation. According to this, Windows 11 Pro version 22000.9, which was created in July, was used for both the Core i9-12900K and the Ryzen 9 5950X. The benchmarks were thus made without the recently published L3 cache fix, which raised the performance of AMD CPUs back to their usual level.
According to AMD, the bug can lead to a performance loss of up to 15 percent in games - and this is exactly where the Core i9-12900K and the Ryzen 9 5950X were compared. In reality, the difference due to the patch should be much smaller, but a few percentage points of performance gain with Ryzen CPUs can still be expected. In the first independent benchmarks, which will appear on November 4th, Intel's Alder Lake is likely to be less clearly ahead of AMD than Intel has promised.
The difference to the manufacturer benchmarks should also be increased if the TDP is also included. In the gaming benchmarks published by Intel, the Core i9-12900K competed with its extended TDP budget of 241 watts, whereas AMD's Ryzen 9 5950X is only allowed to boost to the maximum TDP of 142 watts for a short time and then falls back to the regular 115 watts. It is possible that Intel bought the (clear) performance advantage in games through higher power consumption. Independent tests will show that.
By: Olivia J. - Zexron