Despite high expectations, September did not bring us too many TV treats, but some were still worth the wait
Summer has come to an end, and although we hoped that with the first days of September, streaming services would offer a number of new titles, it still didn't happen. The coronavirus pandemic has done its thing, but that doesn't mean we won't have anything to watch on our TV screens. We found something interesting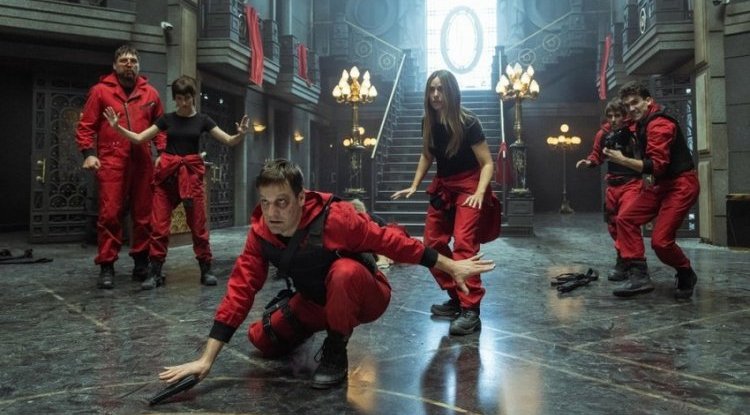 Photo Credits: Netflix / Promo
Money Heist: Netflix, Season 5 (September 3)
What we've been looking forward to for months is now finally coming true - the final season of the adored Netflix series 'Casa de Papel', also known as 'Money Heist', is coming to Netflix. But in order to keep viewers in suspense until the final, Netflix decided to split the fifth season into two half-seasons. The first five episodes will be available from September 3, while we will still have to wait until December 3 for the last five.
In short, the gang has been locked up in a Spanish bank for more than 100 hours, and the Professor has no escape plan for the first time. And just when you think that nothing can go wrong anymore, a twist will happen, and what began as the greatest robbery of the century will become war.
Cinderella: Amazon Prime (September 3)
After 'Beauty and the Beast', another fairy tale arrives and this time turned into a musical. It is a film 'Cinderella', which has elements of both comedy and fiction, and which was written and directed by Kay Cannon. The main role, that of Cinderella, was assigned to Camila Cabello.
On the Verge: Netflix, Season 1 (September 7)
For all fans of Julie Delpy's character and work, her television debut is coming to Netflix, a drama series that has brought together a select team. The plot follows four friends in their late 40s, played by Julie Delpy, Sarah Jones, Alexia Landeau, and Elisabeth Shue, and their lives 'on the edge'.
If you might have expected them to regret their youth, you were wrong, because this time the focus is on their personal gain, as well as the hope that they will finally live the life they dreamed of.
Kate: Netflix (September 10)
The American action thriller, the work of director Cedric Nicolas Troyan, brought together an interesting cast - Mary Elizabeth Winstead, Woody Harrelson, Michiel Huisman, and Tadanobu Asan.
If you are interested in a story that follows a criminal who is poisoned and has less than 24 hours to take revenge on her enemies, but who also connects with the daughter of one of her victims, then this is the right movie for you.
Miracles: Oregon Trail: HBO GO, Season 3 (September 12)
Set in the 1840s, the third season of 'Miracle Workers' follows an idealistic preacher from a small town (Daniel Radcliffe) who teams up with a wanted outlaw (Steve Buscemi) and a liberated prairie woman (Geraldine Viswanathan) to lead a caravan west along the Oregon Trail, in a comic adventure through the American landscape that is, as it is today, full of dangers and promises.
The premiere is announced for Sept. 12, and new episodes will be available on Wednesdays on HBO GO. Scenes from a Marriage: HBO GO, Season 1 (September 13)
A new treat from HBO, the five-part series 'Scenes From A Marriage' brought together a proven team - Oscar Isaac and the inimitable Jessica Chastain. It is an adaptation of the Swedish classic Ingmar Bergman from 1973, which re-examines the legendary depiction of love, hate, desire, monogamy, marriage, and divorce through the prism of a modern American couple.
Check out the premiere of the first season of the series on September 13 on HBO GO.
Schumacher: Netflix (September 15)
To the delight of many fans of the legendary Formula 1 driver Michael Schumacher, who has been lying in a coma for years after a ski accident at a hospital in Switzerland, a documentary about his character and work arrives.
The Netflix work features a series of as yet unpublished archive footage and stories of one of the greatest athletes of all time, a seven-time world winner. By the way, this is the only documentary that has the permission of the Schumacher family, whose members have told their story this way.
Catch and Kill: HBO GO (September 16)
The six-part half-hour documentary series brings to life Ronan Farrow's intimate interviews with whistleblowers, journalists, private investigators, and other sources, led by the Pulitzer Prize-winning journalistic podcast and bestseller 'Catch and Kill: Lies, Spies, and Conspiracies to Protect Predators'.
All episodes will be available on HBO GO.
Sex Education: Netflix, Season 3 (September 17)
The new season brings a new opportunity for Otis and his 'excursions'. Eric and Adam have publicly acknowledged their relationship, and Jean, Otis' mother, is pregnant.
This drama series with elements of comedy gained its fans already in the first season, and the number only grew in the second season, and at the beginning of the third, everyone was already looking forward to new adventures.
The Good Fight: HBO GO, Season 5 (September 17)
In season five, Diane is forced to wonder if it's appropriate to run an African-American law firm with Liz. Meanwhile, Marisa and her company get involved with Hal Wackner who decides to open his courtroom in a photocopy shop.
Watch all seasons on HBO GO.
Intrusion: Netflix (September 22)
Another film arrives on Netflix, and the lead roles have been given to Logan Marshall-Green, Freida Pinto, and Robert John.
When a married couple moves to a small town, a burglary in their home will leave a great trauma on the woman, but also a suspicion that those around her are not what they pretend to be.
Goliath: Amazon Prime, Season 4 (September 24)
Amazon Prime has finally announced the fourth season of the hit series starring Billy Bob Thornton. The last eight episodes, which were commissioned back in November 2019, follow Thornton's return to the beginnings of law after Patty (Nina Arianda) accepts a job at a prestigious law firm in San Francisco.
The Chestnut Man: Netflix, Season 1 (September 29)
From the creators of the crime series, 'The Killing' comes a new threat, a psychological thriller that has its roots in the Nordic noir genre. The series is based on a book by Søren Sveistrup, and the plot is set in a quiet suburb of Copenhagen, where police are uncovering a horrific crime.
A young woman was brutally killed on a children's playground and left without one arm, and next to her is a doll made of chestnuts.
By: Amber V. - Gossip Whispers