DJI launches drones for professional-grade filming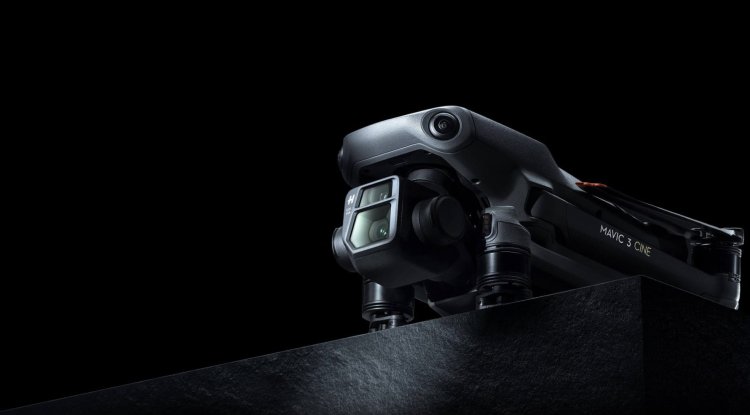 Photo Credits: Dji/Promo
DJI has released two new dual-camera drones aimed at pro-level content creators. The company is well known for its consumer-facing unmanned aerial vehicles (UAVs), especially its Mavic range. Equipped with cameras and gimbals, the drones can fly for extended periods, recording high-quality images and photos.
DJI released its first consumer drone, the Phantom 1, in 2013. The UAV didn't come with a camera, but the creators soon realized its potential and began outfitting it with lightweight GoPros. The trend quickly caught on with filmmakers who could get panoramic videos without having to rely on planes or helicopters. DJI followed the Phantom 1 with the Phantom 2 Vision, this time incorporating its own camera. Since then, the company has also leveraged its expertise, expanding into gimbals and standalone cameras such as the Osmo Pocket 2.
Mavic 3 and Mavic 3 Cine, both with dual camera systems. The drones have a standard 24mm wide-angle lens built around a 4/3 CMOS sensor and a hybrid zoom lens that uses a 1/2-inch CMOS chip. According to DJI, both UAVs can fly for 46 minutes on a single charge. The company has also improved its automatic obstacle detection technology, allowing drones to identify objects at a distance of up to 200 meters. (Previously, the system was limited to 20 meters.) While the two drones are aimed at professional creators and share many of the same features, there are some key differences.
The Mavic 3 starts at $2,199 and is the successor to the Mavic 2 Zoom, which was released in 2018. It is capable of taking 20-megapixel stills as well as shooting 4K footage at up to 120 FPS – something DJI has previously introduced with its Action 2 Camera. The Mavic 3 can also record a 10-bit D-log, which is useful for creators who want wide scope when correcting color in an edit. Additionally, the drone has 8GB of built-in storage, with support for high-capacity external microSD cards.
The Mavic 3 Cine includes all the features of the lower model but also allows creators to shoot using Apple's ProRes 422 HQ video at up to 5.1k, 50 FPS. The advantage of recording to the codec is that it works well in professional workflows, although ProRes files can be notoriously large. That's why DJI offers the Mavic 3 Cine with 1TB of built-in storage. Comes in a package that starts at $4,999 and includes the new DJI RC Pro remote. 
The DJI Mavic 3 and Mavic 3 Cine dual-camera drones are available to order now.