Full HD still in effect MSI Optix MAG274R2 : Review
Model pf 27" that combines Full HD resolution and 165Hz refresh rate with HDR support and of course, many gaming functions.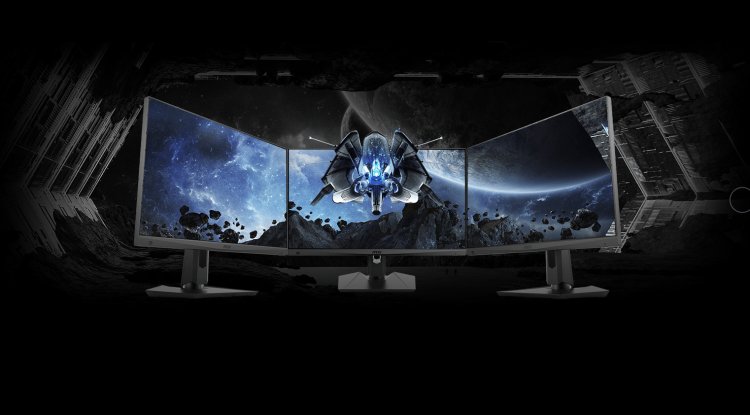 Photo Credits: Msi/Promo
Not so many years ago, monitors with a refresh rate of 144Hz and above were a miracle of technology and were the dream of many gamers, especially those who had strong enough hardware to take advantage of such high refreshment in Full HD resolution.
The fact that Full HD models with high refreshment are present today in practically the lowest class of gaming models speaks in favor of how fast technology is advancing and how what was a novelty until yesterday is becoming available to everyone today.
Although 4K and Mini LED monitors are the most interesting for us this year, we should not forget the budget segment, especially since the prices of graphics cards of a slightly higher class went to heaven because of shortages and crypto stories, so many gamers still play in Full HD resolution.
It is the MSI Optix MAG274R2, a 27"model that combines Full HD resolution and 165Hz refresh rate with some more advanced features such as a ten-bit IPS panel with HDR support and of course, many gaming functions.
Design and features
In terms of design, the MAG274R2 successfully combines a discreet look with striking gaming motifs, achieving a visually effective impression, but without the exaggeration, we often see in gaming models.
The front of the panel is pure classic, with a thin frame at the top and sides, about 4mm added margins and a slightly wider bottom molding that is shaped to look a bit more interesting than the completely flat surface we see on most models. The back of the panel is where the style comes to the fore, so it changes surfaces made of black sandblasted hard plastic, glossy reflective, those with carbon texture and brushed metal texture - a lot of different elements, but all perfectly fit and look very interesting.
The central part above the support is occupied by a surface with motifs reminiscent of a printed circuit board of some electronics, above which there is a slot through which RGB lighting springs, just enough to look effective without shining like Luna Park in the evening. The lighting is adjustable with 12 independent zones and ten effects, of course with support for synchronization with other MSI Mystic Light devices. There is also the MSI logo as a dragon, as well as a red mushroom that reminded us of ThinkPad laptops.
As for the stand, the base may be a bit unnecessarily exaggerated, although it offers excellent stability, while the carrier has an interesting shape and adds charm to the overall look, and it also has an opening for cable routing. As far as the ergonomic adjustment is concerned, the panels can be rotated left and right by an excellent 75 degrees in both directions, inclined by 5 degrees forward and 20 degrees backward, height adjusted between 10 cm, as well as pivot panels in both directions by 90 degrees, with a small caveat that there are no steps at zero.
At the bottom of the back, there is also a section with connectors in which there is one DisplayPort. Two HDMI 2.0b and a USB Type-C port which is also capable of image transfer. In addition, there is also a headphone connector, one USB port for connecting to a computer and two USB 2.0 for connecting peripherals. As well as a power connector that is made via an external adapter. Interestingly, the computer when you connect this monitor via USB will automatically offer the installation of MSI Gaming OSD 2.0 software that is used to adjust all parameters, update firmware and select image modes directly from the operating system.
There are also gaming-specific options such as a programmable alarm or sight display, which in this case can even adjust the position, something we see for the first time on a gaming monitor, and the software also offers very convenient options for automatic screen sharing and window position change. It is also possible to program the function of the button below the lower-left edge of the panel and assign it, for example, to divide the windows according to your wishes. Although the control in the software is very practical, the mentioned mini joystick and the nicely designed menu also offer very easy adjustment of all important functions.
In gaming, the MSI MAG274R2 comes with a 165Hz refresh rate, as well as official support for Nvidia G-Sync Compatible and AMD Freesync Premium Variable Refresh. The specification states a range of 30 to 165Hz, and the AMD driver reports from 48 to 165Hz, although compensation for frame rates below the minimum should certainly be active.
Official data also state response of 1ms. In high frame-rate games, the MAG274R2 leaves a highly good impression, with a very smooth display and excellent input lag of only 8.5ms. It is also worth mentioning Night Vision. Which is a function that raises the level of black color for easier observation of the opponent in the shadows, and which in this case also has A.I. mode, not only a fixed level of raising the level of black but a setting depending on the content, which works correctly and makes this option more usable.
As for performing the panel itself, we said, it is IPS, with expectedly excellent viewing angles, but also atypically good lighting uniformity and negligible IPS glow effect. The resolution of 1920x1080 pixels is at the lower limit of 27" at the lower limit of what is desirable. We can say that it looks correct, although more discerning users may wish that it is at least QHD, not so much for gaming as for text display. The maximum illumination of the panel is at 342 nits, so the HDR Ready in the specification is actually just support for activating HDR mode in games. The panel does not have enough light even for the basic HDR400 certificate.
However, what sets this model apart is that the panel supports 10 bits per color channel, more precisely 8bit + FRC, and the measured color coverage is really impressive and with as much as 92.8% DCI-P3 spectrum is one of the best we have so far seen on a monitor.
Thanks to this, HDR will still make some sense, because by activating it you will see more shades than the SDR display offers, although the contrast is still at a level that is far from the HDR requirements. for one IPS panel, with 1348: 1 in most modes, and even 2177: 1 in movie mode in an image with alternating black and white fields that limit the use of dynamic lighting used by this mode.
For example, in the same mode with standard black and white screens that show the maximum range, the contrast is 3021: 1, so the real useful contrast of this model is really great for this type of panel.
Despite the excellent gamut with characteristics, the factory color calibration is not at a high level. The best Delta E deviation is measured in Movie mode with the correct 3.6, which is a bit of a shame because this monitor has a lot of potential and can be serious with calibration. work tool.
Final impressions
The MSI Optix MAG274R2 is an interesting monitor that has some of the features that set it apart from other models in the class, even though it is not the fastest competitor. We first think of the contrast and width of the color palette it can display, which combined with excellent input lag, 165Hz refresh rate and official support for G-Sync and Freesync make this model an interesting choice for those looking for a Full HD gaming monitor with IPS panel.