Gaming champion with 16-inch screen and RGB
Elegantly designed gaming laptop of exceptional performance, mostly thanks to the built-in fastest graphics card for laptops - Nvidia's RTX 3080!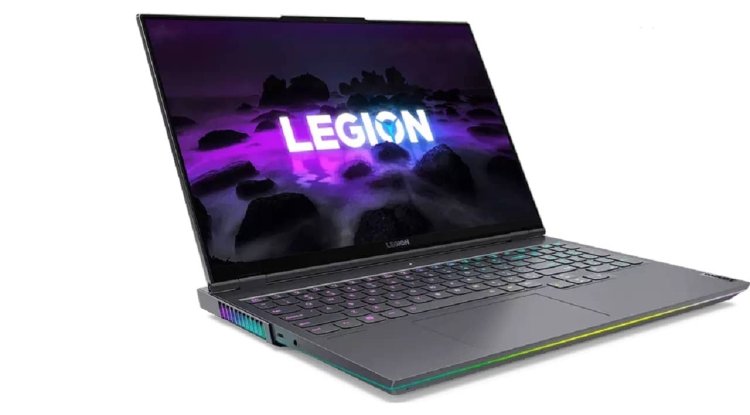 Photo Credits: Lenovo / promo
Elegantly designed gaming laptop of exceptional performance, mostly thanks to the built-in fastest graphics card for laptops - Nvidia's RTX 3080! An excellent 16-inch screen with a refresh rate of 165 Hz and attractive RGB lighting only complete the great impression.

This is Lenovo's Legion 7 , a top model in the offer of gaming laptops from this manufacturer, which we can generally call one of the best gaming laptops currently available on the market. The model we tested features an extremely powerful hardware configuration led by AMD's octa-core Ryzen 9 5800H and the Nvidia's fastest laptop graphics card RTX 3080.
Elegant and attractive
Unlike some noticeably larger and heavier gaming laptops, this is a truly compact and easily portable computer 23.5mm thick and weighing 2.5kg . The quality of workmanship is also at a very high level. Robustness is great, and the case is made of a combination of aluminum and magnesium. Even more impressive is the fact that the Legion 7 comes with a larger 16-inch screen, and is quite comparable in size to the usual 15-inch gaming laptops. In real life, this laptop looks extremely elegant, and the gamer flair gives it RGB lighting on the bottom, left and right, as well as the cooling slots and the Lenovo logo on the top of the laptop.
The built-in chiclet keyboard is common for Lenovo laptops. Of course, the main attraction is the built-in RGB lighting with a total of three brightness levels. You can fine-tune the keyboard brightness with the help of Corsair's iCUE software.
As expected, the Legion 7 is a richly equipped laptop. Lenovo did not save, especially when it comes to USB ports. There are a total of six, of which two USB-C 3.2 gen 2 ports with support for video output, data transfer and charging devices. Interestingly, most of the connectors are located on the back of the laptop, and the markings above them are specially illuminated. The only thing missing here is an SD card reader and e.g. support for Thunderbolt 4, features of the latest Intel hardware platform.
16 inches for gamers!
With a powerful hardware configuration, one of the key trump cards of the Lenovo Legion 7 is certainly the built-in 16-inch screen with a 16:10 aspect ratio. In addition to offering a slightly larger diagonal compared to classic 15.6-inch screens, this screen thanks to the mentioned ratio also allows a larger vertical area, including a resolution of 2560 × 1600 pixels.
The built-in screen is based on IPS technology with a declared maximum brightness of 500 nits, comes with support for HDR and Dolby Vision, and its refresh rate is 165 Hz. For gaming performance, it is also extremely important to emphasize that it supports both FreeSync and G-Sync. The special pre-installed X-Rite Color Assistant application allows you to select special factory-calibrated color display profiles (SRGB, REC.709, etc.) which will certainly be of great use when using image or video processing applications. The only thing we didn't like about the built-in screen is the fact that the brightness level drops quickly if you set it to 70% or less, which is felt in the dynamics of the image.
Brutal gaming machine
With Legion 7, Lenovo allows you to choose from a total of three predefined profiles that actually determine the level of performance, but also the total energy consumption. Performance, Balanced and Quiet profiles are available. You can switch between them at any time using the Fn + Q key combination, and you can also use Lenovo's Vantage software to select the desired profile. A nice detail is certainly the fact that the lighting on the surface of the power button will change color depending on the selected profile (white - balanced, red - performance, green - quiet).
We conducted all the tests with the selected Performance profile, which is the only one that provides the maximum available power for the graphics card and processor, but results in significant noise from the cooling system. Also, in order to get the best performance in games, we excluded the so-called Hybrid mode or Optimus technology that allows the use of an integrated graphics card on AMD's processor in combination with Nvidia's separate card.
Given the powerful hardware "under the hood", Legion 7 is expected to be a brutally fast laptop that provides exceptional performance, both in everyday work and in the most demanding tasks such as rendering, video processing or the latest games. Moreover, given the "surplus" of available computing power, you will be calm for the next few years without the need for any significant upgrades. We only think that "only" 16 GB of RAM in this configuration is too little for such an expensive laptop. In addition, AMD's Ryzen mobile processors do not support PCIe 4.0, so here you are doomed to PCIe 3.0 × 4, for example with a built-in SSD.
The fastest mobile GPU!
Performance in games is a special story. Nvidia's RTX 3080 in the laptop version is nominally the fastest graphics processor in laptops, which has been confirmed in practice. Finally, this version of the RTX 3080 laptop card has a huge 16 GB of GDDR6 video memory, which is not very useful for gamers at the moment, but will be of particular interest to anyone involved in video processing, 3D modeling and similar creative tasks.
The RTX 3080 is quite powerful enough to play comfortably on the native resolution of the built-in screen, and in all the latest games, when using ultra detail, it will allow you 60 fps or significantly more. The only exception is Cyberpunk 2077, which will still need to use Full HD resolution for 60 fps. Of course, it is interesting to see a comparison with AMD's fastest mobile graphics card RX 6800M, while Nvidia's RTX 3080 wins all tests in this version.
Finally, let's mention the battery life. The story here is quite complicated, as you will need to do a few things for the longest possible time of autonomy. First turn off or uninstall Corsair's iCUE RGB brightness adjustment software, turn off the keyboard backlight, switch the screen refresh rate to 60 Hz, use Hybrid graphics card mode, and manually select the Quiet profile for more economical mode. In this way, we recorded the best result in terms of battery life of over 6 hours of test video playback. In any other case, the autonomy time can vary significantly and range from 2 to 4 hours depending on the settings.
From everything seen and written, there is no doubt that the Legion 7 is a top gaming laptop of exceptional performance. It is particularly impressive how much computing power Lenovo has managed to pack into a relatively compact and slim body of sleek design. Everything is spiced up with a great 16-inch 165-hertz screen and attractive RGB lighting. The price is even quite reasonable considering everything, but the actual availability to buy is still very dubious.
More information
Model: Legion 7 16ACHg6
Overall rating: 4,6
Performance: 5
Cost-effectiveness: 4
Cool Factor: 5
Manufacturer: Lenovo
CPU: AMD Ryzen 9 5800H 32 / 44 GHz turbo 45W+
Memory: 2 × 8 GB DDR4 3200 MHz
Graphic system: Nvidia RTX 3080 laptop 16 GB GDDR6
Hard drive: WD 730 1 TB NVMe PCIe 3.0 x4
Screen: 16" , 2560 × 1600 piksela, IPS, 165 Hz, podrška za FreeSync i G-Sync, HDR, Dolby Vision
Connections: 2x USB C 3.2 Gen 2 with support for DisplayPort 1.4 and battery charging, 1x USB-C 3.2 Gen 1, 3x USB-A 3.2 Gen 1, 1x HDMI 2.1 speakers, headphone and microphone jacks, 720p camera
Interfaces: Gb LAN, Killer WiFi 6+ Bluetooth 5.1
Dimensions and weight: 356 × 260 × 23,5 mm/ 2,5 kg
Plus: design, compact dimensions in terms of screen size, fast octa-core processor, generally top performance, exceptional gaming performance, excellent 16-inch screen with support for FreeSync and G-Sync, very good keyboard with RGB lighting, equipment
Minus: no support for PCIe 4.0, no support for Thunderbolt, quite noisy at full load, only 16 GB of RAM, a noticeable drop in screen brightness by selecting 70% or less