Gaming mouse with 7200 DPI and RGB LED lighting
The Trust GXT 922 YBAR was recently introduced alongside the GXT 131 as a balanced and economical option for frequent gamers.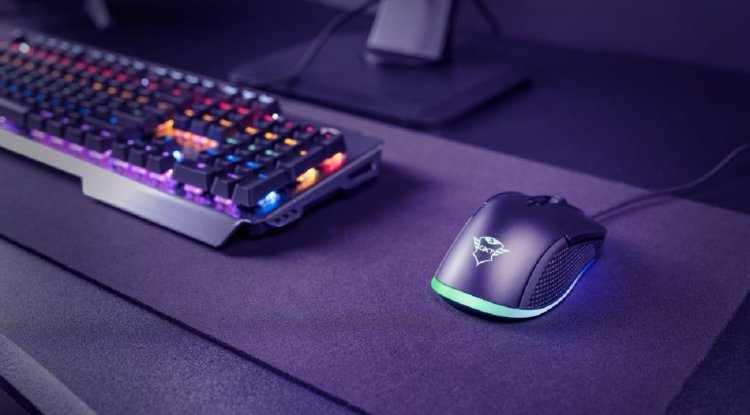 Photo Credits: Trust / promo
The Trust GXT 922 YBAR was recently introduced alongside the GXT 131 as a balanced and economical option for frequent gamers. This model that we analyze today has a PixArt PMW 3330 optical sensor that is more than interesting for its reasonable price, with 7,200 DPI, 1000 Hz polling rate, and programmable buttons thanks to its software. The ergonomic design is designed for use in any type of grip with its dose of RGB.
Comfortable design for any type of grip
We move on to the analysis of the design, where this Trust GXT 922 YBAR demonstrates a clear right-handed orientation when using a significant drop to the right, and of course completely adjusted sides for this use. Its dimensions make it perfectly valid for all three types of grip, although it stands out especially in the palm. It will be available only in black with a slightly glossy finish.
The front area uses two main buttons integrated into the plastic shell instead of being independent. Its concave surface will allow you to place your fingers comfortably, while a slight outer edge on each side will prevent it from slipping out. These buttons offer a fairly smooth click without play, very little noise and that leaves us feeling of good construction at least in the first bars of use.
In the central area, we have a wide wheel that is quite open and with its outer surface of dotted rubber to improve the scrolling movement. Just behind it, a button also discovered on the front allows us to select each DPI jump. We go to a rear area with a noticeable drop downwards, ending in a step so as not to make contact with the ground.
This design first of all allows us to greatly improve the grips that give greater mobility such as the fingertip or claw. In addition, the highest point of the mouse is quite back, with a very predominant front area to offer the maximum contact surface with the main buttons. The lower band provided with RGB lighting stands out, which will also brighten the rear logo without becoming a second independent zone.
The sides will be built in the same plastic casing as the rest of the Trust GXT 922 YBAR, although they have a honeycomb pattern that improves grip and airflow over the fingertips. Like any right-handed mouse, the navigation buttons are on the left, quite large, especially the rear, noticeably protruding, but with a slightly harder click than the main buttons to avoid accidental presses. We can say that they are very well placed for the three types of grip, being a point in favor without a doubt.
The lower area has not had too many design complications, as it is basically made up of two huge PTFE legs, one front and one rear with a slightly curved edge. They offer a fairly fast scrolling, thanks also to a fairly acceptable weight of 95g for the mouse, so on cloth mats, it has performed quite well. Note the detail of two small grimaces on the legs that allow them to be removed for a possible change, although a spare set has not been included.
The USB cable is somewhat longer than most mice, at 2.1 m, using a fairly tight mesh that gives it much less flexibility than we would like. The intake is at least reinforced with a plastic area and inserted inwards to avoid shocks and preserve its integrity.
Trust GXT 922 YBAR benefits
After seeing a very good design and static in this Trust GXT 922 YBAR we are going to see that its technical section also offers us good guarantees at the gaming level. And the optical sensor chosen will be a PixArt PMW 3330, configured at a maximum resolution of 7,200 DPI, more than enough for any user if we are realistic.
Enter the characteristics that the manufacturer offers on its implementation, we have that it supports a total of 6 DPI jumps configurable from the software in jumps of 100 DPI. Likewise, it supports 20G accelerations and scrolling speeds of up to 60 ips, which is not bad for use in shooting games where a fast response is needed.
It supports a polling rate of up to 1000 Hz, thus delivering minimum latencies of 1 ms, although from the software we can configure 4 modes of 125, 250, 500, or 1000 Hz depending on the capabilities of our hardware. Its 6 buttons will be programmable, admitting macro recording, modification of the double click speed, scroll speed, and sensitivity adjustment for the sensor.
Final words and conclusion about the Trust GXT 922 YBAR
If what you are looking for is a mouse as cheap as possible without giving up a comfortable design, reliable optical sensor, and good aesthetics, the Trust GXT 922 YBAR could be what you are looking for. It is still an entry-level model without many pretensions, but they are increasingly able to offer more for less, and this is yet another example.
The competition with Krom, Ozone, NOX, etc. is very tough and it would be difficult to say which one is better, but we can be sure that, as long as there is a good PixArt sensor behind it, it will almost be a guarantee of precision. Trust is usually a manufacturer that uses a good build for its peripherals, so we could be reassured about the durability of the main clicks, the element that always suffers the most.
The aesthetics are also quite elaborate while offering an ergonomic right-handed design that allows us to use almost any grip with success and comfort. We also have software management, quite complete, with macros, customizable buttons, and even DPI and adjustable polling rate. Very recently, this was only available on mice priced at $ 40 and up.
However, the Trust GXT 922 YBAR will be available for only € 25, and even less depending on the store where we find it. For now, nothing that Trust has sent us has failed or raised problems, so we will put it as recommended for very tight budgets.
ADVANTAGES
DISADVANTAGES
GOOD OPTICAL SENSOR FOR GAMES
REALLY RIGID CABLE
ERGONOMIC DESIGN AND THAT SUPPORTS ANY GRIP
YOU CANNOT ASK FOR MUCH FOR SO LOW PRICE
THE MAIN CLICKS ARE NOT BAD
CONTROL BY SOFTWARE
PRICE QUALITY