Gordon Murray Automative T.33 - SuperGT
Gordon Murray Automotive T.33, with a 3.9-liter V12 atmospheric engine of 616 hp (453 kW) is delivered to the rear wheels.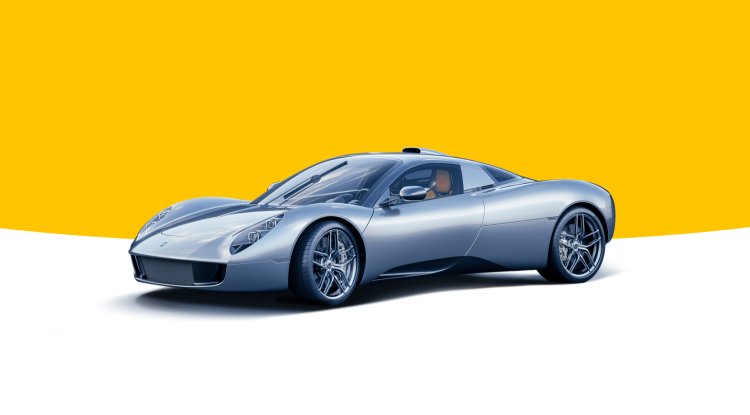 Photo Credits: Gordon Murray Automative/Promo
After the fascinating T.50 Gordon Murray Automotive, arrived the T.33, which is not as "sharpened" as its cousin, but with a 3.9-liter V12 atmospheric engine of 616 hp (453 kW) that is delivered to the rear wheels, the term "sharpened" is quite relative here.
"Heart" T.33 is a modified version of the same Cosworth V12 that drives T.50. Admittedly, it does not "spin" at such high speeds, but we are still talking about entering the "red" at 11,100 rpm. Maximum power is available at 10,500 rpm, while maximum torque is delivered at 9,500 rpm.
GMA says that 75 percent of the maximum torque is available at 2,500 rpm. Compared to the limit of 12,100 rpm at T.50, T.33 is "tame" at lower revs, but it is still a very capable machine.
With the help of a six-speed manual transmission, power is transmitted to the back wheels. So, an atmospheric engine paired with a manual transmission - that's a joy for car enthusiasts. Steering wheel levers for gear changes is an option.
The GMA says that the Xtrac is an extremely light transmission (78 kilograms) and that it changes gears extremely quickly. The engine is also light (178 kilograms), and the carbon fiber monocoque contributes to a better power-to-weight ratio than the powerful McLaren F1.
However, the company has not shared the specifications regarding performance, but it is safe to assume that this car is extremely fast. What also surely distinguishes it are its outstanding driving characteristics. At the rear, of course, there is no fan that adorns the "rear" T.50, but the front wing sends air under the car efficiently to the rear diffuser.
Clean surfaces are such that a whole range of aerodynamic accessories is unnecessary, although an active spoiler rests on the rear, which is automatically activated with increasing speed, but the driver can also adjust it manually.The rims are 19 inch forward and 20 inch rear, shod in Michelin 4S tires.
As for the interior, everything is quite reduced, completely free of touch screens. The minimalist approach is of course, dedicated to the driver and the driver, but he will still be able to enjoy premium materials such as aluminum and carbon fiber.
The analog tachometer occupies a central position in front of the driver, and since it has a standard manual transmission, the T.33 is largely an analog car, which is a real rarity in today's digital age. However, it is not completely free of modern trends, because it has Apple CarPlay and Android Auto functions.
This GT with a centrally positioned engine will cost future owners quite a fortune. GMA says the T.33 will be available in the global market, with left or right-hand drive.