G.Skill Ripjaws S5: Compact RAM series up to DDR5-6000 presented
G.Skills' new Ripjaws S5 series starts with clock rates up to DDR5-6000 and a capacity of 2 × 16 GiByte into the DDR5 SDRAM age. Compared to the Trident-Z5 series, the modules are much more compact, but customers have to do without a variant with RGB LEDs.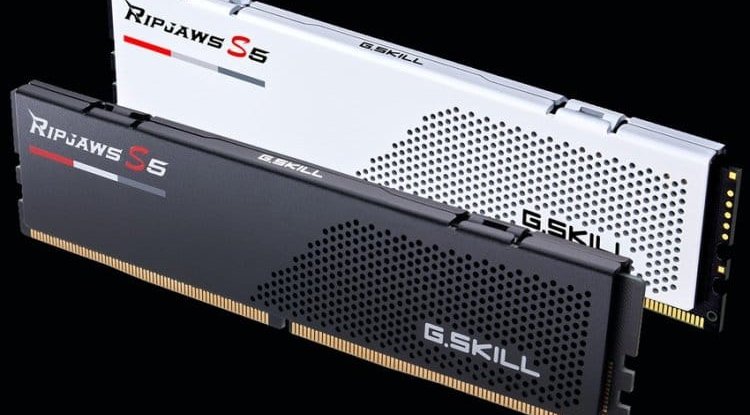 Photo Credits: G.Skill / promo
G.Skill's price-optimized Ripjaws series will also be available with DDR5 SDRAM technology, which Intel's Alder Lake will initially support in the desktop market. The coolers of the new RAM series are very compact, according to G.Skill one module brings it to a height of 3.3 centimeters, which is why the manufacturer also uses the RAM sticks for use in mini-ITX systems or in combination with them advertises large CPU coolers. For the Ripjaws V series with DDR4 technology, G.Skill relied on a more expansive heat sink.
The Ripjaws S5 series will initially include kits with 2 × 16 GiByte capacity and support the clock frequencies DDR5-4800 / 5200/5600/600. (The Trident Z5 series was announced up to DDR4-6400 and extended to DDR5-6600 at short notice.) At every clock rate, there is a slower and probably cheaper variant that is approved for the timings 40-40-40-76. The faster option is specified for the main latencies 36-36-36-76. The Ripjaws S5 series will be available from November in two matt colors, namely black and white.
By: Amber V. - Zexron