Here's what Imelda Staunton will look like in the role of Queen Elizabeth as we all know her
The role of Britain's longest-serving monarch, after Claire Foy in the first two seasons of the 'Crown' series and Olivia Colman in the second two seasons, has been taken over by Imelda Staunton, who was filmed on set on Monday.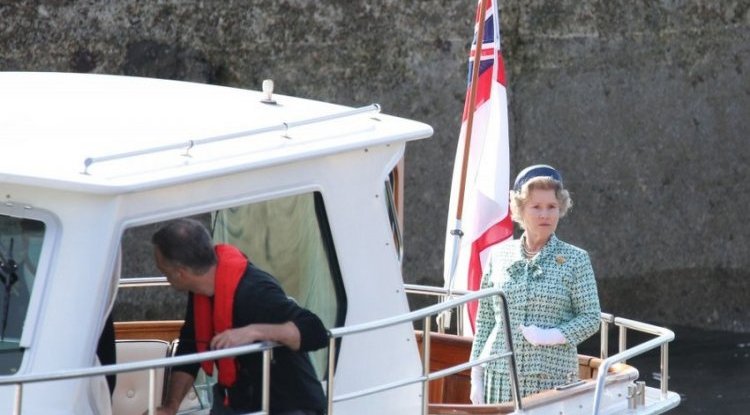 Photo Credits: Peter Jolly / Shutterstock Editorial / Profimedia
On the set of the fifth season of 'The Crown' in Scottish Macduff, 65-year-old Staunton wore a two-piece green suit and hat, but instead of the low-heeled shoes that are common for Queen Elizabeth, the actress wore Hunter boots.
Apart from comfort, the reason could also be of a practical nature, because Staunton was filming on a royal ship, but at times she was also seen walking safely on land in white heels.
According to the Daily Mail, the Queen arrived in Macduff with Prince Philip on August 4, 1961, and as the fifth season covers her reign from the 1990s to 2003, Imelda seems to have revived a royal visit to Belfast in 2003.
Imelda Staunton's photos from the set arrive just days after the release of the first photo of the actress in the character of Queen Elizabeth, which was posted on the official Instagram account of the 'Crown' series.
View this post on Instagram
In that photo, Staunton is wearing a light yellow dress with a pattern and gold buttons, as well as a collar tied in a bow under a pearl necklace.
The actress was a guest on the BBC radio show Woman's Hour in January and on that occasion spoke with host Emma Barnett about the 'additional challenge' posed by playing a more modern version of the Queen in the fifth season.
'I think an additional challenge for me as if I need it too, is to play the queen with whom we are a little better acquainted. With Claire Foy it was almost history, and I now play the kind of queen that people can say 'she doesn't do that' or 'she's not like that', and it's my personal nightmare, " Staunton said.
Although acting a more modern version of the Queen might be more difficult because of this, Colman said Staunton is well prepared because she has already perfected the royal gait.
When she spoke in October last year about handing over the role to a colleague, Colman admitted that Staunton was already walking much better than her.
By: Olivia J. - Gossip Whispers