iPad Pro 2021 review: Powerful and better than others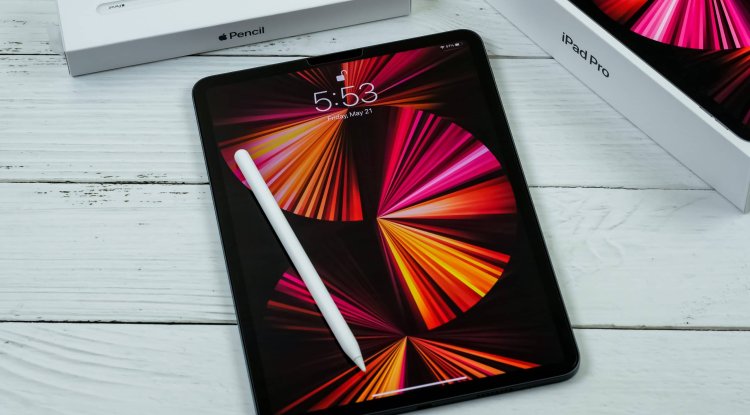 Photo Credits: DepositPhotos
This is the fifth-generation iPad Pro, and this year is specific because it comes with a new Apple M1 processor, the same one that is built into the latest Macs. 12.9" for a tablet is not small. The device is really huge compared to any tablet we have encountered so far, yet it is easy to get used to.There is a keyboard and a pen for this iPad, they are bought separately.
Specifications
Dimensions 280.6 x 214.9 x 6.4 mm
Mass 682 grams
Screen 12.9 ″ 4: 3 XRD mini-LED LCD, 120 Hz, HDR10, 1600 nita, 2048 x 2732, 265 ppi
SoC Apple M1
CPU Octa-core
RAM 8 GB Internal memory 128/256/512/1024/2048 GB
Micro SD No
Water resistance No
Stereo speakers Yes
Charging and connecting USB-C
OS iPadOS 14/15
Camera Main:12 MP, 10 MP, depth sensor Front camera: 12 MP
Battery 10,758 mAh
Design and case
The iPad is still by far the best-selling tablet with a market share unattainable by Android manufacturers, and part of the success can certainly be attributed to the design. The new iPad does not differ much in design features from its predecessor, and in terms of size, it is even thicker.
The length and width are the same as its predecessor, but the iPad Pro 2021 is half a millimeter thicker (6.4> 5.9). The new iPad Pro 12.9 weighs 682 grams, while its predecessor was 41 grams lighter.
Once you buy an iPad, you'll be using it for a few years because you won't need a newer one. Apple also provides software upgrades for five-year-old devices.
The case is made of aluminum, in colors Silver and Space Gray.
The device brings four external speakers on the left and right sides, provided you hold the device horizontally. With a vertical setup, you will be up and down. USB-C connection and charging port. There's a camera in the back.
Physically not much different from the previous generation, the iPad Pro still looks excellent. What makes the iPad Pro, especially the 12.9" model, more usable and in some ways complete, is the Apple Magic keyboard.
When you connect it to it, the iPad becomes a "2 in 1" notebook, just like any laptop with a detachable screen.
The iPad combined with the keyboard is handy when you need it and you can connect it in literally seconds. Also, the keyboard itself is really well made.
Screen
Apple has installed the Mini LED, which still is the LCD category. The screen is crystal clear, with a realistic display of colors. 120 Hz refresh rate that will bring you an exceptional experience in literally every use.
The maximum 1600 nits guarantee excellent readability iPad under the strongest sun, but you quickly notice that this is too much for everyday use. There is also a True tone option that reduces the emission of blue light, otherwise harmful to the eyes.
The screen resolution is 2048 x 2732 pixels, which gives a density of 265 ppi. I know, compared to the densities we encounter on smartphones, it seems small, but since we mostly look at the tablet from a greater distance, rarely will anyone be able to isolate a single pixel.
We can conclude that the iPad Pro screen is indeed a superb user experience, but some may not like the 4:3 aspect ratio. Namely, this ratio is ideal for concrete work. If you want a tablet where you will primarily watch movies, consider someone else, with a 16:9 aspect ratio.
Hardware and performance
When rumors first surfaced that Apple was running its own processor for its computers, on ARM architecture, and was abandoning the old Intel x86, many were skeptical. But Apple surprised everyone.
The Apple M1 processor was first introduced in Macs, which already in the first reviews showed huge progress compared to models with Intel's i5 and i7 processors of the latest generation. Now it's time to install this chip on the iPad, which puts it ahead of all competitors in the beginning.
So the M1 iPad will delight you in literally every way, much the same as on the MacBook Air with the M1 processor.
On the iPad, the M1 processor will do everything fantastically and with incredible speed. You can do even heavier video editing on the iPad, but if you are a professional, we definitely recommend a machine with a larger screen and the already mentioned fans.
Connecting
The USB-C charging slot also has a Thunderbolt port function, which means the enormous speed with connected devices.
If you also buy a keyboard, its USB-C slot can be used for charging, and the one on the device for something else. Of course, you shouldn't forget 5G either, but you'll only get it in "Cellular" versions, those with a SIM card slot.
Software and app
As you already know, a few years ago, Apple largely separated the operating systems for the iPhone and iPad, with the latter (iPadOS) being younger, resulting in a certain lack of applications.
It is worth mentioning that Microsoft has also made a significant contribution to the usability of the iPad, as it has developed Office applications specifically for the iPadOS.
A special surprise is Google's Chrome, which is practically unusable on the iPhone, while on the iPad you get almost the same as the one on the Mac and PC.
Camera
The base has a 12MP sensor and the wide-angle 10MP, and there is also a depth sensor for portraits. What is more important is certainly the front video chat camera, and it brings a 12 MP sensor, as well as a Face ID face recognition system, which also serves as biometric security.
Battery, autonomy and charging
iPad Pro 12.9 brings a large 10,758 mAh battery, so visibly higher capacity than its predecessor (9,720 mAh). Because of Apple's modest operating system and the new processor, the battery offers excellent autonomy. Apple claims it will last a full 10 hours of work, but it will depend on what you do.
These 10 hours are about surfing the web, chatting and working with emails. If you run a more demanding application, and since you have such a powerful machine, you will definitely want it, expect a shorter battery life. Also, pay attention to the lighting, because at 100% intensity there is no such scenario in which it will last the mentioned 10 hours.
Either way, the autonomy on iPads has always been above average, so this model is no exception.
It will take about three hours to charge the battery with the included charger, which is not a bad result for such a large battery.
Keyboard
When you buy such a large tablet, you definitely wish that you could do something concrete on it, then one of the necessary accessories is a physical keyboard. Of course, it is bought separately.
So, a 12.9-inch tablet will not be considered by many in the classic sense, as it is visibly larger than the 10- and 11-inch tablets we are used to. Given this "detail", the keyboard itself is larger than those for 10 and 11-inch tablets and thus offers more space, which makes typing more comfortable and almost identical to that on a 13-inch laptop.
The keyboard is made of quality material. Keys are incredibly well-integrated and give an extremely good response. The trackpad on the lower part is especially impressive, which can often be used instead of a finger on the screen, which will definitely reduce stains on it.
Of course, the trackpad will not always be useful to you, and only because of its limited dimensions.
To the surprise of those present, the keyboard also contains a USB-C charging slot and is located in a round part where it overlaps. This is a very useful thing, not only because the keyboard needs electricity to work but also because you charge the device through it - Smart connector. Of course, in case the charger is disconnected, the keyboard is powered from the iPad. So you get two USB-C slots on your iPad, which will be handy when it needs charging, and at the same time, you can connect another device to it, such as a USB memory stick.
https://www.youtube.com/watch?v=aOq49euWnIo&ab_channel=Apple