Join the fight with Gigabyte M32QC
Gigabyte M32QC is the brand's new monitor that comes to offer the maximum width of the screen on desktops along with the new 1500R curvature.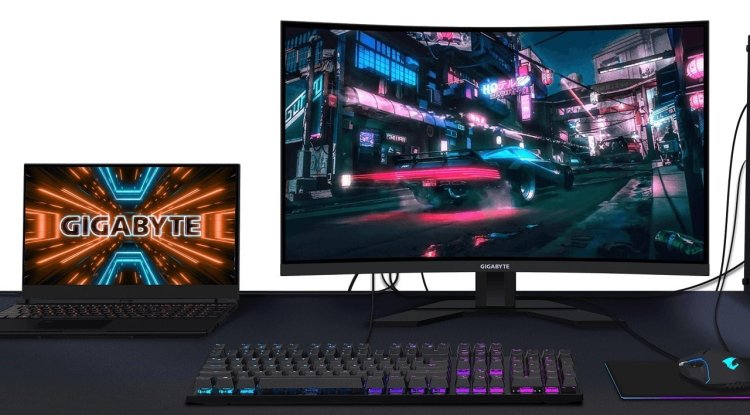 Photo Credits: Gigabyte / promo
Gigabyte M32QC is the brand's new monitor that comes to offer the maximum width of the screen on desktops along with the new 1500R curvature, which according to experts is the one that best suits our vision. We can enjoy multimedia content thanks to the HDR400 and its 2K resolution, but even more games with a 170 Hz refresh rate with FreeSync Premium Pro and 1 ms response. 
Slimmer and more dynamic design
The Gigabyte M32QC will repeat design as far as support and base are concerned, although we do see a step forward in its screen, slimmer, with rounded edges, and tighter than other models. This will have an impact on the weight being 7.8 kg as a whole, so it will be relatively easy to transport and move.
Starting with the support base, we have a fairly wide foot in an open "V" shape with a metal chassis and a rough rigid plastic casing in the upper area. Its edges will be oblique to better integrate into the desktop and avoid direct hits with the keyboard or mouse, always with non-slip rubber feet in the lower area. The space that it will require on the desk will be about 24 cm deep, and if we add the separation to our eyes, we would recommend a desk of at least 60 or 70 cm.
The support arm is attached to the base using a single thumbscrew. It is quite slender and simple as far as aesthetics are concerned, repeating in matte black color and angular rough finishes. In the lower area, you cannot miss the hole to route the connection cables, although we will not have any type of lighting.
Possibly because it is a curved monitor, its ergonomics have been somewhat limited by not being able to turn sideways, although the upper hinge does allow adjustment. Its good-sized horizontal layout will do a good job of stability for this large display. It also uses a 100 × 100 mm VESA system with a very comfortable and fast screwless coupling for the user.
Ergonomics
The mobility of the Gigabyte M32QC is reduced a bit for being a curved model of great amplitude. We will have a limited possibility of turning the screen sideways (pivoting), so this movement will have to be done by hand by turning the base. Obviously, it doesn't support panel rotation either.
The hydraulic mechanism of the arm allows a height adjustment of 100 mm, not being the widest, although sufficient for this format. In this way, we will reach a maximum height of 60 cm in the upper frame of the screen, and a minimum of 35 mm in the lower frame with respect to the ground. The screen hinge system allows vertical adjustment -5° orientation down to 20° up, fairly typical.
Connection ports
We now continue the analysis of the Gigabyte M32QC focusing on its connectivity, with ports located in the lower rear area facing the ground. The panel will consist of the following connections:
Power input Jack 19V DC at 4.74A
2x HDMI 2.0
1x DisplayPort 1.2
1x USB 3.2 Gen1 Type-C with DisplayPort
USB 3.2 Gen1 Type-B for data link
2x USB 3.2 Gen1 Type-A for peripherals
1x 3.5mm Headphone Jack
As there is no 4K panel, the manufacturer has opted for two HDMI 2.0 ports, which support 2K at 144 Hz in normal mode and 2K at 240 Hz in 4: 2: 0 mode. On the part of the USB-C and the DisplayPort 1.2 port, they will be the most recommended by natively supporting 2K at 165 Hz and the OC at 170 Hz of this monitor.
Gigabyte gives another utility to the USB-C port that is also used by other new-generation models such as the KVM function. This allows you to control up to two PCs connected to the monitor, using a mouse and keyboard connected to its USB-A ports. KVM is available in both the USB-B and USB-C ports, being able to configure the behavior from the OSD or OSD Sidekick software in Windows. We also have PIP and PBP modes that allow us to use several simultaneous video sources on the monitor, with a menu of many options again in both control panels.
Screen and features
This Gigabyte M32QC has a VA LCD type panel to perform the 1500R curvature, the one that best adapts to the field of vision of the human being. It will therefore be an excellent monitor at the immersion level, with a 31.5-inch diagonal that will undoubtedly cover our entire range at a distance of about 50 cm.
It is very focused on offering a maximum fluid experience with both high-end and mid-range graphics cards since it has a native 2K resolution of 2560x1440p under a 16: 9 widescreen format. With a pixel size of 0.2724 × 0.2724 mm it will offer very good image sharpness, and it will make a lot of sense for non-hardcore gaming setups. 
Regarding the basic characteristics of the panel, we have a typical contrast of 3000: 1 thanks to its VA technology, and a typical brightness of 350 nits with DisplayHDR 400 certification (400 nits sustained peak). Although it is the lowest certification of the standard, at least it promises images in HDR with a color depth of 8 bits. The color depth promised by this monitor will be 94% DCI-P3 and 123% sRGB, with very good viewing angles of 178° vertical and horizontal that are fulfilled quite well.
We also review the functions of the brand's monitors that will help us improve performance in games:
6-axis color management: for greater precision in the monitor's saturation profile. It will only be available for user-definable Custom picture modes.
Dashboard: An on-screen dashboard that allows you to monitor the CPU, GPU, FPS or DPI telemetry of the mouse in real time on the screen. Its compatibility will depend on the hardware we use.
Aim Stabilizer Sync: reduces the motion blur effect when using the weapon's crosshairs together with V-Sync.
Black Equalizer: A gaming monitor classic exposes dark scene details to reveal more information without affecting other brighter areas.
Game Assist: includes functions such as HDR mode, PIP / PBP, FPS counter, crosshairs, timer or advanced image alignment.
OSD Sidekick: Windows application that links directly to the monitor to have all the firmware options in the system.
Final words and conclusion 
Gigabyte delighted us with a monitor that brings together practically everything that a demanding gamer and content creator can expect. Speed, power, image quality, good calibration, all in a large desktop, with the best immersion thanks to 1500R and suitable resolution to take advantage of mid and high-range GPUs in the best way.
Its gaming performance remains at the best possible level, squeezing the VA panel down to 170 Hz with an impressive low E2E latency of 20 ms. Packed with configuration options to improve our gaming space and competitive advantages, it will be a great tool for competitive or individual gaming. The only but that we can put is that it does not completely resolve the presence of ghosting, although in games we will hardly notice it.