Laptop from Acer Nitro 5 Series 2021 Review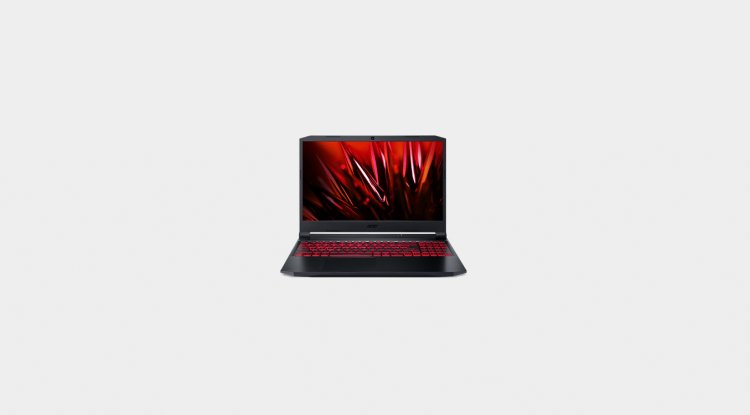 Photo Credits: Acer/Promo
Acer Nitro 5 515 turns a new page in mobile mainstream gaming. Significantly better screen, faster GeForce RTX 3050 graphics, Thunderbolt 4 support, are a combination that makes it ideal for gaming but also as an alternative "machine" for creativity and work. What is practical these days Core i5 11400F plus GeForce 3060 for desktop, it is this Nitro 5 with Core i5 11400H and RTX 3050 for mobile gaming - in a word Best Buy at the moment ...
One of the favorite budget gaming notebook models has arrived in a new version refreshed and empowered. Acer NITRO 5 model that closes the season with a platform based on the 11th generation Intel Core processor in the X version... High-performance models and GeForce RTX 3050, mobile Ampera graphics for gaming and operation.
The look hasn't changed much since last time. There is not much to improve. The fine slim silhouette for a gaming model fits in well with the combination of a black and red body made of quality plastic, which hints at its aggressive gaming character - and it looks just right. Additionally, there is that distinctive stealth design with large rear exhaust vents highlighted by a red "outline" as if you were looking into the exhaust system of a super sports car. The younger audience, which is also the target group of this device, its loyal customers recognize that that is why many love it. Some are even surprised when they first grab it by the hand because they didn't know that gaming and laptop with relatively powerful hardware can be this fit.
Design and features
The first surprise was prepared by the part that is most viewed - the screen. Somehow it was the rule that gamers in this price range have unconvincing screens. This time it is no longer the case. Measured, checked 370 units. There is no need to push the lighting to the maximum because at some 95% white radiates with that blur effect. Slightly below the maximum and the picture is crystal bright and clear.
The screen uses an IPS panel with a display resolution of 1920x1080 pixels. For gamers, a very important feature besides good lighting and contrast is the fact that it refreshes at 144Hz. And that, in combination with the previously mentioned characteristics, is very noticeable. That's why the animation and gameplay in Battle Royal titles like Warzone, Apex and Fortnite are above the current average for this class of portable gamers. In a word, the games in this notebook look great at the HDR level.
Of course, an HD webcam and a pair of microphones are integrated into the screen, as well as an ambient light sensor.
On the transverse beam located in the area between the screen and the hinge base, there are a pair of LED indicators for device activity and charging. The central part of the account database has remained virtually unchanged. Its surface is dominated by an old acquaintance of the Nitro Sense keyboard. This "hi-tech" name actually hides buttons of comfortable size, but soft and inaccurate suspension with the usual red LED backlight.
Nitro definitely deserves a more precise and faster keyboard. WASD and cursor caps are especially emphasized, as is the one on the numeric part, which is specifically used to call NITRO Sense software. The same goes for the correct touchpad with clicks in the corner. It has a nice, cold metal surface on which the finger slides easily and precisely, but it could be a shade bigger and moved to the right.
Stereo audio vents are underlined under the front side edges. When it comes to connections on the left side, there is one 3.5mm jack for headphones and a microphone, then a pair of USB-A 3.2 first-generation connections and a classic RJ 45 LAN connector for network connection. On the contrary, we find a second-generation high-speed USB-C 3.2 with 10 Gbps data bandwidth supported by Thunderbolt 4. Definitely, a nice and useful detail to use with the new high-speed USB-C PCIe external SSDs - either for work or extra space for game installation. In addition, there is another 5Gbps USB-A 3.2 first generation, then full-size HDMI for connection to external screens.
And inside, the Intel heart is installed in the version of the 11th generation Core processor model i5-11400H. Unfortunately, this version of the model has 8 GB of DDR4 RAM in a single-channel configuration. The striking gaming song is the GeForce RTX 3050, the entry-level model of the portable version of the gaming Ampera GPU with 4GB of GDDR6 memory. You have 512GB of ultra-fast storage space as it is a PCIe x4 M.2 SSD model.
The network section consists of a couple of Killer Network solutions - the first is gigabit E2600 Ethernet, and the second is high-speed WiFi6 that covers two wavelengths with 802.11ax specifications and of course BT5 support. All this is nicely accompanied by the Killer software tool for controlling, prioritizing and monitoring data traffic.
CPUs and GPUs are cooled by a system of oppositely placed coolers connected by heat pipes that are additionally cooled by two centrifugal fans. Quadruple openings, a couple of them on the side and back are to expel warm air, while the slots at the bottom of the base of the device are used to draw in fresh, cooler air.
Since this is a laptop, a four-cell lithium-ion battery with a capacity of 57.5Wh has been installed, capable of providing autonomy of 3 hours and 30 minutes in conditions of moderately demanding operation and screen brightness at 80%. It is charged with a 180W maximum power rectifier, which takes about 2 hours to fully charge. We are missing the fast charge function. While running on battery, the NITRO 5 delivers about 80% performance compared to a rectifier operating situation. The computer weighs 2.3 kg, is about 40 centimeters wide, 25 centimeters deep and 2.4 centimeters thick when the screen is lowered.
One of the more important things is the easy upgrade option. Unlike some manufacturers who try to make your life miserable by literally sealing your laptop, Acer seems to expect you to do so. Acer has really done everything to make it easier for you to add a device that will boost your NITRO 5 overtime or at the very beginning without any pitfalls.
The bottom cover is easy to remove, and below is additional space for M.2 2280 SSDs - so you have two M.2 PCIe slots, there is also a position for an additional 2.5" SSD or HDD drive with an adapter that comes in the package computer. Acer has really surpassed the competition and therefore deserves special praise for hitting the very center of the needs of the "mainstream" audience!
Performance and power
Basically, this model inherits practically similar NITRO 5 models with GeForce GTX 1650 graphics processors and Intel Core i5 class CPUs. It can be seen that, in the end, such a combination of the previous generation is faster in games and applications. He is especially good at games.
In terms of heating, the heat zones are well insulated so that the fingers of both hands stand above the zones where the fans are stationed, so the WASD key positions are quite cool with temperatures below 30 degrees when playing. It is warmest on the exhausts and under the monitor in the central zone, where the maximum reading is at an equally solid 46 degrees.
However, NITRO 5 can be noisy in certain situations, such as the multi-hour marathon at APEX, when fans advertise with 46dB of noise. And there are solutions for that, put on the headphones and enjoy because the central processor that goes to a maximum of 85 degrees and the graphics processor with 78 degrees must be forced to cool down.
Here you can buy some laptops from the Acer Nitro 5 series.
https://www.youtube.com/watch?v=C9l9bRkvoW4