Lenovo IdeaPad Gaming 3 15": Review
The more affordable version of the Lenovo IdeaPad Gaming 3 comes with a 256 GB SSD, while the more expensive one comes with a more acceptable terms, 512 GB SSD.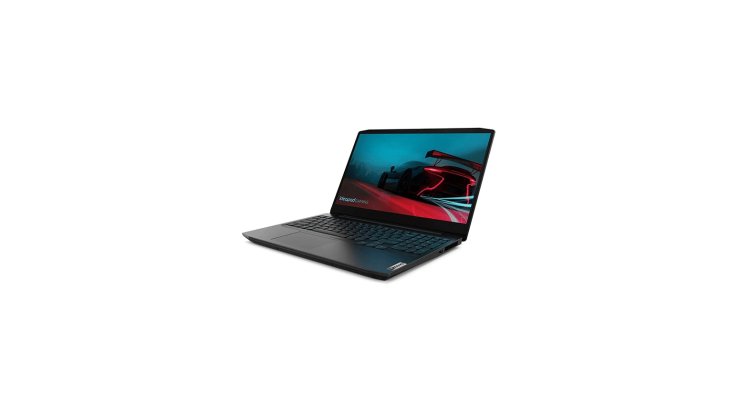 Photo Credits: Lenovo/Promo
Processor
AMD Ryzen™ 7 4800H mobile processor AMD Ryzen™ 5 4800H mobile processor
Operating System
Windows 10 Pro
Memory
Up to 32GB DDR4 3200MHz
Display
15.6″ FHD (1920 x 1080) IPS, 120Hz, 45% NTSC, 250 nits 15.6″ FHD (1920 x 1080) IPS, 60Hz, 45% NTSC, 250 nits
Battery
Up to 6.7 hours, with Rapid Charge*

*All battery life claims are approximate and based on results using the MobileMark® 2018 v1.0.2.46 battery life benchmark test. Actual battery life will vary and depends on many factors such as product configuration and usage, software use, wireless functionality, power management settings, and screen brightness. The maximum capacity of the battery will decrease with time and use.
Storage
M.2 PCIe SSD: Up to 1TB 2.5" SATA HDD 5400 RPM: 1TB Optional: SSD + HDD hybrid storage
Graphics
NVIDIA® GeForce® GTX 1650 Ti; 4GB NVIDIA® GeForce® GTX 1650; 4GB
Audio
2 x 1.5W speakers with Dolby Audio™ Webcam microphone array
Camera
720 HD webcam with privacy shutter
Dimensions(WxDxH)
Starting at 359mm x 249.6mm x 24.9mm / 14.13" x 9.83" x .98"
Weight
Starting at 2.2kg / 4.8lbs
Color
Chameleon Blue Onyx Black
Connectivity
WiFi 802.11 ac Bluetooth® 5.1
Ports/Slots
2 x USB-A 3.1 Gen 1 USB-C 3.1 HDMI 2.0 RJ45 Headphone / mic combo
Keyboard
Blue backlit gaming keyboard
AC Adapter
135W Adapter
Preloaded Software
Lenovo Antivirus Plus Lenovo PC Manager Lenovo Utility LinkedIn McAfee LiveSafe™ Microsoft Office
The processor is the biggest asset of this laptop
The processor is one of the most important components of any computer, and this rule is especially true for laptops, where everything is reduced and adapted to smaller dimensions. The vast majority of Lenovo IdeaPad Gaming 3 laptops come with AMD's Ryzen 5 4600H processor. The fact that Lenovo has decided to incorporate this model of AMD's processor into this laptop model certainly deserves a big thumbs up, as the processor is one of the strongest, if not the strongest trump card of this laptop.
What exactly is it about? AMD's Ryzen 5 4600H is, in short, a very high-quality processor, with 6 cores and 12 threads, 8 megabytes of cache and clocks between 3.0 and 4.0 GHz (depending on cooling capabilities, the processor will, as is the case in all Ryzen models, be able to achieve higher operating clocks). Power consumption is also higher; it is a 45-watt TDP, which is expected for a processor like this and, after all, for a very good gaming laptop like this.
The best thing about the Ryzen 5 4600H processor is that it is a new model of the processor for laptops. This means that you will be able to run and play all modern games with this processor without any problems. Compared to the i7-10750H processor model found in the more affordable Lenovo Legion 5 gaming notebook model, differences in performance measurement are clearly visible. AMD's processor achieves significantly better results in measuring the performance of multiple cores at once, while Intel's competitor is better in performance that requires a single-core operation.
As far as the gaming element is concerned, the AMD Ryzen 5 4600H, in our opinion, still offers more in terms of investment and profit, as an increasing number of new games make better use of the "multi-core" performance of the processor. All in all, the processor is, one of the strongest assets of this laptop and something to consider when buying laptops that are primarily designed for gaming. The 4800H version comes with clock speeds of up to 4.2 GHz, but it is on the more expensive version of the IdeaPad Gaming 3 laptop model.
System memory
What could be a kind of "bottleneck" when playing games, especially when playing the latest titles, is the pre-defined working memory of this laptop model. Namely, IdeaPad Gaming 3 "by default" comes with only 8 GB of RAM. You can upgrade it which I recommend you do as soon as possible. Since the laptop comes with a graphics card that has its own memory, 8 GB of RAM will not drastically slow you down, or all 8 Gigabytes will be available to you but is that enough to play highly demanding games in solid detail, even it's not.
What's good about working memory is that the 8GB board is built into the laptop as a single module. This means that upgrading the system memory will require only one compatible 8 GB module. 16 GB of RAM sounds far better, and if you plan to play games on a laptop and make money from it as a "streamer" on YouTube or Twitch, it would certainly be good to consider installing another RAM board as soon as possible. But here you need to know that upgrading to 16 GB of RAM will cost you extra again. 8 or 16 GB of RAM? It depends on what you will use this laptop for first.
Storage space
The more affordable version of the Lenovo IdeaPad Gaming 3 model comes with a 256 GB SSD, while the more expensive one comes with a far more acceptable in today's terms, 512 GB SSD. For storage 256 GB SSD is still too little, especially if you plan to be a gamer and if you plan to play the latest titles on this laptop. So it wouldn't be bad to dive a little deeper into your pocket or wallet and buy a model that offers 512GB of ROM. Although it will be more expensive, it will pay off in the long run, especially if you are or plan to be a professional gamer and "streamer."
Graphic skills and display
The IdeaPad Gaming 3 comes with Nvidia's GeForce GTX 1650 graphics card with 4GB of RAM (while the more expensive version of the model comes with the slightly more powerful Nvidia GeForce GTX 1650 Ti model). The first issue suggests that it is not the latest graphics card model, while the other three issues suggest that it is a "mid-range" or mid-range graphics card. Although the GPU is not the strongest asset of this laptop, it cannot be said that it is a bad graphics card.
On the contrary, even today you will be able to "spin" and play even the latest titles of games on solid details on this model. In terms of investment and profit, the GTX 1650 is somewhere in the middle. As I wrote, the vast majority of modern titles will work quite OK, but more on that a little later. If you are going to use this laptop for activities such as 3D rendering, video editing or other types of demanding tasks, the GTX 1650 will serve a purpose. It should also be noted that Nvidia's GTX 1650, as well as its stronger version 1650 Ti do not come with the latest graphics capabilities, such as Ray tracing.
As for the image display, the screen is just fine, not something revolutionary now, but that's not expected of it. The full HD screen with a resolution of 1920 x 1080p on the IPS board will show quite well and faithfully what you will be doing on this laptop. It's bright enough, but if the color display could have been better, it is.
If you plan to use this computer for video editing, you need to take into account the fact that the screen is not top quality, but it is not bad either. The refresh rate of 60 Hz will work very well with Nvidia's GTX 1650 (or 1650 Ti) graphics card in terms of gaming performance, which is OK. All in all, the screen is good. Not great, but quite good for what is generally expected of him.
Gaming performance
Below we will talk in a little more detail about how Lenovo IdeaPad Gaming 3 should behave in terms of games. I will list some of the modern game titles and the number of frames per second that IdeaPad 3 Gaming, with 16 GB RAM and 512 GB SSD, along with AMD Ryzen 5 4600H, in high detail and at 1080p resolution should achieve:
Resident Evil Village - 32 fps
Resident Evil 2 Remake - 38 fps
Watch Dogs Legion - 31 fps
Red Dead Redemption 2 - 38 fps
Assassins Creed: Origins - 44 fps++
The laptop will struggle a lot to run all these titles at high detail above 22 fps with its standard 8GB RAM configuration, but things should be much better if you opt for the 16GB RAM model. The Ryzen 5 4800H is only slightly better than the 4600H model, so it doesn't have much of an advantage, as does the GTX 1650 Ti compared to the standard 1650 model.
It should also be noted that these are the results of testing games that are set to high detail and Full HD resolution. You can expect a jump in the number of frames per second in each of these games in the case of lowering the resolution (to 1600 × 900 or 1366x768p), as well as in the case of changing the "window" view of the game screen or "windowed."
Slot capabilities and network capabilities
The slot capabilities offered by this laptop model are very good. While you won't get anything fancy or special, like a Thunderbolt or a card reader, that's not a problem for me. What you get should serve you quite well for the purposes for which you will be using this laptop.
Lenovo has put one USB-C 3.2 slot, two USB-A 3.2 slots, an HDMI slot, a 3.5 mm headphone jack and of course an Ethernet network slot on its IdeaPad Gaming 3.
One downside here is that the model does not come with the latest technological advances in the field of wireless connectivity. Most will probably expect a newer generation of a wireless adapter, but instead, Lenovo opted for the IdeaPad Gaming 3 on the 82EY00FDU adapter.
While this is probably not something you wouldn't want to buy this laptop for, it's still a minus. Here we expected more from Lenovo. As for other network capabilities, there is also Bluetooth 5.0, Wi-Fi 5 (802.11ac, 2 x 2), Gigabit LAN.
Portability and battery life
Portability options are, in my opinion, fine. For a 15.5-inch, 2.2 kg laptop, as much as this model weighs, it's not too much, but it's not exactly light either. Is it advisable to wear it on the road? It depends on how much luggage you still plan to carry with you. Even if you travel somewhere and plan to take this laptop with you, know that it is an extra 2.2 kg.
Battery life is very good. Once you charge it to 100%, the battery will be able to last up to 6 and a half hours. At least that's what Lenovo says. Experience tells us that with normal use, this laptop cannot last longer than 4 hours, and in the case of playing demanding games, it cannot last longer than 2 hours. All of this is more or less expected and should also not be a "deal-breaker." Battery - very good.