LibreOffice 7.3 alternative to MS Office
LibreOffice 7.3 is a great and free alternative to MS Office. He is now doing much better with files created using the latter.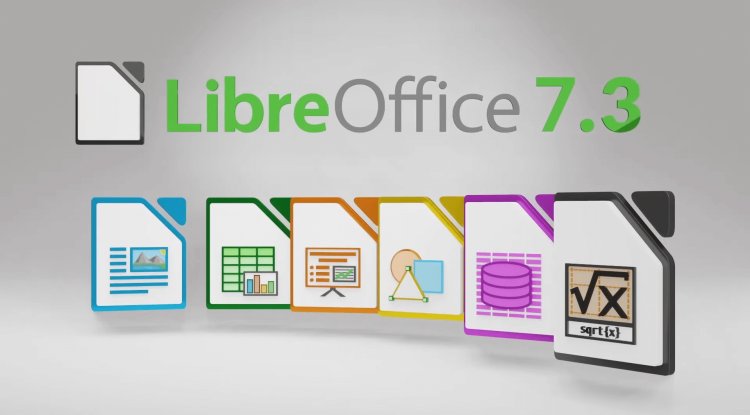 Photo Credits: LibreOffice/Promo
LibreOffice 7.3 is the latest version of the office suite, which is a great and free alternative to MS Office. He is now doing much better with files created using the latter.
LibreOffice 7.3 improves the handling of MS Office files
LibreOffice is a great office suite. Of course, it is not without its drawbacks, but in many cases, it can easily replace the Microsoft Office suite. The latter, however, is still an absolute standard and the associated formats DOCX, XLSX or PPTX dominate the space. Compatibility with them has been quite a problem in the past, but the free LibreOffice has been handling them quite well for some time now. This has been further improved with the next update.
To better deal with "Microsoft" files, LibreOffice 7.3 has received some important fixes. These include support for tracking changes in tables and text movement. The performance of opening large DOCX and XLSX documents has also been increased, and the rendering speed of some of their elements has also been increased. Filters for importing and exporting files have also been improved, so that text documents, spreadsheets and presentations should display correctly in most cases.
This is not the end. What's new in LibreOffice 7.3?
The list of new features in LibreOffice 7.3 also includes, for example, new functions in the ScriptForge libraries that facilitate the creation of macros in spreadsheets. In Writer, on the other hand, there is the possibility of adding hyperlinks to inserted shapes, and Impress increases the convenience of creating a bulleted list.
What's next? Advanced auto-complete and color filtering in Calc's "Standard Filter" window, quick and easy barcode and QR code insertion, enhanced printer management, uniform edge width across the package, and PDF export functionality with a full suite of options. The native support for Apple Silicon processors also deserves a mention. You can view a summary of these news and changes below.
The most important new features in previous versions of LibreOffice:
Possibility to edit font parameters from the side panel
The style selection menu can be scrolled through (by scrolling)
Possibility to configure the so-called gutters
A background fill with color can cover the entire page
Multi-column text fields in Impress and Draw
A dialog box that allows you to conveniently select your preferred interface
Ability to change the animation of several objects at once in Impress
Digital signatures in ODF.
Unified context menu for hyperlinks
Table panel in the sidebar
Comments can be marked as resolved
Special characters window with search engine
Possibility to export documents to ePUB format
Forms menu for creating interactive objects in your documents
Ability to export excerpts from a spreadsheet JPG or PNG file
Single-line control panel - NotebookBar: Tabbed Compact
A drop-down formula window with the most used functions
LibreOffice: Free Office Suite - Alternative to MS Office
LibreOffice is a natural choice for people who do not want to use or cannot afford the expensive MS Office suite. In September 2010, The Document Foundation was established, which oversees the development of this project, based on the OpenOffice package, launched 10 years earlier.
The LibreOffice office suite is available in a stationary and portable version, which can be run without installation from a USB flash drive, as well as portable and network drives.
It consists of six basic applications:
Writer is a text editor that can be used for anything - whether it's to write a short letter or to produce an entire book with pictures, a table of contents, a bibliography, and diagrams built in. With tools such as autocomplete, autoformat and automatic spell checking, Writer makes your work a lot easier. It is good enough to deal with office publications as well - you can e.g. create multi-column newsletters and brochures.
Calc - a spreadsheet - will help with various types of calculations and analyzes. A fully integrated help system facilitates the work of entering complicated formulas. The program allows you to add data from external sites, such as SQL, and then sort and filter it to provide statistical analysis. You can also use the graphical functions to display many 2D and 3D charts in 13 categories, including line, area, bar, pie, and scatter (XY) charts. Among the dozens of available varieties, we will surely find one that suits our project.
Impress allows you to create multimedia presentations - quickly and conveniently. Original animations and special effects will help convince your audience. The presentations you create will look professional.
The base is a database that can be easily integrated with existing data structures. The program allows you to import data, among others with MySQL, PostgreSQL and Microsoft Access, which significantly increases its capabilities. With its help, you can create advanced databases containing forms, reports, opinions and queries.
Math is a simple equation editor that allows you to write math, chemical, electrical and scientific equations in standard symbol notation. Especially useful while studying.
Draw is an extremely powerful graphic tool with which we can edit all objects and create diagrams, diagrams, forms of 3D objects and many, many others. In addition, it supports OpenGL.
LibreOffice also has a built-in PDF creator with which you can create documents as well as open and read existing ones. The package is very popular in the world. Currently, it is available in over 30 language versions. LibreOffice is free to download, install and distribute without fear of copyright infringement. It is available in versions for Windows, Mac OS X and Linux - x86 and x64. From version 5.0.0 it also allows basic editing on Android.