NAD launches new High-End Power Amp M23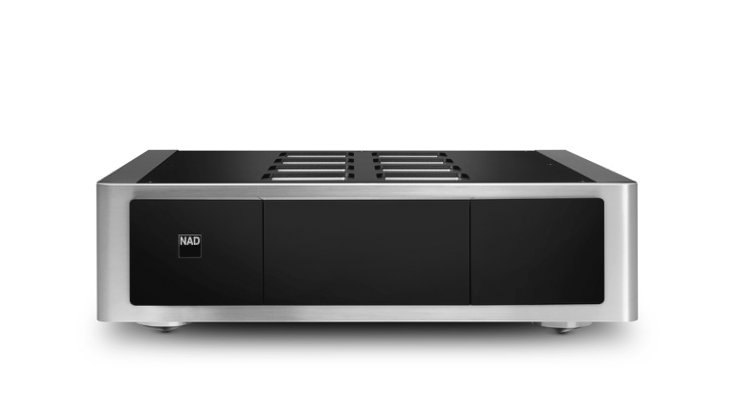 Photo Credits: NADelectronics/Promo
The price and appearance are unchanged from its predecessor, but the interior is completely different — NAD hopes to establish a benchmark in the realm of "sensible high-end" with the stereo power amplifier Masters M23. And, thanks to the Purifi Class D circuit and "Eigentakt" technology, it can demonstrate its technological expertise even at higher price points.
NAD's established hybrid digital circuitry and Purifi's unique "Eigentakt" technology were presented nearly two years ago with the integrated streaming amplifier M33. According to the company, the technology has extremely low intermodulation, a notably low distortion factor over the whole frequency response and bandwidth, minimum inherent noise, and is insensitive to changing speaker loads. The low output impedance results in a very high damping factor, resulting in extremely clean and controlled bass reproduction.
This amplifier technology is now utilized in the new NAD M23 stereo power amplifier, which has a reported continuous power of 2x 200 watts into 8 or 2x 380 watts into 4 ohms and is believed to be capable of driving even power-hungry speakers with ease. If even more power reserves are required, it can be used as a mono power amplifier in a bridge circuit. The NAD M23 is recommended by the manufacturer as a powerful companion for any high-quality stereo preamp or other hi-fi components with a level-adjustable stereo preamp output.
The M23 has balanced XLR inputs as well as gold-plated RCA jacks. Furthermore, the M23 has three stages of customizable input sensitivity as well as automatic power-on when an audio input signal is detected. Its complex metal casing is comprised of a variety of materials.
Streaming-Amp "C 700" from NAD
NAD expands its device category under the banner of "Just Add Speakers" with the introduction of the C 700 BluOS streaming amplifier. The new, less expensive device sits between the Powernode and the M10 V2.
The new NAD amplifier can access music from a digital library, as well as internet radio and streaming services, thanks to the inclusion of BluOS. The C 700 boasts a high-resolution 5-inch color display that shows album art, track progress, and system settings and is encased in a solid aluminum enclosure with a glass front. It can also be programmed to work with an existing remote control.
The C 700 is designed to offer 2 x 80 watts of continuous output and 2 x 120 watts of pulse power using NAD's proven and extremely efficient HybridDigital UcD amplifier technology. In addition to the speaker outputs, the BluOS app provides access to a subwoofer output with low-pass and high-pass filter modification.
Physical connections are supplemented by two pairs of analog RCA inputs, coaxial and optical digital inputs, and an HDMI eARC port. A bidirectional aptX HD Bluetooth interface is also included with the new amplifier.