New HBO documentary: What was really going on at the concert that everyone wanted to forget?
In the end, everything escalated into looting and arson - what started as a comedy turned into horror ...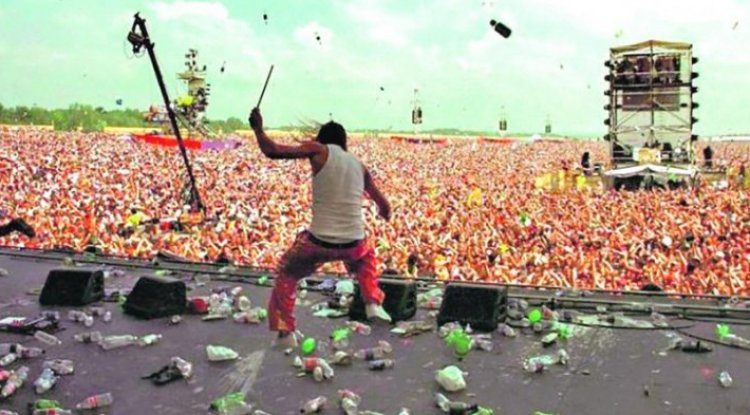 Photo Credits: Profimedia
While the original 1969 Woodstock pompously celebrated its 50th anniversary, the 1999 Woodstock seemed to be hiding for years. A new documentary produced by the cable network HBO "Woodstock '99: Peace, Love, and Rage" reveals why. In fact, it's not entirely clear, as its producers Michael Lang (one of the founders of Woodstock in 1969) and John Scher cover most of the incidents that took place there with a smokescreen.
Together they launched Woodstock '94 which passed without scandal and embarked on a similar venture after five years, only this time they said, "We don't want it to be our parents' Woodstock."
And it wasn't. First, the new generations had no idea what was going on in 1969, when Wyclef Jean played the American anthem on guitar, they asked some guy if he knew who performed that same stunt on the first Woodstock?
Angry whites
Of course, he didn't know, though Jimi Hendrix was written in capital letters behind him. The political relationship between US President Bill Clinton and intern Monica Lewinsky was still debated in political life, and it was the end of the illusion that people in such a position must tell the truth (after all, Richard Nixon introduced a culture of lying in the profession), and three months before a real massacre was carried out at Columbine High School.
Woodstock producers fueled general dissatisfaction by targeting angry 24-year-old whites who could afford many things, so when police finally came and brought order, they didn't do anything radical, but if it were African Americans, there would probably be deaths and injuries.
Woodstock '99 was held in Rome, 160 kilometers from the scene of the first musical spectacle, where once was a military airbase, now abandoned, and that made it an ideal gathering place for a large number of people (reportedly 400,000 visitors flocked to the event marked by sexual abuse, robbery and fighting).
The first big mistake of the organizers was the absence of professional security guards, those who applied for the job went through a three-hour training, and when the concerts started, they just put their badges in their pockets and joined the orgy of those present.
Moby's testimony
Moby stood out in the abundance of interlocutors with sober analyzes, he was first shocked that his name was not mentioned among the participants at all, although there were places for complete anonymity. Second, he stressed that American culture had suddenly become homophobic and misogynistic. Naked girls and boys walked around (John Scher admitted it was the most promiscuous event of his life) and soon rolled in urine and feces as plastic toilets quickly failed in their usability. The showers were shared, which did not suit many, and groups such as Limp Bizkit (especially their frontman Fred Durst who demanded that the audience reach for the negative in themselves) only contributed to the general anarchy.
Lang and Scher admit that there were five or six cases of rape, but according to the testimony of those present, there were many more: one of the participants asked abused women to contact her via the Internet and received dozens of e-mails with precise descriptions of each sexual offense.
Eventually, it all escalated into looting and arson (water bottles sold for four dollars each, there was a high demand for them because the heat was unbearable), so it became Woodstock that everyone wanted to forget for a reason. What started as a comedy turned into horror.
By: Amber V. - Gossip Whispers