Nojima EK-MD088 portrait monitor for social media
The Nojima EK-MD088 is currently making the rounds on the Internet, a 7:32 portrait monitor for social media, chats and more.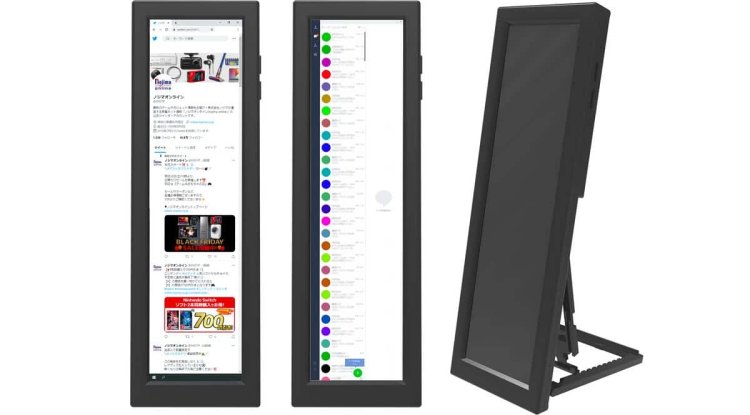 Photo Credits: Nojima / promo
The Nojima EK-MD088 comes from the "Curious Technology Gadgets for the Internet" department; a 7:32 monitor. It is connected to the PC as an additional display and shows, as the aspect ratio already suggests, the content in pivot form. This may seem like a tool for victims of social media at first, but at second glance it certainly has one or the other right to exist and could prove to be a relief in everyday life.
The 8.8-inch portrait display offers a resolution of 1,920 x 420 pixels and is explicitly offered for social networks such as Twitter feeds, but also for chat systems. This is exactly where the Nojima EK-MD088 met with widespread interest. In an environment in which Elgato stream decks have become the standard equipment of the modern gaming enthusiast, the 78 x 248 x 21 millimeter (W / H / D) measuring monitor no longer looks so unworldly. Streamers and viewers alike can have the Twitch chat on the second device, or multiplayer players can enjoy a Discord conversation. There are quite a few uses besides social media feeds. Developers might also like it here, for example, to run tests with mobile websites.
The monitor is connected quite generally via HDMI, which should cause a few problems. The USB Type-C connection is only used for power delivery and does not support the Displayport protocol. The factory setting is 300-candela peak brightness, which can be downregulated in 6 levels. For the device with an adjustable foot, you only have to pay 14,800 yen if you are Japanese - at the daily exchange rate of around 115 euros. Comparable offers from different manufacturers can be found on the Internet. Several Computerbase readers alone report the operation; including the Lesown P88.