Samsung S22 Ultra - Leaked first images and features of the model
Samsung's "S" series of mobile phones always attracts a lot of attention. The new model, the Samsung S22 Ultra, has been written about for a long time, and the first photos were leaked today.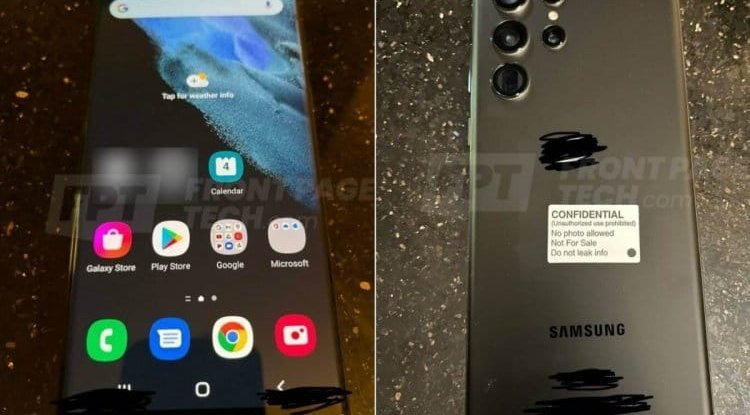 Photo Credits: Front page tech
The photos reveal the similarities of the Samsung S22 Ultra phone with other models of that company. The most significant similarity is certainly that the S22 Ultra model will come with the so-called. "Pencil" or S Pen, which is characteristic of the Galaxy Note series. Unlike the S21 Ultra, the S Pen will come along with the new model and won't have to be purchased separately. There is one noticeable flaw. Judging by the photos, the screen of the device is curved, which is not the best option because those curved edges remain unused when using S Pen.
Another thing that is clearly noticeable is the changed design of the cameras. The design of the camera on the new device is reminiscent of the Samsung A52s 5G mobile phone. The cameras that will be found on the new S22 Ultra are also known. More precisely, it is a system of four cameras. They will be placed in the shape of the letter P on the back of the phone. On the back, the main star will be a camera with a resolution of 108 MP. Along with it, there is an ultra-wide 12-megapixel camera, as well as a 10MP 3X telephoto and 10 MP 10X telephoto camera.
The third thing that is clearly seen is that the phone will be thicker than the previous, S21 Ultra model. It is a change that will definitely not be to everyone's liking. If, as the story goes, there is an improvement in capacity, ie battery life, this change will actually be very justified.
When it comes to the screen, it will be large. The 6.8-inch curved screen size will meet the expectations of even the most demanding users. The background of the phone does not bring us any surprises. Samsung hasn't given up on a matte black background. It is something that, judging by the impressions, the users like. According to the leaked information, the dimensions of the phone will be 1 63.2mm x 77.9mm x 8.9mm (10.5mm including the bulge for the rear camera system). See more photos of the device on the Frontpage tech website.
The premiere of the Samsung S22 Ultra mobile phone will be early next year. Depending on the decision of the company, the phone will appear in January or February 2022.
By: Amber V. - Zexron