Sharkoon Skiller Mech SGK30 keyboard Review
Sharkon Skiller Mech SGK30 gaming keyboard series is currently available in two versions, with red or blue switches. Total weight of this keyboard 867 g.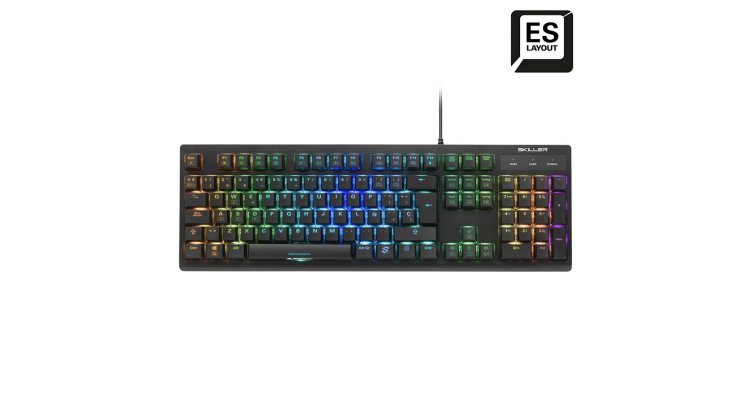 Photo Credits: Sharkoon/Promo
Sharkon's latest budget mechanical gaming keyboards at a very affordable price offer red or blue switches with very good performance, luxurious RGB lighting and simple software with which you can adjust the lighting effects and adjust other keyboard options.
Mechanical keyboards are very popular among gamers. The problem, however, is that they are also quite expensive, especially if we are talking about models with RGB lighting. Sharkoon recently unveiled its new series of affordable affordable mechanical gaming keyboards called the Skiller Mech SGK30.
These are budget mechanical keyboards. It should be noted that these are keyboards with Full RGB lighting of each key, which makes the price more than acceptable.
Budget mechanics for gamers!
Sharkon Skiller Mech SGK30 gaming keyboard series is currently available in two versions, with red or blue switches. Somewhat lesser-known Huano switches were used, which are like Kailh or Outemu variants, only clones of Cherry MX switches.
On the positive side, these switches, according to the manufacturer, should withstand at least 50 million clicks. These keyboard support all the common features we typically find with more expensive gaming keyboards like n-key rollers, anti ghosting features, and there's special software for fine-tuning RGB lighting.
These are full-size keyboards, with a numeric part, total weight of 867 g, and are connected to a computer via the usual USB port. The braided cable is 180 cm long, which should be enough for most users. You won't find any special accessories inside the package, which we honestly didn't expect from a budget gaming keyboard.
The design is common, but well affected, and the keyboards are made entirely of plastic. As for the keys themselves, they are well defined, stable and robust enough, with a matte finish. We concluded that they are very comfortable to use and especially for entering a larger amount of text. This is a consequence of the traditional design of the keys that will suit the vast majority of users.
Impressive RGB and reviewed software
If we talk about the performance itself when playing, on paper there are certain differences between the use of red and blue switches. Red switches provide less resistance and respond linearly to pressure. With blue, the feedback is a bit more pronounced, but the keys are also a bit noisier. We believe that in practice there are no big differences, and the choice of switches is largely a matter of the personal choice of each user.
To fine tune, all the features of these keyboards Sharkoon offer very good software that you can download from their website. The software is unusually clear and not difficult to use. Adjustment options are divided into several basic categories. The first is, of course, detailed RGB lighting settings with 18 predefined effects at your disposal.
Furthermore, you can save up to 20 profiles, define the desired function for each key separately, as well as create macros, ie functions that include combinations of individual keys.
We emphasize that performing RGB lighting in Sharkoon's SGK30 series keyboards is very impressive considering the budget category. Huano switches provide excellent performance and are a very good entry into the world of mechanical keyboards.
Overall, the biggest advantage of these keyboards is actually a combination of solid mechanical switches, Full RGB lighting and very useful and clear software, all at a very reasonable price. We would only like to see a slightly more robust exterior construction, but given the price-performance ratio, we don't see this as a big problem.