SPIRIT UNTAMED - In Cinemas
A new chapter of the popular story from DreamWorks Animation studios is out: an epic story about a temperamental young girl who discovers a soul mate in a wild horse named Spirit.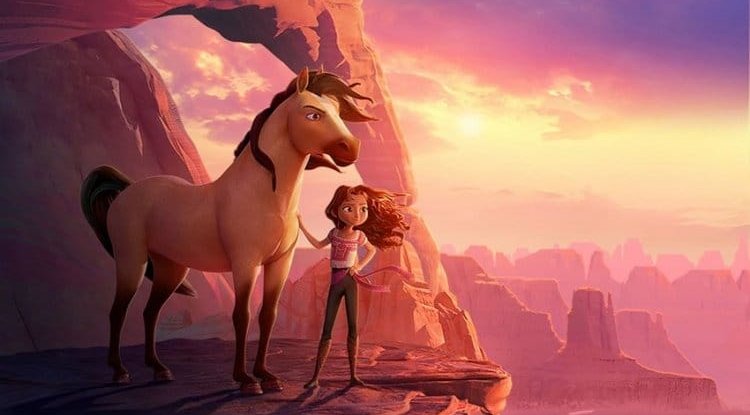 Photo Credits: Promo
Lucky Prescott (Isabela Merced, Dora and the Lost City of Gold ) did not meet her late mother Milagro Navarro (Eiza González, Fast & Furious Presents: Hobbs & Shaw ), a fearless stunt rider from Miradero, a small town in the Wild West. Like her mother, Lucky doesn't care much for rules and restrictions, giving her Aunt Cori (voiced by Oscar winner Julianne Moore) a lot of worries.
Lucky grew up in a town on the East Coast under Cora's watchful eye, but when she overdoes it with dangerous mischief, Cora decides to move to Miradero, where Lucky's father Jim (Jake Gyllenhaal) lives. Lucky isn't initially thrilled with life in a sleepy town, but that changes when she meets the wild mustang Spirit and befriends the riders Abigail Stone (Mckenna Grace, Captain Marvel ) and Prue Granger (Marsai Martin, Little ).
Prue's father, the owner of the barn Al Granger (Andre Braugher from Fox's TV series Brooklyn Nine-Nine ), is Lucky's father's best friend. When a heartless cowboy (Walton Goggins, from the FX TV series Justified ) and his gang decide to capture Spirit and his herd to sell them into captivity and hard work, Lucky takes her new friends on a big adventure to save the horse that gave her a sense of freedom and purpose and helped her discover a connection to her mother and Mexican heritage. DreamWorks Animation's favorite franchise began with the Oscar-nominated film Spirit: Stallion of Cimarron, and includes an Emmy-winning TV series.
It has been announced that the new film, Spirit Untamed, is out in cinemas now.
Voice roles:
Isabela Merced (Lucky Prescott), Jake Gyllenhaal (Jim Prescott), Julianne Moore (Cora Prescott), Marsai Martin (Pru Granger), Mckenna Grace (Abigail Stone), Walton Goggins (unnamed cowboy), Andre Braugher (Al Granger), Eiza González (Milagro Navarro)
Director: Elaine Bogan
Screenplay: John Fusco
Co-director : Ennio Torresan
Producer: Karen Foster
Music score: Amie Doherty
By: Olivia J. - Gossip Whispers