Technics AZ40 headphones sound great, but is it worth buying?
Technics EAH-AZ40 are wireless headphones with high sound quality. They generate solid bass, have good microphones, last a long time on the battery.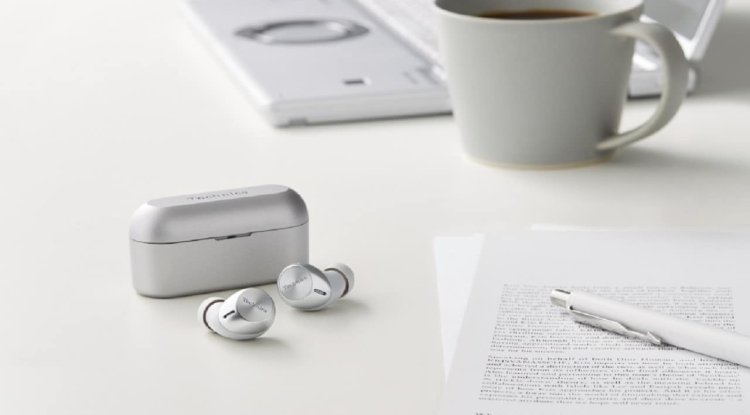 Photo Credits: technics / promo
Technics EAH-AZ40 are wireless headphones with high sound quality. They generate solid bass, have good microphones, last a long time on the battery, and look good. Is it worth buying them?
Passive insulation remains. Is it enough?
In our opinion, yes. The silicone gaskets included in the set provide good insulation and quite effectively reduce the volume of external sounds. They ensure good comfort of listening to music and making voice calls, e.g. in a park, in a not too noisy office, at home with an open window, not too close to the street. Isolation is fine. If ANC were added to this, it would be very good.
The package includes 4 pairs of rubber bands in sizes XS, S, M, L (M are put on the headphones by default). The quality of the seals is very good. They are soft, hold the headphones well in the ears, and have a color that matches the model. The holes for attaching the elastic bands are round, so there is no problem with choosing others.
It is worth noting that all of them are equipped with foam filters that warm up the sound and emphasize low tones. Technics AZ40 are good headphones for bass lovers, but more on that in a moment.
Technics AZ40 (EAH-AZ40E) Product Specifications
Communication: Bluetooth, wireless
Libra 5.10 g charging case: 31.18 g
Max umber of simultaneously paired Bluetooth devices: 2
Volume control: Yes
The range of the transmitter: 10m
Other features of the headphones: digital noise reduction, IPX4 waterproof 
Wireless working time: 450 min
Headphone designintrathecal 4 types of rubber bands included
Ambient sounds can be amplified
Since the system for recognizing external sounds and their reproduction in the headphone converters is present, it was enough to program other times, add a counter-phase and there you go - we would have ANC.
The mere reproduction of external sounds is useful in situations when in the city we cross the road, bicycle path, etc. Then the so-called transparent mode increases safety because thanks to it we can hear oncoming vehicles or bells/horns.
Is signal strength good?
Yes, it is good. We were able to leave our phone in one room and move around the apartment within about 10 meters and the sound played properly, without interruptions and with good quality. Even though the walls.
Are the headphones loud?
They play loud enough. They are definitely not quiet or extremely loud (the situation is similar to the more expensive AZ60 model). A person who cares about the hearing will use the volume range up to 70-80% here. The advantage is that you do not hear self-noise at low volume.
Is it worth buying Technics EAH-AZ40? Opinion
In the case of the AZ60, we had no doubts - these headphones are very, very good and fully recommendable. On the other hand, the cheaper AZ40 at the price of about $ 150 is just fine in terms of sound, but they lack ANC and do not have inductive charging in the case.
They enjoy the ears with a clean, dynamic sound and quite a strong bass. I would definitely recommend them for electronic music, but a little less for hard guitar music. They are quite comfortable, have a strong and stable signal, play loud enough, are equipped with good quality intrathecal gaskets, and can last about 5.5 - 6 hours on the battery.
The sound is absolutely fine - very good indeed. However, the lack of ANC and Qi charging as well as a very modest IPx4 waterproofness, at a price of less than $ 200, gives a certain insufficiency.
If you are looking for nice, well-made TWS headphones with very good sound and the lack of ANC does not bother you, we think Technics AZ40 can still be an interesting proposition. And if you need ANC, the super LDAC codec, and even better sound quality, choose the Technics AZ60 model. Of course, we leave the final decision to you.
Pros
Very good sound quality (including quite strong bass),
Attractive appearance and good workmanship,
Appropriate sensitivity of touch operation,
4 pairs of good quality rubber bands included,
Sufficient battery life,
Quite fast charging of the headphones in the case
Minuses
No active noise reduction (ANC),
Waterproof at a fairly low level of IPx4,
No inductive charging in the case
You can buy this product on Amazon for $ 150.