Trust GXT881 ODYSS semi-mechanical keyboard
Arranging a quality and attractive gaming set-up for decent money is not easy. I present you the Trust ODYSS keyboard, which will offer what you are looking for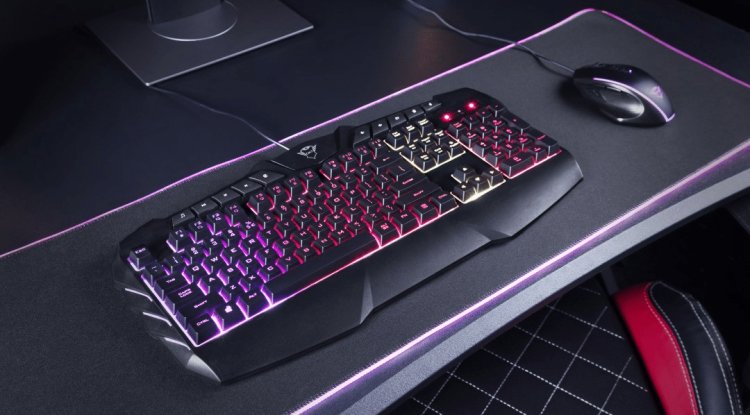 Photo Credits: Trust / promo
Arranging a quality and attractive gaming set-up for decent money is not easy. After a very interesting Trust MORFIX gaming mouse, today I present you the Trust ODYSS gaming keyboard, which will offer exactly what you are looking for, and not much will not come out of your pocket.
The full name is a Trust GXT881 ODYSS full-size semi-mechanical keyboard. This really means that it will offer a fusion of two worlds, that is, a fusion of a conventional membrane keyboard with the click and response of a mechanical keyboard under your fingers.
The keyboard design is aggressive and gamer like which will appeal to younger audiences. Backlight can be regulated with six colors and brightness, but it could be more pronounced or stronger. Plus it has 10 buttons for direct access to 12 multimedia functions on top to control music and video playback and volume.
It is also equipped with a full numeric keypad on the right for quick entry of numbers and calculations as needed.
The keyboard has a US key layout. The space between the keys is sufficient, and the sound of clicking under the fingers is very similar to that of today's popular mechanical keyboards.
I would say that the stroke of the keys is a bit longer, which could be tiring after several hours of typing, but this should not be a problem with the basic purpose of this keyboard, which is gaming.
https://www.youtube.com/watch?v=j2OjsVDXKm8
Advanced anti-ghosting technology allows the simultaneous pressing of as many as 19 keys, which is also important in gaming sessions. It is also possible to directly disable the Windows key to prevent accidental presses while playing.
ODYSS connects to computers and game consoles with a 1.8m USB cable, so it certainly won't be too short for you.
The build quality is very good. The keyboard is made entirely of plastic, and when pressed in the middle, it does not bend excessively. In any case, it seems durable.
In addition to Windows PCs and laptops, the ODYSS keyboard is also compatible with PS4, PS5, Xbox One, and Xbox X series game consoles.
Considering the rather affordable price of only around $50, I would say that Trust ODYSS is a good buy for all those who are looking for an attractive gaming keyboard with a click of significantly more expensive mechanical keyboards.