3DMark record: Highest score with EVGA Z690 Dark and RTX 3090 Kingpin
Hardware from EVGA's current high-end lineup has by far set a new record in the Porty Royal benchmark by 3DMark in terms of extreme overclocking.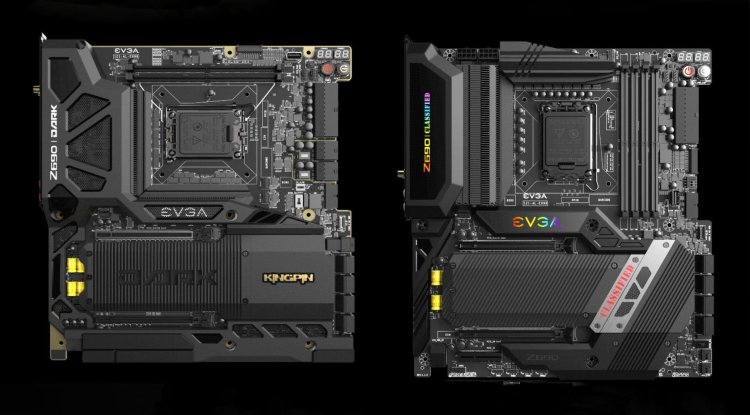 Photo Credits: evga / promo
EVGA has announced that the overclocker "biso biso" has broken the previous 3DMark Port Royal world record with the in-house custom graphics card Geforce RTX 3090 Kingpin. An Intel Core i9-12900K with water cooling and 5.4 GHz was used as the processor, accompanied by 16 GiB DDR5 SK Hynix memory with 6,000 MHz. The new Z690 Dark, which is not yet available to end customers, was used as the mainboard.
With this, "biso biso" finally achieved a score of 20,014 points in the 3DMark Port Royal, whereas the previous benchmark record was 19,600 points. To do this, he increased the GPU of the Geforce RTX 3090 Kingpin to a base frequency of 2,190 MHz and a boost frequency of 2,490 MHz, using liquid nitrogen cooling.
Background to the EVGA Geforce RTX 3090 Kingpin
Aimed at enthusiasts and extreme overclockers, with the well-known overclocker Vince "Kingpin" Lucido as the namesake, the premium graphics card has a massive 23-phase power stage design with a 12-layer circuit board. It comes with three BIOS settings (normal, overclocking, and LN2 for alternative liquid nitrogen cooling) and offers the option of detailed voltage monitoring via the exposed EVBOt and Probit IT contacts. According to the data sheet, the card draws 350 watts and requires three 8-pin connectors for the power supply away from the PCI-E slot.
EVGA launched the Kingpin Edition of the RTX 3090 at the end of last year and is listing it in the official online shop as a version with a hybrid cooler for $ 2,119.99 exclusively for registered customers of the "EVGA Elite" program, while a Wakü version for 2,349.99 euros is also available independently, but both are sold out.