AMD Radeon 21.11.1: Graphics card driver with optimization for CoD: Vanguard & Forza Horizon 5
The new Radeon Software Adrenalin 21.11.1 brings improvements in performance to the PC games Call of Duty Vanguard and Forza Horizon 5 and solves some bugs.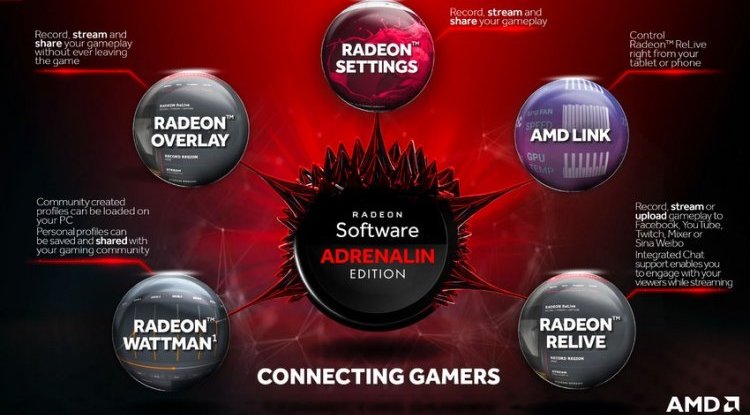 Photo Credits: amd
On November 5th, the time has come when buyers of the Premium Edition can step on the gas in Forza Horizon 5. Now AMD has released a new driver for graphics cards, which is supposed to increase the performance in extreme levels of detail in UHD resolution by up to 23 percent, at least in conjunction with a Radeon RX 6800 XT. In addition, the Radeon Software Adrenalin 21.11.1 also includes support for Call of Duty Vanguard.
What does the Radeon software Adrenalin 21.11.1 offer?
In addition, to support the two PC games mentioned, the new driver solves two problems. With the Samsung Odyssey G9 C39G95T, display errors should no longer occur if the gaming monitor is operated with a resolution of 5,120 x 1,440 pixels and at 240 Hertz. When playing Call of Duty Warzone, artifacts should no longer suddenly appear when moving the mouse pointer in the in-game menu. But there are also known, still existing errors in the Radeon software:
While playing Marvel's Guardians of the Galaxy, some AMD graphics cards, such as B. the Radeon RX 5500 XT, driver timeouts occur. A temporary workaround is to disable the Radeon Anti-Lag function in the Radeon software.

Some users may experience increased disk space consumption by the Multimedia Athena Dumps folder.

When playing Call of Duty: Black Ops Cold War, with some AMD graphics cards, for example, with the Radeon RX 6800M, visual artifacts can be observed.

When playing Playerunknown's Battlegrounds with multiple monitors connected in advanced mode, the Radeon software may become unresponsive when the user is in the lobby and tries to open the Radeon software from the context menu on the second screen. A temporary workaround is to press Alt + R when this happens.

Enhanced Sync can result in a black screen in some games and system configurations when enabled. All users who experience problems with Extended Sync enabled should turn it off as a temporary workaround.

Radeon performance metrics and logging capabilities can intermittently report extremely high and incorrect memory clocks.
AMD offers the Radeon software Adrenalin 21.11.1 as a free download. Windows 10 and Windows 11 users can also obtain the driver via Windows Update, whereby the Windows Driver Store version 30.0.13033.1000 is installed here. All Radeon desktop graphics cards from the RX 400 are supported; in the notebook area, the software for the Radeon 600, RX 5000M, and RX 6000M series is available.
By: Amber V. - Zexron