AMD Ryzen 6000: benchmarks for Rembrandt APUs
More benchmarks for AMD's upcoming Ryzen 6000 APUs have appeared online. This graphics unit is significantly faster than the previous generation.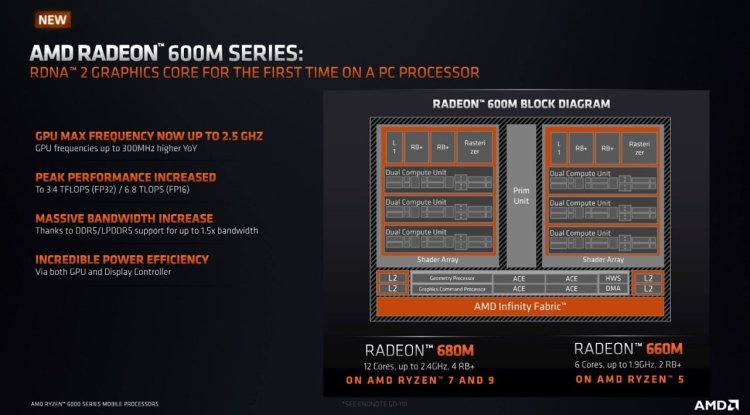 Photo Credits: AMD / promo
More benchmarks for AMD's upcoming Ryzen 6000 APUs have appeared online. The built-in graphics unit is therefore significantly faster than that of the previous generation.
After AMD published new manufacturer benchmarks for the upcoming Ryzen 6000 APUs last week, further performance values ​​have emerged in the past few days. Specifically, there are now first test results from China, Poland, and Germany, all of which relate to GPU performance. This is also the most exciting part of the Ryzen 6000 (Rembrandt) because with these APUs AMD uses RDNA2 instead of Vega shaders for the first time. In Ryzen 5 processors, 384 shaders are used under the name "Radeon 660M", whereas Ryzen 7 and Ryzen 9 APUs use 768 shaders and thus a "Radeon 680M".
Performance leap in the GPU
The aforementioned test from China, which was published on the Zhihu platform, provides performance data for both variants. According to the values ​​presented there, a Ryzen 5 6600H can put itself ahead of an Intel Core i5-12500H by 7 to 19 percent in 3D Mark Fire Strike and Time Spy, for example. The Ryzen 7 6800H with Radeon 680M increases this lead even further, there it is a 60 or 88 percent lead. The APU is also a good deal ahead of the Geforce MX450 presented in 2020. It is possible that Rembrandt will put the market for entry-level graphics cards in notebooks under severe pressure.
The other performance data from China also speak for this: In several tested e-sports and AAA games, the Ryzen 7 is usually on par or just ahead of the MX450, and other processors with an integrated graphics unit are always slower. For comparison: According to the test, a Ryzen 5 6600H is always ahead of the Ryzen 9 5900HS in games - and the Ryzen 7 6800H is then significantly faster.
A similar picture is also shown by performance values ​​from the Polish website Pure PC, which compared an Asus ROG Strix G15 (Ryzen 7 6800H) with an Asus Zenbook 13 (Ryzen 7 5800U) and an Asus VivoBook Pro 14X (Intel Core i7-11370H). Here, too, Rembrandt is well ahead of the competition when it comes to gaming performance: The Ryzen 7 6800H often achieves roughly twice the frame rate of the Ryzen 7 5800U, which in turn is usually on the same level or slightly faster than the Intel processor
Finally, there is also a curious benchmark from the Computerbase website, which is shared on Twitter. According to this, a Ryzen 9 6900HS in 3DMark Port Royal even makes it well ahead of a mobile Geforce RTX 3050, from which one would actually expect much higher performance. The reason for this strange result is not the computing power, but a lack of graphics memory: The RTX 3050 only has 4 GB of VRAM in the notebook, and that's not enough for Port Royal. The Radeon 680M in the Ryzen 9 6900H S, on the other hand, accesses the regular RAM and therefore has no such problems. In practice, however, such a scenario will only occur comparatively rarely, so the RTX 3050 is usually significantly ahead of the Radeon 680M.