AMD with 25.6 percent market share
AMD can look back on a successful business in the x86 sector. They have reached an all-time high with a market share of 25.6 percent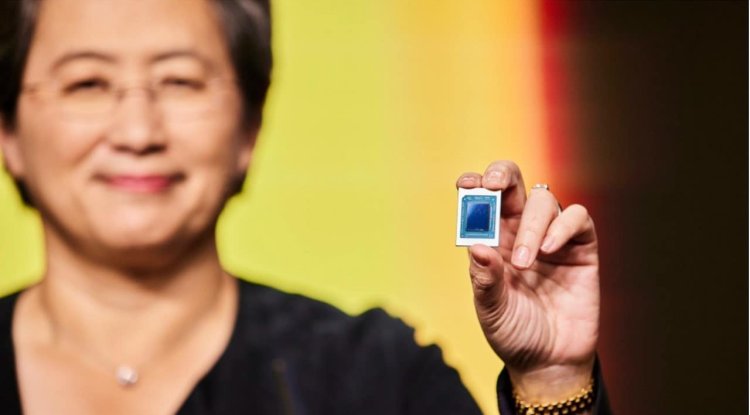 Photo Credits: AMD / promo
AMD can look back on a successful business in the x86 sector: According to Mercury Research, they have reached an all-time high with a market share of 25.6 percent. It's not even the desktop processors that help, but consoles, servers, and mobile.
AMD was able to increase its market share in processors and is now at 25.6 percent in the market for x86 processors. That's the highest wide since the data was recorded. In 2006, 25.3 percent was measured - at that time AMD had offered the Athlon 64 in various configurations, K8, K9, and also the first K10 contributed to the success. In order to evaluate the numbers, you have to know that Mercury also counts the custom chips, i.e. those that Microsoft and Sony build into their consoles.
It is also important to know that the overall market is growing. Intel is not losing directly in terms of the number of units sold, but rather the ratios are shifting to one another. For example, AMD has recently benefited particularly in the mobile and server segments, while desktop has given way. The latter may be due to the fact that AMD is struggling more with the general delivery situation and has to plan its contingent at TSMC well. The numbers can also be influenced in detail by AMD using its wafer agreement more for servers and mobile processors than for desktop CPUs. Above all, you always have to serve the demand for custom SOCs.
The bottom line is that the development remains positive for AMD and the overall market because competition stimulates business. Intel can continue to grow even under pressure because the overall market is going up and thanks to its own production it is also more independent in production. Although Intel also suffers from supply problems, this is considered to be less significant. At AMD, there is great potential in office computers; a market that Intel serves with large numbers of mid-range CPUs including IGP.
Server points count double
The development of the server business is primarily positive for AMD, since changing course is not as easy as it is with gaming enthusiasts and every percentage point has to be fought harder. For a long time, AMD had a hard time getting traction with servers - despite the supposedly better product. A 10.7 percent market share has been hard fought for and it seems to be going up at the moment. Intel only has a potential counter in the program with Sapphire Rapids in the course of the year. Other measurement methods already see AMD at 18.3 percent for data center equipment. One more reason why you always have to evaluate the collection of data.
It is also exciting that the healthy competition on the CPU market is not yet degenerating into price wars. Both companies can increase sales and recently also reported record margins. Despite the difficult situation, more processors were delivered in 2021 than in the previous year. In addition to AMD, Apple also has traction, although ARM technology is installed here. With the M1 you can see Apple on a rapid growth course. This should also be noticeable in data centers, where you can see a growing proportion of ARM technology.