ANT ESPORTS ELITE 1000 PS MID TOWER GAMING CABINET
In the world of gaming, the right equipment can make all the difference. The ANT ESPORTS ELITE 1000 PS Mid Tower Gaming Cabinet is a testament to the fusion of style and functionality. Designed with gamers in mind, this mid-tower case not only provides a housing for your components but elevates your gaming setup to a new level. In this article, we'll explore the features, design, and practicality of the ANT ESPORTS ELITE 1000 PS, showcasing how it can transform your gaming experience.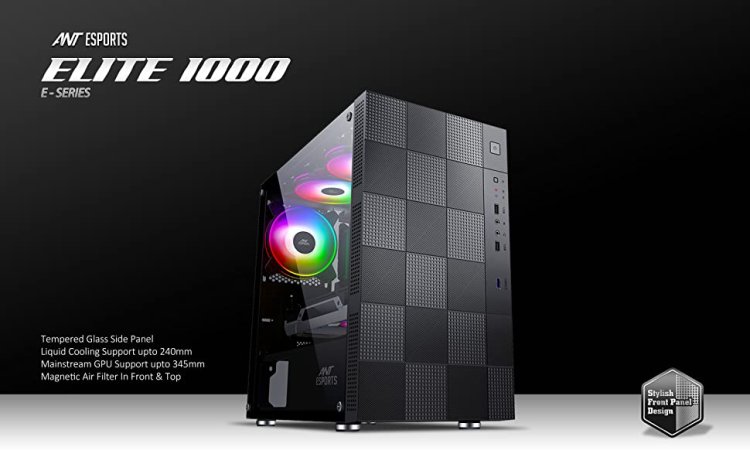 Photo Credits: antesports
A Striking Exterior
The first thing that grabs your attention is the case's exterior design. The ELITE 1000 PS boasts a sleek and modern aesthetic that exudes a sense of sophistication. The black finish, coupled with the transparent side panel, allows you to showcase your components and RGB lighting in all their glory.
Spacious Interior
While aesthetics are essential, functionality is equally crucial. The ELITE 1000 PS offers a spacious interior that can accommodate a wide range of components. It supports ATX, Micro-ATX, and Mini-ITX motherboards, ensuring compatibility with your preferred hardware.
The ample space allows you to install high-performance graphics cards, multiple storage drives, and even liquid cooling solutions without feeling cramped. This versatility makes it suitable for both gaming and workstation setups.
Excellent Cooling Potential
Proper cooling is paramount for gaming PCs, especially during intense gaming sessions. The ELITE 1000 PS doesn't disappoint in this department. It supports up to six 120mm fans or multiple radiator configurations, including a 360mm radiator in the front and a 240mm radiator at the top. This extensive cooling potential ensures that your components stay cool even under heavy loads.
The case also includes a pre-installed 120mm fan at the rear, providing immediate cooling out of the box. Additionally, there's ample room for cable management, which not only enhances airflow but also keeps your build looking clean and tidy.
RGB Lighting and Control
RGB lighting has become a staple in gaming setups, and the ELITE 1000 PS embraces this trend. The case features a built-in RGB strip at the front, adding a vibrant and customizable element to your gaming rig. The RGB lighting can be controlled through a button on the front panel, allowing you to switch between various lighting modes and colors to match your mood or game.
If you have a compatible motherboard with RGB header support, you can sync the case's lighting with your motherboard's lighting software for a cohesive lighting experience across your entire setup.
Easy Accessibility
The case's design is well-thought-out for convenience. It includes a magnetic dust filter at the top and bottom to keep your components clean and dust-free. The front I/O panel provides easy access to two USB 3.0 ports, a USB 2.0 port, and audio jacks for hassle-free connectivity of peripherals and headphones.
Installing and upgrading components is a breeze thanks to the tool-free design of the ELITE 1000 PS. It features tool-less drive bays and expansion slots, simplifying the process of adding or replacing hardware.
Storage Options
Storage is a crucial aspect of any gaming setup, and the ELITE 1000 PS has you covered. It can accommodate multiple storage drives, including SSDs and HDDs. The case includes dedicated mounting points for SSDs, allowing you to show off your high-speed drives for everyone to see.
With support for up to two 3.5-inch HDDs and two 2.5-inch SSDs, you can create a storage configuration that meets your gaming and content storage needs without compromise.
Cable Management
A cluttered interior not only affects airflow but can also diminish the visual appeal of your gaming rig. The ELITE 1000 PS addresses this with a spacious area behind the motherboard tray dedicated to cable management. You can neatly route and secure cables, ensuring that your build looks clean and well-organized through the tempered glass side panel.
Build Quality and Durability
A gaming cabinet should not only look good but also be built to last. The ELITE 1000 PS is constructed from high-quality materials that enhance its durability. The steel body provides rigidity and stability, while the tempered glass side panel adds a touch of elegance while protecting your components.
The case's build quality ensures that it can withstand the demands of even the most enthusiastic gamers, providing a reliable and long-lasting gaming enclosure.
Also Check MSI GeForce RTX 4070 Ti Suprim X 12GB
Conclusion
The ANT ESPORTS ELITE 1000 PS Mid Tower Gaming Cabinet is more than just a case; it's a statement. Its striking design, spacious interior, excellent cooling capabilities, RGB lighting, and user-friendly features come together to create a gaming enclosure that not only houses your components but elevates your entire gaming experience.
Whether you're a casual gamer looking to showcase your hardware or a competitive player demanding optimal cooling and customization, the ELITE 1000 PS has something to offer. It's a case that combines style, functionality, and practicality, setting the stage for an immersive and visually stunning gaming setup.