ASROCK Z690M PHANTOM GAMING 4 MOTHERBOARD
In the world of PC building, motherboard selection plays a crucial role in determining the performance and capabilities of your system. The ASROCK Z690M Phantom Gaming 4 motherboard is a compact powerhouse designed for gamers, enthusiasts, and content creators who demand high-performance features in a smaller form factor. In this article, we will delve into the features, advantages, and impact of the ASROCK Z690M Phantom Gaming 4 motherboard on your PC build.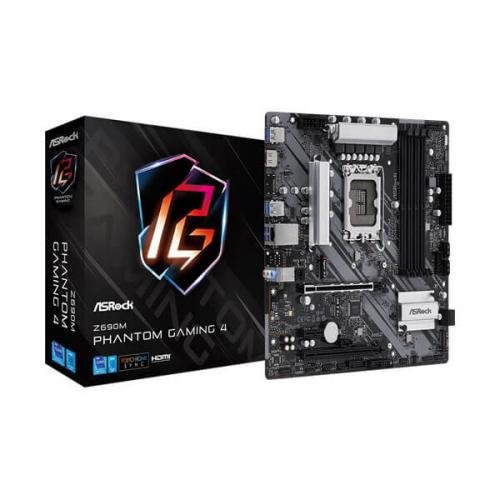 Photo Credits: mdcomputers.in
Compact Micro-ATX Form Factor
The ASROCK Z690M Phantom Gaming 4 motherboard adopts a micro-ATX form factor, making it ideal for those who want a powerful system without the need for a massive tower case. Despite its compact size, this motherboard doesn't compromise on performance or features, making it a versatile choice for various PC builds.
LGA 1700 Socket for 12th Gen Intel CPUs
At the heart of this motherboard is the LGA 1700 socket, which supports 12th generation Intel Core processors. These CPUs offer impressive performance improvements, and the Z690M Phantom Gaming 4 is ready to harness their full potential. Whether you're gaming, editing, or multitasking, the combination of this motherboard and 12th gen Intel CPUs delivers an exceptional computing experience.
Dual DDR5 Memory Support
One standout feature of the Z690M Phantom Gaming 4 is its support for DDR5 memory. DDR5 offers increased bandwidth and improved efficiency compared to its predecessors, providing faster data access and better multitasking capabilities. With support for dual DDR5 memory modules, you can enjoy a significant boost in overall system performance.
PCIe 5.0 Support
The PCIe 5.0 interface on this motherboard allows for lightning-fast data transfer speeds. It's a game-changer for gamers and content creators who rely on high-speed storage devices and graphics cards. PCIe 5.0 offers double the bandwidth of PCIe 4.0, enabling you to take full advantage of the latest SSDs and GPUs.
Phantom Gaming Aesthetics
ASROCK's Phantom Gaming design philosophy is evident in this motherboard. It features a stylish black and red color scheme with subtle RGB lighting accents. The design not only looks great but also enhances the overall aesthetics of your build. It's the perfect backdrop for showcasing your components.
Enhanced Audio and Networking
The Z690M Phantom Gaming 4 comes equipped with high-quality audio and networking solutions. The 7.1 CH HD audio with Nahimic Audio enhances your gaming and multimedia experience with immersive sound quality. On the networking front, the motherboard features a 2.5 Gigabit LAN port, ensuring fast and stable internet connectivity for online gaming and content streaming.
Robust Power Delivery
Reliable power delivery is essential for stable system performance, especially when overclocking. The Z690M Phantom Gaming 4 features a 9-phase Dr.MOS power design that ensures consistent and clean power delivery to your CPU. This design is crucial for maintaining stability under heavy loads and when pushing your CPU to its limits.
M.2 NVMe SSD Support
With multiple M.2 slots on the motherboard, you can take advantage of high-speed NVMe SSDs for rapid data access and storage. M.2 SSDs eliminate the need for traditional SATA cables, contributing to a cleaner and more streamlined build. Whether you're using them for your operating system or as high-speed storage drives, M.2 SSDs are a game-changer.
Versatile Connectivity Options
The Z690M Phantom Gaming 4 offers a range of connectivity options, including USB Type-C, USB 3.2 Gen2, and legacy USB ports for compatibility with a wide range of peripherals. It also includes multiple SATA ports for traditional storage devices and optical drives. This versatility ensures that you can connect all your essential hardware without any limitations.
Comprehensive BIOS Features
ASROCK's UEFI BIOS is known for its user-friendly interface and robust features. The Z690M Phantom Gaming 4 includes advanced BIOS options for overclocking, system monitoring, and customization. Whether you're a novice or an experienced overclocker, you'll find the BIOS interface intuitive and powerful.
Also Check Razer DeathAdder V3 Pro Faker Edition Wireless Gaming Mouse
Conclusion
The ASROCK Z690M Phantom Gaming 4 motherboard is a compact powerhouse that delivers high-performance features for gamers, enthusiasts, and content creators. With its micro-ATX form factor, LGA 1700 socket for 12th gen Intel CPUs, dual DDR5 memory support, PCIe 5.0 compatibility, Phantom Gaming aesthetics, enhanced audio and networking, robust power delivery, M.2 NVMe SSD support, versatile connectivity options, and comprehensive BIOS features, it offers a comprehensive package for your PC build.
Whether you're building a gaming rig, a multimedia powerhouse, or a compact workstation, the Z690M Phantom Gaming 4 has the performance and features to meet your demands. It's not just a motherboard; it's a catalyst for unlocking the full potential of your 12th gen Intel CPU and high-speed components.
In a world where performance, aesthetics, and versatility matter, the ASROCK Z690M Phantom Gaming 4 motherboard stands as a testament to ASROCK's commitment to delivering top-tier motherboards. It's a motherboard that not only meets but exceeds the expectations of users, providing the performance and features needed to elevate your PC build. So, embrace the compact power of the Z690M Phantom Gaming 4 and take