ASUS Zenbook 14X OLED Review: Impressive screen
ZenBook 14X OLED stands out as a great device for users who want a high-end compact laptop that combines great performance...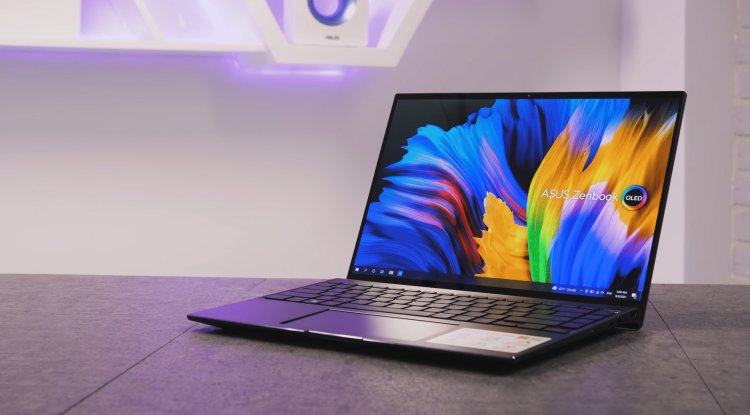 Photo Credits: Asus/Promo
Display
14" / 2.880×1.800 / OLED 90 Hz
Processor
Intel Core i7-1165G7 (4 cores / 8 threads)
Graphics card
Intel Iris Xe - 96 EU
RAM
2×8 GB LPDDR4X-4266
Disc
1 TB SSD M.2 NVMe PCIe 4.0 (80 mm)
Network
Intel AX201 Wi-Fi 6
Connectors
1 × HDMI 2.0b
1 × USB 3.2 Gen2
2 × Thunderbolt 4
3,5-mm audio
Accessories
microSD card reader, fingerprint scanner
Weight
1,4 kg
Dimensions/ volume
311 × 222 × 16 mm / 1,1 l
OS
Windows 10 Home
Laptops that offer OLED screens instead of IPS screens are becoming more common, which is actually not surprising because mid-range and high-end phones have long spoiled us with this image display technology. The ZenBook 14X OLED is the first ZenBook to use this type of screen, and Asus has implemented it very impressively on this device. Namely, the screen is 14-inch, but with an aspect ratio of 16:10 and a resolution of 2,880 × 1,800 pixels. In addition, the screen offers a 90-hertz refresh, resulting in a better response to input peripherals, a more fluid display, and generally more comfortable use of the device. The screen is touch-sensitive, which will be useful to some users, especially in combination with the included Asus active pen, but this, unfortunately, also has negative implications in terms of display quality. Namely, because of the sensor layer on top of the OLED panel, a small grainy pattern is visible when the screen is viewed up close. Some users will be struck by this, but from a normal working distance, it is objectively difficult to see. There is also a variant of this screen without a sensor, therefore more desirable if you do not need a sensor and a variant with a 4K resolution of 16:10.
Asus declares a screen brightness of 550 nits, 100% DCI-P3 color gamut coverage, VESA Display HDR True Black 500 certification and Pantone color profile validation. Our DataColor SpyderX sensor confirmed the declared gamut, excellent calibrated gamma curve of 2.2, white dot set to the heat of practically ideal 6,400 kelvins, but peak brightness of only 355 nits, which is quite OK for office work, but extremely usable under strong external lighting, especially considering that the surface of the screen is glossy rather than matte. The DeltaE value is 0.92, which is extremely good in terms of color accuracy, and the screen also boasts superior uniformity, both in color and backlight.
Given the potential of the OLED screen for image retention, Asus has implemented a special screensaver as part of its system software, which refreshes the pixels on the screen and turns them on after 30 minutes of inactivity. There's also a pixel shift feature, which causes screen pixels to occasionally move imperceptibly to prevent burn-in. Both functions can be switched off if desired.
Robust metal housing
The complete body of the ZenBook 14X is made of aluminum alloy and tested according to the MIL-STD-810H military standard. The base has a homogeneous matte texture, and the laptop cover is decorated with a circular brushed design, characteristic of the ZenBook series. That design looks nice but combined with the dark gray color of the case, it's a magnet for finger stains. The screen cover is very firm, so there is no bending under load, and it opens easily with one hand, which is a rarity with such lighter laptops.
Speaking of weight, the ZenBook 14X OLED weighs 1.4 kg - because of the high screen, slightly more than classic ultra-portable laptops. When opened, the screen slides under the back of the laptop base and lifts it off the base, which at the same time provides additional space for fresh air into the cooling system, and increases the angle of the keyboard to the user. Convenient is that it can be unfolded up to an angle of 180 degrees, which ensures a good working angle of the user, regardless of whether the laptop is on the desk or in the lap. In a thin bar above the screen is an HD webcam of average capabilities.
Being a 14-inch laptop, with a screen-to-body ratio of 92%, this ZenBook could not be expected to offer a full-size keyboard. However, Asus has added another column of buttons on the far right, which contains buttons for quick navigation of text and documents, as well as a button to turn on the computer. This key is lower than the other keys and has an integrated fingerprint reader for quick authentication in Windows. The quality of the keyboard is at a high level, and we can't complain about the layout of the keys. The major keys are generous in size, while the cursor and front row keys are reduced because they are not used so often. There is, of course, backlighting, which is white in color and adjustable in three intensity levels.
Below the keyboard is a large and excellent glass touchpad with the added function of a numeric keypad. The touchpad in the upper right corner has an icon to activate that secondary function, after which a blue backlight draws a numeric keypad on the touchpad. With the gesture of dragging your finger from the upper left to the upper right corner, we automatically open the Windows calculator application and turn on the numeric keypad display.
The offer of connectors on the sides of the laptop is very good. On the left are HDMI 2.0b and a pair of Thunderbolts 4 (one of which is used for power from the included 100-watt adapter), and on the right 10-gigabit USB, headphone connector and microSD card reader. Here we can notice that both sides of the laptop have perforations for hot air to come out of the case, which is very unusual for this type of laptop. On the sides, but on the lower side of the base, there are also stereo speakers signed by Harman Kardon. The speakers are very loud and quite high quality compared to typical laptop speakers.
Difficult upgrade
Access to the interior could be easier, as not only do you need to unscrew a set of visible torx head screws, but you need to peel off two rubber feet closer to the screen hinges, under which there are two additional cross head screws. Inside the laptop, we can then see a powerful cooling system consisting of two fans, each with its own hot water pipe and radiator located on the side.
Under the cooler on the test specimen was a quad-core Core i7-1165G7, but there are also cheaper models with a 4-core i5-1135G7 and a 2-core i3-1154G4. The memory, 16 GB LPDD4X-4266, is soldered to the motherboard but configured to work in dual-channel mode. Cheaper versions of laptops have 8 GB of memory. Inside we can see another M.2 NVMe PCIe 4.0 slot, fill in our case with a 1-terabyte NVMe PCIe 4.0 SSD covered with a cooler, which comes into contact with the base cover via a thermal plate for more efficient heat dissipation. Cheaper versions of the laptop include a smaller, 512 GB PCIe 4.0 SSD.
Intel's Wi-Fi 6 adapter takes care of connecting to the network, and 63-watt batteries work for laptops without an external power supply. In our test of simulated office work, at a screen brightness of 200 nits, it provided an autonomy of eight hours, which is a very good result. Fast charging is supported so that the battery can be charged from zero to the "plug" in less than two hours.
The performance of the ZenBook 14X OLED is excellent, primarily thanks to the excellent cooling implementation, the use of dual-channel memory and a very fast SSD. At full load, the processor initially jumps to 4.1 GHz and 50 W, but after one minute it stabilizes at 3.5 GHz, with 35 W and an average peak temperature (warmest core) of 95 ° C. Fan noise is acceptable at the same time, and does not exceed the level of 42 dBA. If a higher performance profile is selected in the system software, noise jumps significantly and CPU consumption stabilizes at around 40 W, with higher temperatures.
Domestic users have at their disposal a model with an i5 processor, 8 GB of memory and a 512-gigabyte SSD, for which it is necessary to set aside HRK 8,500. It is also licensed for Windows 10 Home and comes packaged with an active pen and case.
From all that has been seen, the ZenBook 14X OLED stands out as a great device for users who want a high-end compact laptop that combines great performance, long battery life and a superior OLED screen.