Audioengine S8 Powered Subwoofer White
When it comes to achieving rich, immersive audio, a high-quality subwoofer can make all the difference. The Audioengine S8 Powered Subwoofer in its striking white finish is a standout addition to any audio setup. Renowned for its deep bass response and exceptional build quality, this subwoofer elevates your audio experience to new heights. In this article, we'll explore the features and benefits of the Audioengine S8 Powered Subwoofer White, showcasing why it's the ideal choice for audiophiles and music enthusiasts seeking to enhance their sound system.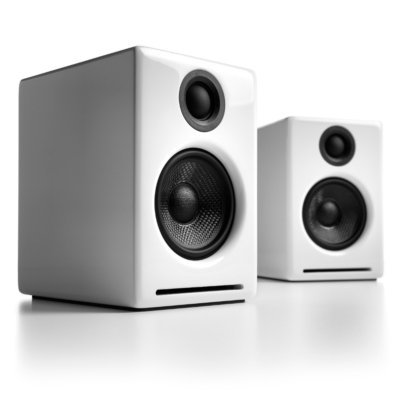 Photo Credits: headphones.sg
Deep, Resonant Bass
At the heart of the Audioengine S8 lies a 8-inch custom down-firing woofer that's designed to reproduce deep, resonant bass with precision. Whether you're listening to music, watching movies, or gaming, the S8 adds a powerful and dynamic low-frequency presence to your audio that transforms your listening experience.
This subwoofer doesn't just produce loud bass; it produces accurate and well-defined bass that enhances the overall audio quality. You'll feel the impact of every bass note and explosion while maintaining clarity in the mid and high frequencies.
Versatile Connectivity
The Audioengine S8 Powered Subwoofer White is designed with versatility in mind. It offers a variety of connectivity options to suit different audio setups. It includes dual line-level inputs and outputs, allowing you to connect it to stereo systems, AV receivers, powered speakers, or even directly to your computer.
The subwoofer also has a variable crossover control, which enables you to adjust the crossover frequency to seamlessly integrate it with your existing speakers. This flexibility ensures that you can achieve a balanced and harmonious soundstage tailored to your preferences.
Wireless Connectivity
One of the standout features of the Audioengine S8 is its wireless connectivity option. With the addition of the Audioengine W3 wireless adapter (sold separately), you can eliminate the need for cumbersome cables. This wireless adapter allows you to connect your audio source to the subwoofer wirelessly, giving you the freedom to place the subwoofer anywhere in the room without worrying about cable management.
The wireless connection is robust and reliable, ensuring that there is no compromise in audio quality when going cable-free. It's a convenient solution for those who value a clutter-free and flexible setup.
Solid and Elegant Design
The Audioengine S8 Powered Subwoofer White doesn't just excel in audio performance; it also stands out in terms of design. Its sleek and minimalistic appearance, accented by the elegant white finish, makes it a stylish addition to any room or audio setup.
The subwoofer's cabinet is constructed from robust and acoustically inert MDF (medium-density fiberboard) to minimize vibrations and resonance. It's designed to look good and sound great, making it a visually appealing and sonically impressive piece of audio equipment.
Built-in Amplification
The S8 features a built-in amplifier with 250 watts of continuous power, ensuring that it can deliver the necessary punch and depth to your audio. This built-in amplifier is specifically tailored to the subwoofer's driver, resulting in a harmonious pairing that optimizes performance.
The amplifier includes thermal and short-circuit protection, safeguarding the subwoofer against overheating or electrical issues. This ensures the longevity and reliability of your investment.
Compact Size, Big Sound
One of the advantages of the Audioengine S8 is its compact size. Measuring just 11.25 x 11.25 x 11.25 inches, it's relatively small for a subwoofer in its class. This compact form factor allows for easy placement in various rooms and environments without monopolizing space.
Despite its small size, the S8 is capable of producing big, room-filling sound. It can fill your living room, home theater, or studio with deep bass that adds depth and dimension to your audio content.
Seamless Integration
The Audioengine S8 Powered Subwoofer White is designed to seamlessly integrate with other Audioengine products, such as the A5+ or HD6 powered speakers. When used together, these components create a cohesive audio system that delivers a remarkable listening experience. The subwoofer complements the performance of the speakers, providing a full and well-balanced soundstage.
This synergy between Audioengine products ensures that you can achieve audiophile-grade audio quality without the complexity of mixing and matching components from different manufacturers.
Also Check Kingston Fury Beast RGB 16GB (2x8GB) 3600MHz CL17 DDR4
Conclusion
The Audioengine S8 Powered Subwoofer White represents the pinnacle of subwoofer technology in a compact and elegant package. With its deep, resonant bass, versatile connectivity options, wireless capability, solid build quality, built-in amplification, compact size, and seamless integration with Audioengine speakers, it offers a complete audio solution that enhances your music, movies, and gaming experiences.
Investing in the Audioengine S8 means investing in a subwoofer that not only adds depth to your audio but also elevates the aesthetics of your audio setup. Whether you're a music enthusiast, a cinephile, or a gamer, the S8 delivers the low-frequency performance you crave while enhancing the overall audio quality of your system.
With the Audioengine S8 Powered Subwoofer White, you're not just upgrading your audio; you're transforming your listening space into a realm of sonic excellence and aesthetic elegance. It's the perfect addition to any audio setup that demands uncompromising performance and style.