BENQ GW2790QT EYE-CARE 27 INCH QHD IPS MONITOR
The BENQ GW2790QT is a 27-inch QHD IPS monitor that promises an immersive visual experience while prioritizing your eye comfort. In today's world, where screens are an integral part of daily life, having a monitor that not only delivers stunning visuals but also cares for your eye health is essential. The GW2790QT combines impressive display technology, ergonomic design, and thoughtful eye-care features to offer a truly delightful viewing experience. In this article, we will explore the key features and benefits of the BENQ GW2790QT monitor, explaining how it can enhance your computing experience and promote eye comfort.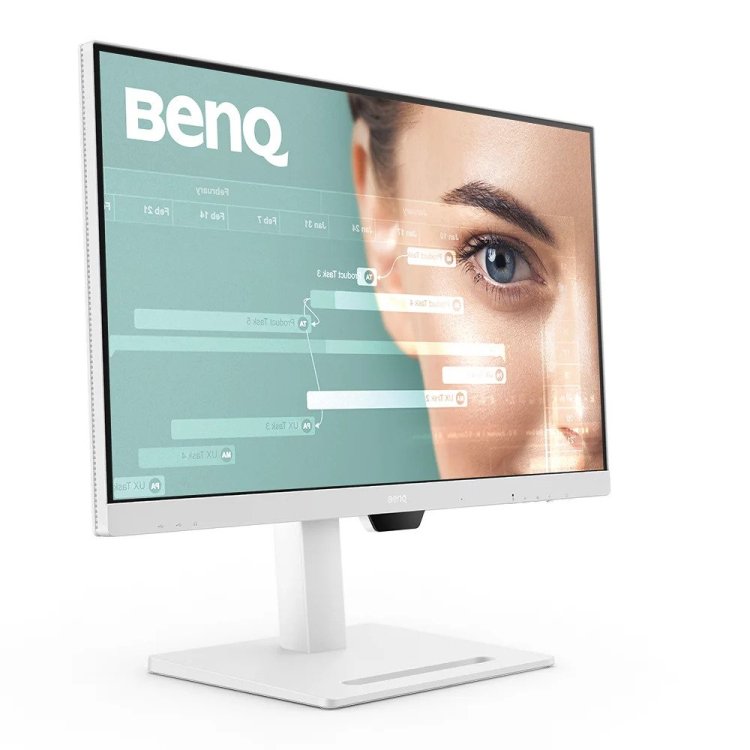 Photo Credits: benq
Vivid QHD Resolution
The BENQ GW2790QT boasts a QHD (2560x1440) resolution, which provides four times the pixel density of standard HD monitors. This results in sharp and detailed visuals, making it ideal for various tasks, from office work and content creation to gaming and multimedia consumption. With the GW2790QT, you can enjoy crystal-clear images and vibrant colors that bring your content to life.
IPS Panel for Color Accuracy
The monitor utilizes an IPS (In-Plane Switching) panel, known for its exceptional color accuracy and wide viewing angles. This means that whether you're working on professional design projects, watching movies with friends, or sharing your screen during a presentation, you can expect consistent and accurate colors from virtually any angle. The IPS technology ensures that the colors you see on the screen match real-world colors.
Edge-to-Edge Display
The GW2790QT features a frameless design with ultra-slim bezels, giving you an edge-to-edge display that maximizes your viewing area. This design not only looks sleek but also provides a more immersive experience, making it easier to get lost in your content. Whether you're playing games, watching videos, or multitasking with multiple windows open, the bezel-less design creates a seamless and engaging visual environment.
Brightness Intelligence Technology
BENQ's Brightness Intelligence Technology (B.I.Tech.) is a feature that automatically adjusts the monitor's brightness based on ambient lighting conditions and on-screen content. This means that the GW2790QT adapts to your surroundings to provide optimal viewing comfort. In well-lit rooms, it reduces glare and eye strain, while in darker environments, it ensures that you can see your content clearly without straining your eyes.
Low Blue Light Technology
Exposure to blue light from screens can lead to eye discomfort and fatigue, especially during extended periods of use. The BENQ GW2790QT incorporates Low Blue Light technology, which allows you to choose from multiple blue light reduction modes. These modes filter out harmful blue light to reduce eye strain, making it easier to work or play for extended durations without experiencing discomfort.
Flicker-Free Technology
Screen flickering is another common cause of eye strain and discomfort. BENQ's Flicker-Free technology is designed to eliminate flickering, ensuring that your viewing experience is free from distracting screen flicker. This technology, in combination with the monitor's low blue light features, contributes to a more comfortable and enjoyable screen time.
Ergonomic Design
The GW2790QT offers a range of ergonomic features that allow you to customize your viewing experience. It includes tilt adjustment, which lets you find the most comfortable viewing angle, whether you're sitting or standing. Additionally, it is VESA-compatible, allowing you to mount it on a wall or an ergonomic monitor arm for further flexibility in positioning.
Connectivity Options
The monitor provides a variety of connectivity options, including HDMI, DisplayPort, and VGA inputs, ensuring compatibility with a wide range of devices such as laptops, desktops, gaming consoles, and more. It also features integrated speakers, although for a more immersive audio experience, external speakers or headphones may be preferred.
Also Check Cambridge Audio DacMagic 100
Conclusion
In conclusion, the BENQ GW2790QT Eye-Care 27-Inch QHD IPS Monitor is a visual delight that combines stunning display technology with thoughtful eye-care features. Its QHD resolution, IPS panel, and frameless design create an immersive viewing experience that's perfect for work and play. The Brightness Intelligence Technology, Low Blue Light, and Flicker-Free features prioritize your eye comfort, allowing you to use the monitor for extended periods without discomfort.
Whether you're a professional in need of accurate colors for design work, a gamer seeking an immersive visual experience, or simply someone who values eye comfort during screen time, the BENQ GW2790QT delivers on all fronts. Its ergonomic design and versatile connectivity options make it a versatile choice for a wide range of users.
Investing in a high-quality monitor like the GW2790QT not only enhances your computing experience but also promotes your eye health. With this monitor, you can enjoy stunning visuals without compromising on comfort, making it an excellent addition to your workspace or entertainment setup.