Canon Pixma G2010
The Canon Pixma G2010 is a reliable and feature-rich all-in-one ink tank printer designed for home and small office use. With its high-quality printing capabilities, cost-effective ink tank system, and versatile functionality, the Pixma G2010 offers an efficient and convenient printing solution. In this article, we will explore the key features and benefits of the Canon Pixma G2010.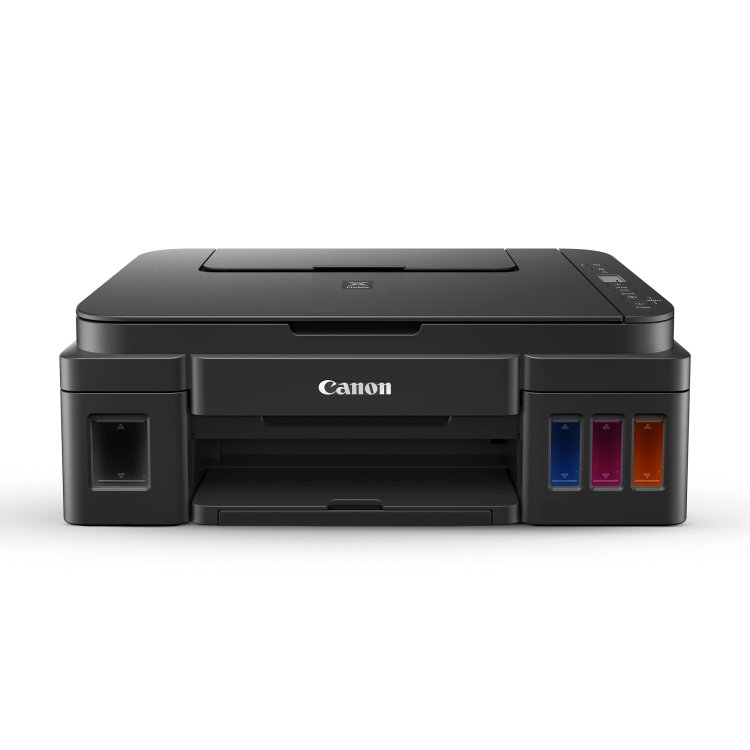 Photo Credits: Amazon.in
High-Quality Printing
One of the standout features of the Canon Pixma G2010 is its ability to deliver high-quality prints. Equipped with Canon's advanced printing technology, the Pixma G2010 produces sharp and vibrant prints with impressive detail and accuracy. Whether you're printing text documents, graphics, or photographs, this printer ensures professional-grade results.
Ink Tank System
The Pixma G2010 incorporates an integrated ink tank system, which is one of its major advantages over traditional inkjet printers. The ink tanks are designed for high-volume printing, allowing you to print a large number of pages without the need for frequent ink cartridge replacements. This system not only reduces printing costs but also minimizes the hassle of constantly monitoring ink levels.
Cost-Effective Printing
With the Canon Pixma G2010, you can enjoy cost-effective printing without compromising on quality. The ink bottles for the G2010 are available at an affordable price, making it an economical choice for those who require frequent printing. The high page yield of the ink bottles ensures that you get more prints per bottle, resulting in significant savings in the long run.
Versatile Functionality
The Canon Pixma G2010 offers versatile functionality to meet various printing needs. In addition to its printing capabilities, this all-in-one printer also features scanning and copying functions. The built-in flatbed scanner allows you to digitize documents and images with ease, while the copy function enables you to make quick duplicates of important documents.
Easy Operation
Operating the Canon Pixma G2010 is a breeze, thanks to its user-friendly interface and intuitive controls. The control panel features a simple layout with clearly labeled buttons, making it easy to navigate through different functions and settings. The printer also comes with software that provides additional features and customization options, allowing you to optimize your printing experience.
Fast Printing Speeds
When it comes to productivity, the Canon Pixma G2010 doesn't disappoint. With its fast printing speeds, you can complete your printing tasks quickly and efficiently. Whether you're printing black and white documents or color graphics, the G2010 delivers impressive speeds that help you stay productive.
Compact and Space-Saving Design
The Pixma G2010 features a compact and space-saving design, making it ideal for small office environments or home offices with limited space. Its sleek and minimalist design allows it to blend seamlessly into any workspace without occupying much room. This printer is designed to be practical and efficient, without compromising on performance.
Connectivity Options
The Canon Pixma G2010 offers convenient connectivity options to enhance your printing experience. It supports USB connectivity, allowing you to connect the printer directly to your computer for seamless printing. While it doesn't offer wireless connectivity, the USB connection ensures stable and reliable data transfer for consistent printing results.
Also Check Elgato Game Capture HD60 X
Conclusion
The Canon Pixma G2010 is a versatile and cost-effective all-in-one ink tank printer that delivers high-quality prints, efficient performance, and convenient functionality. With its integrated ink tank system, you can enjoy cost-effective printing without compromising on print quality. The Pixma G2010's user-friendly interface, fast printing speeds, and compact design make it a reliable choice for home users and small offices. If you're looking for a reliable and efficient printer that meets your printing, scanning, and copying needs, the Canon Pixma G2010 is worth considering.