Corsair iCUE AF120 RGB Slim 120mm PWM Fan
Efficient cooling is the lifeline of any high-performance PC, and Corsair, a renowned name in the world of gaming peripherals and components, has taken it to the next level with the iCUE AF120 RGB Slim 120mm PWM Fan. This slim and stylish fan is designed not only to keep your system running cool but also to add a vibrant and customizable RGB touch to your PC build. In this article, we will delve into the features, advantages, and transformative impact of the Corsair iCUE AF120 RGB Slim Fan on your cooling setup and aesthetics.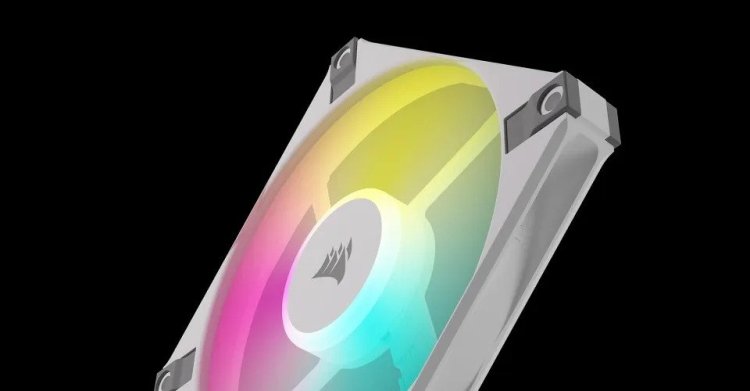 Photo Credits: pccasegear
Superior Cooling Performance
At the heart of the Corsair iCUE AF120 RGB Slim Fan is its exceptional cooling performance. Despite its slim profile, this fan is engineered to move a substantial volume of air efficiently. It boasts a unique blade design that maximizes airflow while minimizing noise. Whether you're gaming, rendering, or running demanding applications, this fan helps keep your CPU and components at optimal temperatures.
Slim and Space-Saving Design
The slim 120mm form factor of this Corsair fan is a game-changer when it comes to compatibility and space-saving. It is perfect for small form factor PC builds where space is at a premium. Additionally, it can fit in tight spaces in your case where traditional fans might not, allowing for better airflow optimization.
Customizable RGB Lighting
RGB lighting has become a staple in modern PC builds, allowing users to add a touch of personalization and style to their setups. The iCUE AF120 RGB Slim Fan takes RGB customization to the next level. It features customizable RGB lighting with vibrant, rich colors that can be synchronized with other Corsair RGB components through the iCUE software. You have the freedom to choose from a wide range of colors and lighting effects to match your build's theme or mood.
PWM Control for Precision
The Corsair iCUE AF120 RGB Slim Fan is equipped with PWM (Pulse Width Modulation) control. This means the fan's speed can be dynamically adjusted to meet the cooling demands of your system. During intensive tasks, the fan can ramp up its speed for maximum cooling, and during quieter moments, it can slow down to reduce noise. This dynamic control ensures that your system remains cool when needed and whisper-quiet when not under load.
Low-Noise Operation
Noise levels are a significant concern for many PC enthusiasts, especially those aiming to build silent or near-silent systems. The iCUE AF120 RGB Slim Fan is optimized for low-noise operation. Its unique blade design and advanced motor technology minimize noise without sacrificing cooling performance. This fan ensures that your system runs quietly, even when the action heats up.
Easy Installation
Corsair understands the importance of a hassle-free installation process. The iCUE AF120 RGB Slim Fan comes with everything you need for a straightforward installation. It includes mounting screws and a PWM fan header extension cable, making it easy to integrate into your existing setup. Whether you're a seasoned PC builder or a novice, you'll appreciate the simplicity of installation.
iCUE Software Control
Corsair's iCUE software is the command center for all Corsair RGB components, and the iCUE AF120 RGB Slim Fan is no exception. With the software, you have full control over the fan's lighting, speed, and performance. You can create custom lighting profiles, set temperature-based fan curves, and even synchronize your RGB lighting with other Corsair components like RGB RAM, keyboards, and mice.
Enhancing Aesthetics
The Corsair iCUE AF120 RGB Slim Fan is more than just a cooling solution; it's an aesthetic enhancer. Its vibrant RGB lighting adds personality and flair to your PC build. Whether you're going for a sleek and minimalistic look or a dazzling display of colors, this fan allows you to express your style and creativity.
Versatile Use Cases
While the iCUE AF120 RGB Slim Fan is primarily designed for PC cooling, its versatility extends beyond that. It can be used in various scenarios where slim and efficient cooling is required. This includes HTPC (Home Theater PC) setups, small form factor builds, and even cooling solutions for external hard drive enclosures or NAS (Network Attached Storage) systems.
Also Check ADATA Legend 710 PCIe Gen3x4 M.2 1TB SSD
Conclusion
The Corsair iCUE AF120 RGB Slim 120mm PWM Fan is a game-changer for PC enthusiasts and builders who demand efficient cooling and aesthetics. With its superior cooling performance, slim design, customizable RGB lighting, PWM control, low-noise operation, easy installation, and iCUE software control, it stands as a versatile and essential component in any modern PC setup.
Beyond its technical capabilities, this fan adds a touch of personality and style to your PC build. It's not just a cooling solution; it's an integral part of your system's aesthetics, allowing you to create a visual masterpiece that complements your gaming or work environment.
In a world where performance and aesthetics are equally important, the Corsair iCUE AF120 RGB Slim 120mm PWM Fan excels on both fronts. It ensures that your system stays cool under pressure while providing a canvas for you to unleash your creativity. So, whether you're a gamer, content creator, or PC enthusiast, elevate your cooling and aesthetics with this remarkable Corsair fan, and experience a PC setup that's both functional and visually captivating.