Focusrite Scarlett 2I2 Studio Bundle
The Focusrite Scarlett 2i2 Studio Bundle is a comprehensive audio recording package designed to meet the needs of aspiring musicians, podcasters, and content creators. This all-in-one solution combines professional-grade audio interfaces, studio-quality microphones, headphones, and essential software, providing everything you need to start recording high-quality audio from the comfort of your home or studio. In this article, we will delve into the features and benefits of the Focusrite Scarlett 2i2 Studio Bundle and explore how it can help you unleash your creative potential.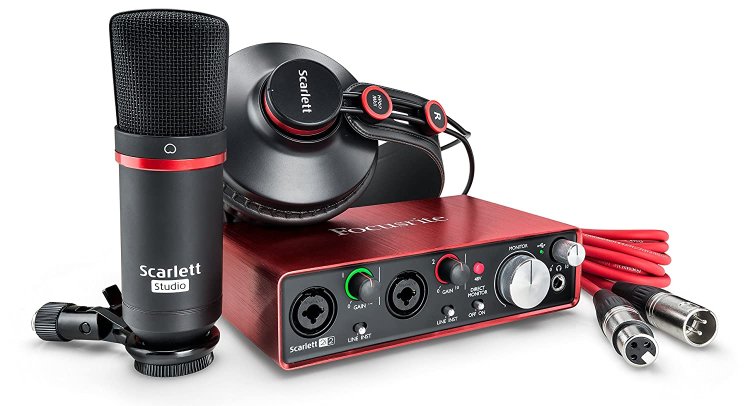 Photo Credits: Amazon.in
Studio-Quality Audio Interfaces
At the heart of the Scarlett 2i2 Studio Bundle is the Scarlett 2i2 audio interface. This compact and robust device features two high-performance microphone preamps, delivering pristine audio capture with exceptional clarity and detail. With its 24-bit/192kHz resolution, you can be confident that your recordings will accurately represent your performances, capturing every nuance and subtlety.
The Scarlett 2i2 interface also offers two line/instrument inputs, enabling you to connect guitars, keyboards, or other line-level sources directly to the interface. This versatility allows you to record a wide range of instruments and create professional-grade recordings with ease.
Studio-Quality Microphone and Headphones
In addition to the audio interface, the Scarlett 2i2 Studio Bundle includes a studio-quality condenser microphone and a pair of closed-back headphones. The CM25 MkIII microphone is specifically designed for vocal recording, providing a warm and detailed sound that enhances the clarity and presence of your voice. The HP60 MkIII headphones offer accurate sound reproduction, allowing you to monitor your recordings with precision and make critical mixing decisions.
Whether you're recording vocals, acoustic instruments, podcasts, or voiceovers, the combination of the Scarlett 2i2 interface, CM25 MkIII microphone, and HP60 MkIII headphones ensures that you have the tools to achieve professional-quality results.
Essential Software and Plug-Ins
To further enhance your recording and production experience, the Scarlett 2i2 Studio Bundle includes a comprehensive software package. This package includes the Focusrite Creative Pack, which features a collection of industry-leading software and plug-ins. The bundle includes the Pro Tools | First recording software, Ableton Live Lite, Focusrite Red Plug-in Suite, Softube Time and Tone Bundle, and many more.
These software and plug-ins provide you with a wide range of creative options and tools to refine your recordings, add effects, and polish your mixes. Whether you're a beginner or an experienced producer, the included software empowers you to explore your creativity and achieve professional-level results.
Easy Integration and Portability
The Scarlett 2i2 Studio Bundle is designed for easy integration into your existing setup. It connects to your computer via USB, ensuring compatibility with both Mac and Windows systems. The compact and portable nature of the bundle allows you to take your recording studio anywhere, whether you're working from home, on the road, or in a professional studio environment.
Also Check HP ScanJet Pro 3600 f1
Conclusion
The Focusrite Scarlett 2i2 Studio Bundle is a powerful and versatile audio recording solution that empowers musicians, podcasters, and content creators to achieve professional-quality recordings with ease. With its studio-quality audio interfaces, high-quality microphone and headphones, and comprehensive software package, the bundle provides everything you need to unleash your creative potential.
Whether you're a beginner taking your first steps in audio recording or an experienced professional looking for a portable and reliable recording solution, the Scarlett 2i2 Studio Bundle delivers exceptional audio quality, versatility, and ease of use. Invest in the Focusrite Scarlett 2i2 Studio Bundle and elevate your recordings to new heights.