Gigabyte AERO 15 OLED Review: Creativity
It is a "glossy" Samsung 4K UHD AMOLED screen with a diagonal of 15.6". Gigabyte laptop, for professional work and creativity.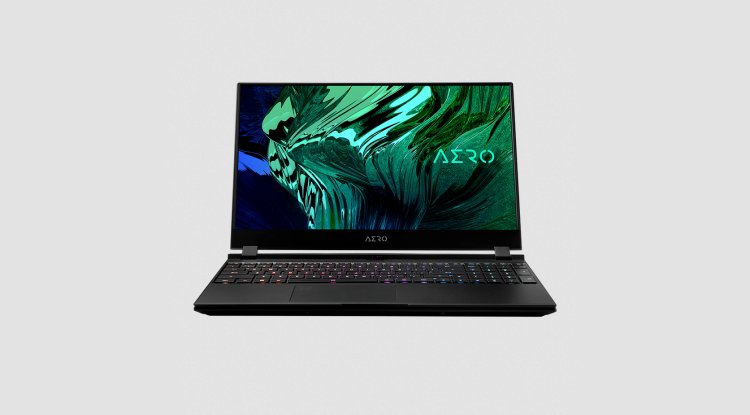 Photo Credits: Gigabyte/Promo
It is a "glossy" Samsung 4K UHD AMOLED screen with a diagonal of 15.6". You can imagine a really unusual screen and hardly anything better nowadays on a laptop with this purpose. And what about the rest of the system? We can say, very specific...
Gigabyte AERO 15 OLED is for professional work and creativity . This is a classic type of prejudice for most users who suffer from brand mania. However, don't forget that Gigabyte is one of the leading brands in the field of PC hardware, which means a great experience that is very applicable in the field of laptops.
Characteristics
The AERO series, unlike the gaming Aorus models, is a line of high-performance laptops designed for creatives and those who create demanding content. So, for professional work. And what does that actually mean? Such a computer must have the latest and currently fastest specifications of basic components, connections and finally, its design must meet in every detail the needs of this demanding target group of users.
From the very name of the model, it is clear that this is not the usual strong laptop. It is special in that it is practically the first model in our test to use an OLED screen. You can imagine a really unusual screen and hardly anything better nowadays in a laptop with this purpose. The excellent screen further enhances the impression of work thanks to the thin edges of only 3 mm, so the so-called "infinity" effect is maximally pronounced.
But 4K on a 15.6-inch diagonal is deadly small - many will say, an overkill situation. However, you should keep in mind the high probability of using an external screen with a UHD display in extended desktop mode. In addition, the outstanding lighting of measured 360 nits in standard and 500 nits in HDR mode with superb contrast due to the deep black color, allows 4K at 225% magnification of the desktop to be seen perfectly clear and sharp. The screen specifications guarantee 100% coverage of the DCI-P3 palette, which is 30% more colors, better tinting compared to the sRGB palette and standard screens. And what is especially important, the emission of the harmful blue LED spectrum has been reduced by 70%, which is of great importance for users who work on this computer and spend a lot of time in front of it due to work. Definitely one of the best screens we've seen on laptops.
The screen of the device for this purpose really means a lot, but it is not the only decisive factor that will break you for this model. Gigabyte knew this and made it highly desirable in other details as well.
In order for a laptop to follow the good impression of the screen, the base platform must deliver high performance, so the decision is to pair a strong combination of CPU and GPU. The 11th generation Intel Core i7 marked i7-11800H was used, with 8 physical cores and 16 threads. The base frequency is 2.3GHz, and the maximum turbo step goes up to 4.6 GHz. Great for 4K photo and video processing. The processor is paired with an equally powerful and for some jobs even more efficient graphics processor. The choice fell on the Nvidia GeForce RTX 3070 with 8GB of memory, which in combination with Nvidia Studio drivers is a quick solution for applications that know how to use CUDA acceleration, and there are more and more of them today. And when the work is over your head and you want to relax a little - no problem, you will play like a king because this laptop "shoots" with power and is practically at its core the equivalent of strong gaming models. The refrigerator practically has two units with separate blocks, each of which has a separate fan while they are simultaneously connected to 5 heat pipes in order to equalize the heat over the entire surface and thus make the cooling system more efficient.
Aero 15 OLED in our test is equipped with 16GB RAM in dual-channel configuration, and certainly having in mind the primary purpose would suit 32GB, while it is possible to install a maximum of 64GB at 3200MHz as allowed by the memory controller in the 11th Intel Core generation. The data storage system uses a 1TB M.2 SSD solution based on the M.2 interface and NVMe protocol with four PCIe transport lines based on the 4th generation. So, thanks to the improved specifications of the Tiger Lake processor system controller, the new SSDs can work in the mode of higher data transfer. There is also an additional M.2 PCIe x 4 slot with third-generation paths - a solution for fast "storage". So, the emphasis is without a doubt on top performance.
And of course, WiFi 6 wireless network based on Intel AX201 solutions with the inevitable Bluetooth 5.2, and for those who like the classic LAN interface, there is Realtek's 2.5 GB controller. Sound comes from the standard side openings. It sounds quite solid and loud, but for the ultimate pleasure in music or gaming, headphones are a must. The audio solution supports surround 7.1 and DTS-X technologies. Which tells you that you will enjoy watching movies.
All this is accompanied by appropriate fast connections. There are 3x USB-A 3.2 first generation, 1x Thunderbolt 4 ie USB-C 3.2 second generation, one HDMI 2.1, one mini DisplayPort 1.4, one combined 3.5mm audio jack, Ultra High Speed ​​II SD memory card reader and of course RJ45 Ethernet connection.
The hardware is powered by a 230W power adapter, and autonomy is provided by a lithium polymer battery with a capacity of 99Wh. Strong hardware draws a lot of energy, so in our case we measured an autonomy of two hours and 20 minutes, delivering 70% of maximum performance with 80% lighting. It takes 2 hours to charge the battery due to the higher capacity, and we would certainly like the presence of the fast charging function, which we honestly did not notice in the specifications or the accompanying software as an option that would be very useful in this case.
And when you keep in mind what all the powerful hardware is packed in this AERO 15 OLED, you can't help but wonder - "so how big is that laptop", expecting a case to swell like a test. This AERO beauty is a typical example of a successful third-generation nvidia Max Q design. Incredibly thin and fit considering the above-average hardware. It weighs only two kilograms and is only 2 cm thick.
Thin, but strong. The screen cover can be opened with just one finger, thanks to special hinges and an aluminum chassis obtained by CNC machining. The design of the case is as befits a HiTech laptop model like this. It is important to point out that the case is complete, including the thin part with the screen made of aluminum. That is why it leaves a premium feeling under the hand and fingers. The case is additionally decorated with Nanoimprint details that are undoubtedly associated with "carbon fiber". Just enough to break the monotony of matte black surfaces.
Finally, let's not forget the keyboard, which has RGB adjustable lighting and with the correct square shape of the key extends from the edge to the edge of the laptop. The suspension is fine-tuned, although it is a membrane, the caps give the initial resistance, which works nicely when knocking. It has a numerical part. The keyboard is assisted by a standard-sized touchpad with integrated fingerprint reader and left and right click rocker.
Performance and impressions in work
In terms of performance, this is certainly one of the fastest laptops tested so far. By the way, we draw your attention to the fact that during the work, the Gigabyte work management software intervenes quite aggressively, and if you indifferently accept this fact, the performance can seriously vary.
The performance of the CPU and GPU depends on the activity of the cooling system. The bolder you are in terms of fan operation and compromised noise levels, the easier the processors reach the maximum frequencies, but the laptop then undoubtedly becomes noisier. Fortunately, with a little experimentation, you can adjust the performance, heating and noise ratio yourself. Profits go up to 25% when it comes to processor performance. The level of performance is comparable to classic PC desktop systems. The score in Adobe applications is especially impressive.
Applications with CUDA support make the most of the powerful GeForce RTX 3070 and this is very pleasing to them through a significant reduction in time for certain tasks, exporting video material and similar demanding operations. We notice some newer ones that also have Nvidia DLSS support for exporting animated scenes. Like the D5 render.
And when you want to play, you get a complete picture of how strong this computer is. It is even faster than the recently tested, similarly configured Gigabyte Aorus model which is actually a gaming variant. Superior OLED screen with HDR support - simply put, it dominates titles with rich graphic details. Strong lighting and incredible contrast, which further emphasizes the glossy effect, give a striking visual feeling.
When it comes to heating, the cooling system does a great job with an average of 45 degrees on the keyboard, while the positions of the cooler and fan are cleverly located below the areas you touch with your fingers. As resource usage increases, so does noise ranging from inaudible 28dB to noticeably hissing 34dB.