HP w100 480P 30 FPS Digital Webcam
In today's digital world, webcams have become an essential tool for communication, whether it's for remote work, online meetings, or video calls with friends and family. The HP w100 480P 30 FPS Digital Webcam is a popular choice for users who need a reliable and affordable webcam for their everyday needs. In this article, we will explore the features and benefits of the HP w100 webcam.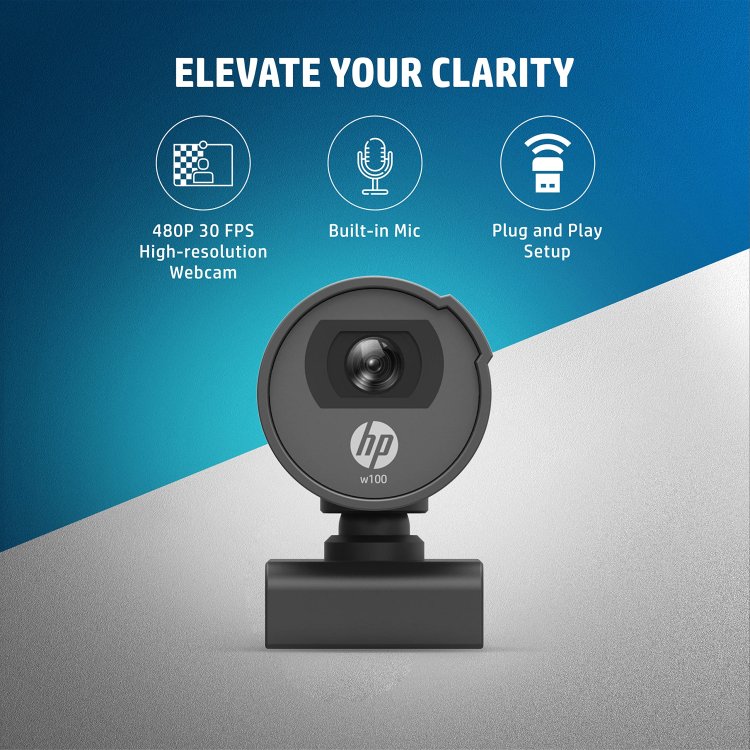 Photo Credits: Amazon.in
High-Quality Video
The HP w100 webcam delivers clear and crisp video with a resolution of 480P, ensuring that your video calls and recordings are of decent quality. While it may not offer the highest resolution available in the market, it provides a satisfactory video experience for most day-to-day uses.
Smooth 30 FPS Frame Rate
With a frame rate of 30 frames per second (FPS), the HP w100 webcam offers smooth video playback. This frame rate ensures that your movements appear natural and fluid, providing a comfortable viewing experience for both you and the person on the other end of the video call.
Built-In Microphone
The HP w100 webcam features a built-in microphone that captures audio with reasonable clarity. This eliminates the need for an external microphone and allows you to communicate effectively during video calls or recordings without any additional equipment.
Plug-and-Play Functionality
Setting up the HP w100 webcam is a breeze, thanks to its plug-and-play functionality. Simply connect the webcam to your computer's USB port, and it will be recognized instantly without the need for any additional drivers or software installations. This makes it a convenient choice for users who value simplicity and ease of use.
Adjustable Clip and Mounting Options
The webcam comes with an adjustable clip that allows you to attach it securely to your laptop or desktop monitor. The clip provides a firm grip, ensuring that the webcam stays in place during use. Additionally, the HP w100 webcam can be mounted on a tripod or other camera mounts if you prefer different positioning options.
Compatibility with Multiple Platforms
The HP w100 webcam is compatible with a wide range of operating systems, including Windows, macOS, and Linux. This makes it a versatile option that can be used with various computers and laptops, regardless of the operating system you're using.
Flexible Viewing Angle
The webcam offers a flexible viewing angle, allowing you to adjust the camera's position to your preferred angle. Whether you need a straight-on view or a slight tilt, the HP w100 webcam provides the flexibility to accommodate your specific needs.
Low-Light Performance
With its low-light performance capabilities, the HP w100 webcam ensures that you can be seen even in dimly lit environments. This feature is particularly useful for video calls or recordings in rooms with limited lighting conditions, as it helps to maintain visibility and clarity.
Portable and Lightweight Design
The HP w100 webcam features a compact and lightweight design, making it highly portable. Whether you're traveling for work or need to take your webcam on the go, its small size and lightweight construction make it easy to pack and carry with you wherever you need to use it.
Also Check Kensington SD5700T Thunderbolt 4 Docking Station
Conclusion
The HP w100 480P 30 FPS Digital Webcam offers a reliable and affordable solution for your everyday video communication needs. With its decent video quality, smooth frame rate, built-in microphone, and user-friendly features, it provides a satisfactory video experience for online meetings, video calls, and video recordings.
Whether you're a remote worker, a student attending virtual classes, or simply want to stay connected with your loved ones through video calls, the HP w100 webcam is a practical choice that combines affordability and functionality.