Lian Li O11 Dynamic EVO XL Tempered Glass Case
The Lian Li O11 Dynamic EVO XL Tempered Glass Case is a masterpiece of innovation and craftsmanship that takes PC case design to a whole new level. It's not just a case; it's a canvas for your creativity, a showcase for your hardware, and a testament to the art of PC building. In this article, we'll explore the features, design, and capabilities of the Lian Li O11 Dynamic EVO XL and how it can transform your PC build into a work of art.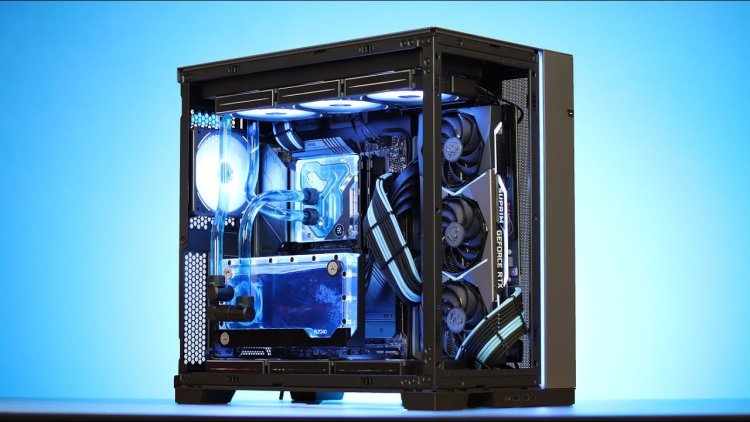 Photo Credits: PC Crazy yt
Spacious and Versatile Interior
The first thing you'll notice about the O11 Dynamic EVO XL is its spacious interior. This case is designed to accommodate a wide range of hardware configurations, from air-cooled setups to custom water-cooling loops. It supports E-ATX, ATX, and micro-ATX motherboards, providing flexibility for different build sizes and requirements.
Dual-Chamber Design
One of the standout features of the O11 Dynamic EVO XL is its dual-chamber design. It separates the main chamber, which houses the motherboard and graphics card, from the secondary chamber, which accommodates the power supply and storage devices. This design not only improves cable management but also enhances thermal performance by isolating heat-producing components.
Innovative Cooling Options
The O11 Dynamic EVO XL is a dream come true for enthusiasts who are passionate about cooling solutions. It offers support for up to three 360mm radiators simultaneously, allowing you to create a custom water-cooling loop that's nothing short of spectacular. The case also includes three 120mm PWM fans, ensuring efficient airflow right out of the box.
Stunning Tempered Glass Panels
The case's tempered glass panels are nothing short of stunning. The front, side, and top panels are made of tempered glass, providing a clear view of your components and lighting effects. The side panel features a tool-less design for easy access, making it convenient to showcase your build or make modifications.
Modular Radiator Bracket
The O11 Dynamic EVO XL comes with a modular radiator bracket that supports various cooling configurations. You can choose to mount radiators at the top, bottom, or side of the case, depending on your preferences and requirements. This flexibility allows you to create a cooling solution that's tailored to your build.
Cable Management Excellence
Cable management is often a challenge in PC builds, but the O11 Dynamic EVO XL addresses this issue with elegance. It features a cable bar that runs along the right side of the case, providing anchor points for cables and ensuring a clean and organized interior. The case also includes a removable cable cover at the front, concealing cables and improving aesthetics.
Support for High-End Graphics Cards
For gamers and content creators who demand the best, the O11 Dynamic EVO XL can accommodate high-end graphics cards with ease. It supports graphics cards up to 470mm in length, ensuring compatibility with even the most powerful GPUs on the market.
RGB Lighting Compatibility
RGB lighting has become an integral part of modern PC builds, and the O11 Dynamic EVO XL embraces this trend. It offers compatibility with various RGB lighting systems, allowing you to synchronize and customize lighting effects to match your aesthetic preferences. The tempered glass panels beautifully showcase your RGB components and lighting strips.
Premium Build Quality
Lian Li is known for its commitment to premium build quality, and the O11 Dynamic EVO XL is no exception. The case is constructed using high-quality materials, resulting in a durable and sturdy chassis that can withstand the test of time. The attention to detail is evident in every aspect of the case's design and construction.
Versatile Storage Options
Storage is a critical aspect of any PC build, and the O11 Dynamic EVO XL offers versatile storage options. It can accommodate up to six 2.5-inch SSDs or three 3.5-inch HDDs, ensuring that you have ample storage capacity for your games, applications, and files.
Unique Aesthetic Appeal
Beyond its functionality, the O11 Dynamic EVO XL is a work of art in itself. Its sleek and minimalistic design, combined with the tempered glass panels, creates a striking visual impact. Whether you're showcasing your build at a LAN party or in your gaming room, this case is sure to turn heads and garner admiration.
Also Check PowerColor Radeon RX 7800 XT Hellhound OC 16GB
Conclusion
The Lian Li O11 Dynamic EVO XL Tempered Glass Case is more than just a PC case; it's a testament to innovation, craftsmanship, and the art of PC building. With its spacious and versatile interior, dual-chamber design, innovative cooling options, stunning tempered glass panels, modular radiator bracket, cable management excellence, support for high-end graphics cards, RGB lighting compatibility, premium build quality, versatile storage options, and unique aesthetic appeal, it offers a comprehensive package for PC enthusiasts and builders.
Whether you're an overclocking enthusiast seeking the ultimate cooling solution or a creative builder looking to craft a visually stunning PC, the O11 Dynamic EVO XL has something to offer. It's not just a case; it's a canvas for your imagination, a platform for your aspirations, and a stage for your hardware.
In a world where PC building has become an art form, the Lian Li O11 Dynamic EVO XL stands as a masterpiece that celebrates the beauty of technology and design. It's a case that not only meets but exceeds the expectations of builders, providing a canvas upon which your PC dreams can come to life. So, embark on your PC-building journey, unleash your creativity, and elevate your hardware to new heights with the Lian Li O11 Dynamic EVO XL as your canvas.