MacBooks last longer on the battery than others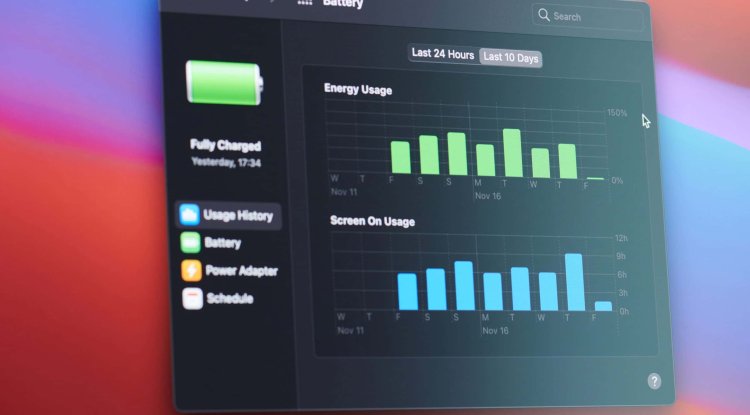 Photo Credits: Depositphotos
Until now, the AMD platform has dominated the issue of single charge endurance.
MacBook Pro lasts up to 20 hours of continuous YouTube playback.
This significantly outperforms all competing Windows laptops.
At the same time, when disconnected from the mains, its performance practically does not decrease.
Apple is already working on a new generation of its chips, which can further improve energy efficiency.
However, Intel, AMD and Qualcomm are also preparing news, for which the Macov manufacturer is an ever-increasing rival.
During the unveiling of the new 14- and 16-inch MacBooks, Apple boasted of their breathtaking battery life, which many were just shaking their heads in disbelief. Although the reality is a bit more "sober", the M1 Pro and Max chips are at least indeed more energy efficient than the competition in certain areas. Jarrod'sTech YouTube tests show that the new 16-inch MacBook Pro on a single charge will last significantly longer than Windows laptops.
It is a fact that x86-64 processors are constantly more economical, thanks to more efficient design, more advanced production, and various saving technologies. Intel has set the pace in this regard for many years, with AMD catching up or even showing its back for the last two generations.
Apple proves that it goes differently
But when Apple introduced the first MacBook Air with its own chip in 2020, many began to realize that today's x86 platforms still had significant reserves in terms of energy efficiency. In this case, it was still possible to refer to the fact that the M1 chip is directly optimized for high energy efficiency and not maximizing performance.
In the current comparison, however, there is already a MacBook Pro with the M1 Pro chip, which has only half the graphics compared to the more powerful M1 Max. The processor itself is practically the same in both cases, offering 8 powerful and 2 power-saving cores. On the other hand, the basic M1 chipset from 2020 integrates only a quartet of powerful and four energy-saving cores.
Recall that Apple announced 21 hours of continuous video playback as part of its presentation to introduce the new MacBook Pro. And it turns out that this figure was not too far from reality. The MacBook Pro 16, equipped with a 10-core M1 Pro chip with a 100Wh battery, was able to play YouTube videos continuously for up to 1,195 minutes, ie almost 20 hours, according to an independent test.
In second place finished the Dell G15 5515, equipped with an eight-core Ryzen 7 5800H and an 86Wh battery, which ran for 746 minutes (almost 12 and a half hours). Asus Vivobook Pro 16X OLED with an eight-core Ryzen 9 5900HX and a 96Wh battery worked without mains power for 640 minutes, ie less than 11 hours.
Although it is not possible to directly compare M1 Pro or M1 Max with x86 processors due to different software platforms, Apple's solutions can already outperform the competition in certain areas. This applies to both the Intel Core 11th (Tiger Lake) and 12th generation (Alder Lake) processors, the AMD Ryzen 5000 (Cezanne), and the recently mentioned Ryzen 6000 (Rembrandt), respectively.
Additional knowledge emerges from the tests. The MacBook Pro in the Cinebench R23 offered virtually identical performance when running on AC power as well as running on the built-in battery. It may not always achieve the best score and the competition is more efficient when powered from the mains, after disconnecting the cable, the weighing pans flip to the side of Apple and its M1 Pro suddenly gets among the processors with the best score. 
But to be sure, we can no longer expect 20 hours for computationally intensive rendering.
It's going to get even better processors
It should not be forgotten that although Apple has many years of experience in designing its own ARM chips, it is practically just beginning with processors designed specifically for computers. But this year it should introduce a new generation of basic chips. While the "em-two" is not expected to be the new high-end, it is likely to push energy efficiency forward again.
At the end of the year, Apple is reportedly preparing the most powerful processor for Mac Pro desktops, which according to some speculations could offer up to 40 cores.
On the other hand, it has been rumored for some time that Apple has lost a lot of capable people lately, with many moving to compete companies. For example, we recently reported the transfer of a person in charge of migrating Macs to ARM solutions. Paradoxically, his new employer is Intel.
Either way, the Cupertino company has proven that ARM has significant potential in the computer world as well. Although it is not yet expected to offer its chips to third parties, manufacturers of traditional x86-64 processors may have some concerns. But they are already preparing new generations of their own chips, which could significantly improve performance and energy efficiency. 
Let's add that Qualcomm, which last year bought the ambitious startup Nuvia, founded by former Apple engineers, has long felt the chance to score points with ARM processors on computers. A few months ago, the company promised new processors for Windows laptops to surpass everything the current market has to offer. Qualcomm announced the first samples for this year, with the fact that the wide availability of its ARM chips for computers is to be expected in 2023.