Mr. Big is still a tease!
Scenes from the filming of the reboot of the series 'Sex and the City' once again draw us into the magical world of escapist television and great love stories, but today we look at some things with different eyes ...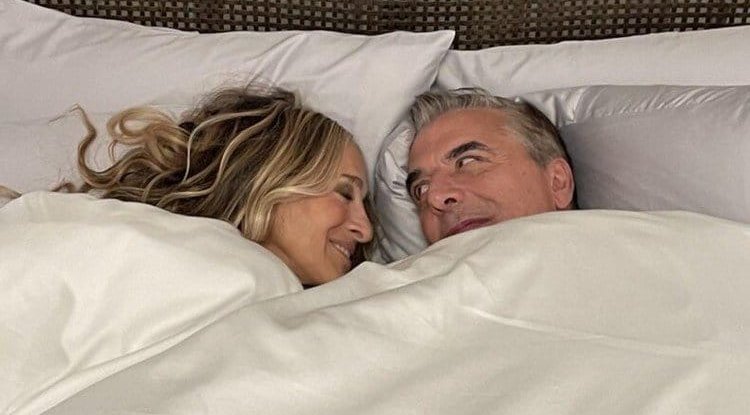 Photo Credits: Instagram
Ever since the reunion of the 'Sex and the City' series team was announced a few months ago (apart from Samantha's unrepentant absence), the mood about the series' announced reboot called 'And Just Like That' has oscillated between 'we really don't need it' to 'I can't wait for it to finally air! '.
Photos from the shooting in designer costumes on the streets of New York and alleged details of the script that leaked to the public show that the 'happily ever after' that we imagined followed after the original series and movies may not be quite the reality.
The alleged part of the script of the new series hinted that Mr. Big and Carrie are going through a marital crisis, even a divorce, and the latest post by actor Chris Noth on Instagram where he is with Sarah Jessica Parker on set in bed made us think that everything is fine after all in Mr. & Mrs. Big household.
As usual, Mr. Big plays with our feelings, but I couldn't help but wonder: why would marrying Big be the happiest solution for Carrie? Throughout the long history of 'Sex and the City', the relationship between Carrie and Mr. Big was an illustration of a toxic relationship: one-sided maintenance of the relationship on her part, waiting for his calls or arrivals (not to mention the incredible leaving her in front of the altar), lack of communication and poor communication, manipulation, distrust (not only in partner fidelity but the belief that the partner will act in the best interest of the relationship and well-being), looking for excuses for his behavior…
We witnessed behaviors for which our friends would suggest to us to break up, change the number, seek professional help, and yet, the audience cheered for years for them to finally reunite, for their love story to end happily in the most traditional notion of a fairytale 'happy end'. Will they use that formula in this reboot as well? Or are the screenwriters ready to serve the audience some different lessons about love and self-esteem in 2021 that seem difficult and less poetic, but still need to be learned?
By: Amber V. - Gossip Whispers