Blackview BV4900 Review: Durable battery
4-core MediaTek Helio A22 (MT6761V / WE) with 4x ARM Cortex-A53 cores at 2.0 GHz, manufactured in 12-nanometer FFC technology...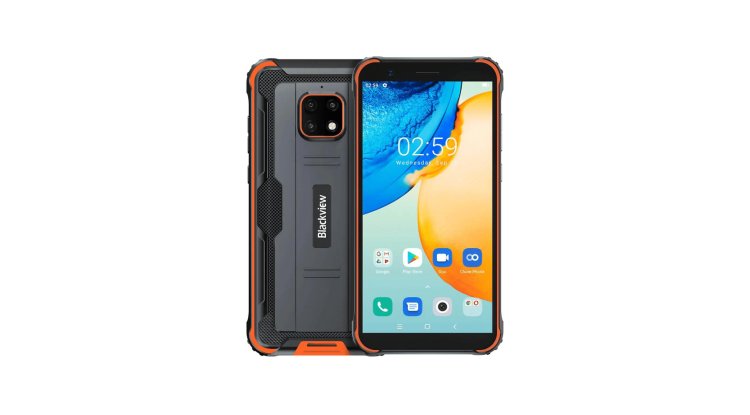 Photo Credits: Blackview/Promo
Design
The exterior looks surprisingly good which pleasantly surprised me. It's not as awkwardly fat as robust smartphones like this can be, it's not even as thick as I expected, and the same goes for weight. Speaking of numbers, it measures 157.5 x 78.1 x 13.7 millimeters and weighs just 261 grams, which is noticeably thinner and smaller than a large number of robust smartphones.
The back of Blackview BV4900 is made of robust rubberized plastic with silicone elements so that it is resistant to shocks and falls, but also to other mechanical damage, scratches, moisture and extremely low and high temperatures in accordance with the military MIL-STD-810G standard, and is, of course, resistant on water and dust in accordance with the IP68 standard. In other words, if you fall into the mud, snow or water will not be damaged.
The front is dominated by a screen with a front camera, headset, distance / light sensor and LED notification, which is commendable because robust smartphones generally do not have it. There are entrances and exits along the edges, all of which are additionally protected with rubber covers so that water cannot enter. Above is a 3.5mm audio input for headphones, on the left is the input on nanoSIM and microSD cards, on the right are the buttons for volume control and power on the device, while on the bottom is the microUSB input and symmetrically designed microphone and speaker.
At the back, at the top, in a square orange frame, are the rear cameras. Although three cameras are shown, there are actually only one - but valuable with a Sony sensor, while in the fourth "hole" is an LED flash. In the middle is the Blackview logo, while in the lower part there is something we forgot a bit about - a slot and which you can put a ribbon to carry the smartphone around your neck.
All in all, the smartphone looks really good, they say the design is inspired by space capsules thus paying homage to the first man in space (Yuri Gagarin). It also fits perfectly in the hand and thanks to the specially designed back texture and rubberized materials it will not slip in the hand so you will have a great feeling when using it.
Screen
The screen is very good, basic but very solid features. It is a 5.7-inch IPS screen with an HD + resolution of 720 x 1440 pixels (282 ppi), 18:9 aspect ratio and occupies 68.38% of the front surface of the smartphone. It is also sensitive to simultaneous touch in 5 points (multi-touch) and is scratch-resistant thanks to Dragontrail protective glass.
Also, there is an additional foil on the screen, which I recommend leaving despite the protective glass, simply because it will provide you with additional protection, and through it the screen responds well to touch even if you "flip" the screens with a fingernail, which pleasantly surprised me. Also, the display of the content itself is clean and clear, the icons are sharp and the colors are realistic, and it is easy to clean with an ordinary dry cloth.
We measured the brightness of the screen with our measuring instrument and got a result of 552 Lux, so you will be able to use it without worries even in strong daylight.
CPU / GPU / RAM / ROM
4-core MediaTek Helio A22 (MT6761V / WE) with 4x ARM Cortex-A53 cores at 2.0 GHz, manufactured in 12-nanometer FFC technology, and selected by TSMC was selected as the processor. Integrated IMG PowerVR GE8300 graphics running at 660MHz.
Although some may say that it is small, for the needs of such a robust smartphone, 3GB RAM is quite enough. It is a slightly older single-channel LPDDR3 RAM at 933MHz, but it works very correctly. 64GB of eMMC internal memory is available to store your data, which you can expand by another 128GB via the microSD port.
The configuration is very well balanced, proven parts are installed, so you should not have any problems in operation.
Camera
The cameras are very solid, they will serve what you need, and the application that manages the cameras itself has all the necessary functions to make the photos and video as good as possible. 5MP front camera pleasantly surprised me and will take very good selfie photos in different shooting conditions. Camera has an aperture of f / 2.2, supports face recognition, can record mono (black/white), and of course, supports unlocking the device by face recognition (Face Unlock). The camera can record HD video at 1280 x 720 pixels and 30 frames per second (1080 @ 30fps) in MP4 format.
Although you can see three-camera holes in the back, there is actually only one camera, probably due to the design, while the fourth hole has an LED flash. The camera is 8MP with Sony IMX134 sensor, has an aperture of f / 2.4, autofocus, supports face recognition and various shooting modes (Pro, Mono, Panorama). The camera takes very solid photos, the colors are vivid except that there are few problems with focusing closer objects, there is a lack of macro cameras/functions. Somehow I have a feeling that photos at a distance of a few tens of centimeters to a few meters are the best. Here is our mini photo album, judge for yourself what the photos are like.
The camera can record FHD video at 1920 x 1080 pixels and 30 frames per second (1080 @ 30fps) also in MP4 format. Cameras are not his strong suit, but they will serve you for everything you need.
Audio / video
The sound is a pleasant surprise when we talk about its quality, but also its power. The speaker is located at the bottom and will give you a pleasant sound, you can feel the deep tones that we have tried on several different MP3, video and online stream files. Of course, you will get extra quality if you connect headphones or a wireless speaker.
We tested the volume on several music tracks in high FLAC quality - with our measuring instrument at a distance of about 40 centimeters (approximately as far as the smartphone is away from your ear when you hold it in your hand) we measured the volume of 81.6 dB, which is above average. I was expecting even more because it somehow seems louder to me, it's obvious how the sound quality deceived me.
Connectivity
The smartphone is a communication classic with some little extras. It supports 4G LTE connections on both nanoSIM cards, with support for VoLTE (Voice over LTE) so the call quality is very good. Additionally, the possibility of contactless payment via NFC connection has been built-in, which is also commendable.
Battery
Along with its robustness, the battery is one of its strongest features. The smartphone boasts a 5580mAh lithium-polymer battery that cannot be removed (non-removable). What is a small problem is the charging that takes a long time thanks to only the basic charger of 5V / 1.2A or 6W, so you will charge the battery with this charger for about 5 hours. Luckily, the battery supports faster charging so we used a much faster 18W Blackview charger, which charged the battery in about 3 hours.
In our test of endurance surfing with the screen constantly on (50% brightness), the battery lasted as long as 17 hours and 29 minutes, which is far above the average of 8 hours. In some average use, we believe that it will last you for a few days without any problems.