Google Nest Hub 2 Review: For every part of the day
The biggest difference between the latest generation of Google Nest Hub and the previous model is the new Sleep Sensing feature.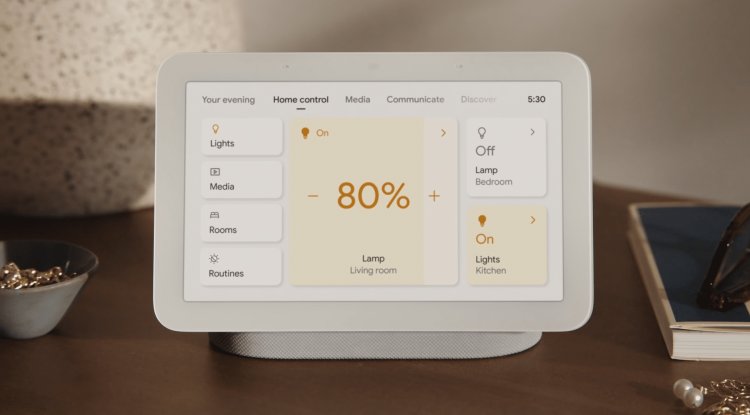 Photo Credits: Google/Promo
Although Google claimed the same for the first model, this technology giant has now decided to "boost the offer" a bit. In short, with all the already known and useful features, unlike any other smart screen on the market, the new Google Nest Hub 2 can follow your dream.
Also, this smart screen is the first Google to have built-in Soli radar technology. It is already well known because it has been used in Google Pixel 4 and Pixel 4 XL smartphones, and it allows the user to "wave" and "tap" the air in front of the device to activate certain controls, such as playing or pausing music, extinguishing alarms and fig.
The second-generation Google Nest Hub also offers these features. However, in addition to controlling the device, this technology is also used to monitor the user's and the smallest movements, such as raising and lowering the chest while breathing, all so that the device can monitor how long and how. Whether you sleep well. We'll add that the sleep tracking feature makes the Nest Hub 2nd Gen a welcome solution for those who don't want to wear a smartwatch or fitness tracker at night.
If you've already had a chance to use the Google Nest Hub, you'll see that the second generation has the same "floating screen" design. It is displayed on a 7-inch screen, and let's add that it is freestanding and is set at an angle on the oval base. Let's add that you can choose the device itself in one of four different colors. There's also an Ambient EQ feature that automatically brightens or darkens the screen based on the ambient light in the room. This is very useful because the Nest Hub will not be a "lighthouse" that illuminates your room when you try to fall asleep if you use this smart screen on your nightstand.
When you are not using the smart screen, it will display the clock dial. But it can also be used as a digital photo frame to display your or randomly selected photos. Also, Google Nest Hub 2 is ready to watch movies and series from Netflix or Disney + channels, and you can listen to and watch various other streaming services.
To complete the enjoyment, a speaker is built into the base of the smart screen. Although Google claims that the new Hub offers 50% better bass than its predecessor, do not expect a loud sound that will "fill" the room. But it is at the level of standard bluetooth speakers and will be quite enough for everyday use.
It's similar with the quality of the screen - it will not delight you, but it will not disappoint. Simply, if you want to take a quick look at a slightly larger screen than your smartphone, the Google Nest Hub 2 is the perfect option. And the best part is that you will simply tell him - the term Hey Google with this device is becoming commonplace! Namely, this device is the easiest to control by voice.
The Nest Hub 2 smart display has a built-in Google Assistant that is already well known. In this case, it allows you to set a timer (stopwatch...), will inform you about the latest weather or trouble, will present you the latest news… But it will also allow you to control your voice with your other smart devices, such as smart lights or smart plug. Of course, you can do all this by swiping your finger and touching the screen, but this way of voice control, when you get a little used to and accept the term Hey Google, is very useful and fun.
You can also "talk" with this smart screen. And in addition to the audio answer to the questions and commands, additional information will be displayed on the screen. For example, if you ask Nest Hub for a weather forecast, in addition to Google Assistant telling you the current temperature, an hourly weather forecast will be displayed.
Interestingly, the Google Nest Hub 2 smart screen does not have a camera, although this device can be used for audio calls. Google has targeted the release of the camera, and the reason for this is primarily the privacy of users.
Design
The Google Nest Hub 2 smart screen is almost identical in design to the previous version. With dimensions of 4.7x7x2.7 inches (or 12.04 × 17.74 × 6.95 centimeters), it is slightly smaller than its predecessor. We will add, even that first model was not too bulky. The base is oval in shape, has a built-in full-range speaker with a 1.7-inch driver, and is small enough to hold in the palm of your hand.
Connoisseurs of the Google smart device range will recognize the same mesh cover found on the Google Nest Mini smart speaker. It is made of recycled plastic and is available in four colors - Chalk (chalk - pale gray), Charcoal (charcoal - dark gray), Sand (sand - pale pink) and Mist (fog - pale blue). As already mentioned, the 7-inch screen with a resolution of 1024 × 600 pixels is located at the top of the base.
At the top of the screen is a physical Google Assistant on/off button, along with three "far-field" microphones that listen to your voice constantly and very well. There is a toggle switch on the right back of the screen to adjust the volume. Interestingly, unlike its direct competitor, Amazon's Echo Show 8, the Nest Hub 2 doesn't have an outlet, but it also doesn't have a micro-USB port to charge other devices. This is a bit disappointing, considering that this smart screen is designed to be positioned as the "perfect nightstand device".
There is a socket on the bottom of the device. Let's add that like other Google Nest devices, this one must be turned on at all times. The screen itself is very important, and it is taken care of by the mentioned Ambient EQ, an application that automatically brightens or darkens the screen based on the ambient light in the room. If you don't like the way Ambient EQ works, you can manually adjust the brightness by swiping up from the bottom of the screen and touching the "sun" icon.
As we mentioned, this is the first Google smart screen to include Soli radar technology. As a reminder, Google Soli is a purpose-built chip for real-time motion tracking, and it uses a miniature radar for its work. It records all this with microscopic scales - it is able to track the movement of the hand below a millimeter at high speeds with great accuracy. But in this case, it is used to track and recognize sleep (Google's sleep tracking feature), as well as the Quick Gesture feature, which allows you to play and pause music and videos by "tapping" the air in front of a smart screen.
Google Nest Hub 2 uses Wi-Fi and Bluetooth connectivity to communicate with the outside world and devices, with Thread support. It is a network technology that allows smart home devices from different manufacturers to communicate, but this system is not yet fully active. Once activated through software updates, and Google claims it's a "matter of the day", the number of different smart home devices from different manufacturers that you can manage with Google's second-generation Google Nest Hub will increase. In practice, you will be able to control all devices that support Thread, even when you are not connected to your home Wi-Fi network, because Google Nest Hub 2 can be used as a Thread border router.
Performance
The biggest difference between the latest generation of Google Nest Hub and the previous model is the new Sleep Sensing feature. As we have already mentioned, Soli radar technology can sense even the smallest movements, such as raising and lowering your chest when you breathe. The smart display also uses built-in microphones and ambient light and temperature sensors to assess how much you sleep, whether coughing, snoring and changes in light or temperature in the bedroom interfere with your sleep.
Google Nest Hub monitors sleep mostly accurately, especially when it comes to estimating the length and quality of our sleep. If you are not sure whether the data is accurate, you can always wear a smartwatch or bracelet on your hand and compare this data. Let us add that this is an informative feature since Nest Hub 2 does not provide an analysis of sleep phases, how much time is spent in REM, light and deep sleep, unlike many wearables.
Every morning the user can check the "sleep summary" on the Wellness screen Nest Hub 2. Sleep statistics are divided into three areas - schedule (it includes the time we fell asleep after going to bed, when we woke up and how consistently we sleep during the week) , how much we actually slept and the quality of sleep (it takes into account the speed of breathing, which is the number of breaths per minute during sleep and the number of minutes spent coughing or snoring). These three factors are shown in the form of circles that, when you excel at them, look purple and are aligned. But if you have difficulty in one or more of the areas mentioned, they will turn orange and inconsistent. In addition to viewing your sleep summary on the Google Nest Hub Wellness Screen, you can also access it in the Google Fit app on your smartphone.
After seven days of sleep tracking, Google Nest Hub 2 will provide you with a sleep report with personalized tips. As long as sleep recognition has been active on the smart screen for at least four nights during the week, the user will receive a weekly sleep report. After 14 days of consecutive sleep tracking, Google will offer a slightly broader and more personalized recommendation when you should go to bed and when you should wake up, based on what Sleep Sensing has learned about your body clock and the way you sleep.
You can pause recognizing and tracking sleep patterns at any time by swiping your finger up from the bottom of the screen and touching the bed icon. You can also ask Google Now to pause sleep recognition or even delete your current sleep data. Alternatively, this feature can be completely deactivated in the Google Home app.
The 2nd generation Google Nest Hub doesn't just follow your dream. It also has a very practical alarm that notifies the user when the sun will rise and turns on by illuminating the screen with colors that mimic the sunrise. Interestingly, the screen will turn on the Sun between 5 and 15 minutes before the alarm goes off, all to help you wake up easier. Nest Hub will also help you relax before bed by automatically switching the interface to a dark theme in the evening. In addition, it will offer you shortcuts to set alarms, turn off or dim smart lights in the bedroom, and even play relaxing playing sounds, either during a certain period of time or throughout the night, all in order to help you fall asleep easier.
Multimedia
Google Nest Hub 2 is a real small media center. It easily accesses a wide range of music services - it can play music or videos via Spotify, Apple Music and the free version of YouTube Music. You control your playback with your voice through Google Now, and that's something that works really flawlessly.
We've already mentioned that Google claims that the second-generation Nest Hub offers as much as 50% more bass than its predecessor. During use, we realized that although the sound fills the room well and gives a "feeling" of bass, this smart screen still has its limitations - when listening to music loudly there were minor distortions of sound, and bass "jammed" here and there. But this is not crucial, because during normal use and "conversation" with Google Now the average user will not have any problems. But that won't be a problem either, because you simply connect the Nest Hub 2 to an external stronger speaker.
You can watch YouTube, Netflix, and Disney + directly on your smart screen, and you can stream a variety of other video services with the built-in Chromecast. We've already touched on this 7-inch screen which may not be the sharpest and certainly won't replace your main screen, but the quality is fine if you just want to run videos in the background while doing other things.
As we mentioned, the Quick Gestures feature comes to the fore here. It allows you to play or pause music and videos, as well as timers and alarms. It also pauses the Google Assistant when it says something, especially if you've heard enough about the topic or the Assistant starts repeating itself. As already mentioned, this feature is controlled by hand by "tapping" on the air in front of the device. Don't worry, the commands are very simple and intuitive, and you can learn them by asking your smart screen how, and it will explain it to you by voice and image.
Google Assistant
Google Assistant is built into the 2nd generation Google Nest Hub and can do everything it can on other Google Nest devices… From setting timers and answering questions to providing daily news, weather and sports results, while also offering additional information on the screen.
Assistant can also help you stay in touch with people, either by making voice calls to friends and family or posting announcements on other Google Nest speakers connected to the network. Of course, as this is a new device, so are some new features presented. We will highlight the possibility for Google to show you photos that you have, for example. Recorded in certain locations, footage of certain people or pets. You just ask for them and they will start to alternate on the screen. It's much easier and faster than researching hundreds and hundreds of images yourself, and we have to add that Google does this task more than well.
But there is one drawback, and it may be solved in the 3rd generation of this useful device. Google Assistant cannot open the settings menu or adjust any smart screen feature for you.